RACING THIS WEEK
FEATURES
SERVICES
Tom "The Mongoose" McEwen died on June 10 at the age of 81.

© NHRA Photo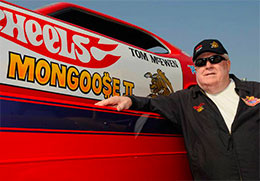 Legend, Quarter Horse Owner Tom 'The Mongoose' McEwen Dead at 81 - UPDATED
LOS ALAMITOS, CA—JUNE 13, 2018—
Tom "The Mongoose" McEwen, one of the greatest and most colorful National Hot Rod Association drivers of all-time, and an avid Quarter Horse owner and breeder for many decades, died on June 10. He was 81.
A member of the International Drag Racing Hall of Fame, the Motorsports Hall of Fame of America and many more, McEwen raced Quarter Horses that made over 250 starts and scored more than 35 wins since 1991. His horses earned around $500,000. All of McEwen's Quarter Horses had the "Mongoose" moniker as part of their names, and they carried his popular red, white and blue stars and stripes silks. With only a handful of exceptions, nearly all of his starters were trained by Dennis Givens.
"Tom and I were great friends and had a wonderful relationship in the racing game," Givens said. "Our friendship went all the way back to 1968. He was a great guy. If you need a job, he would go out of his way to help you He loved the races and loved his horses. His favorite part was breeding horses. He bred everything he raced. I don't remember of any horse that we ever bought once he started his breeding program"
McEwen's stable included stakes runners Mongoose First, Special Mongoose, Charming Mongoose Bug, Mongoose Separatist, Mongoose Hawkette, and Special Mongoose Bug. His best horse was his homebred filly Mongoose Jet Eye, the winner of the 2003 Town Policy Handicap. McEwen sold Mongoose Jet Eye as part of a private transaction in the summer of 2003. The daughter of Mr Eye Opener would eventually become a multiple Grade 1 winner and a world record holder. She was named the 2004 AQHA champion aged horse.
McEwen had other stakes winners during his ownership career. Mongoose Effort won the 1994 Lancaster Handicap, while Special Mongoose won the PCQHRA Breeders Derby and Independence Day Handicap in 1997 and finished sixth in the 1996 Los Alamitos Million Futurity won by Corona Cartel. In addition, Mongoosecharminghawk won the 2010 California Breeders Debutante Stakes and homebreds Mongoose Hawkette and Mongoose Separatist finished 1-2 in the 2006 Los Alamitos Maiden Stakes. Always the showman, McEwen had his fillies enter the winner's circle together for a memorable winning snapshot.
McEwen was also part of the sport's biggest race for older horses, the Grade 1 Champion of Champions, with his multiple stakes winner Mongoose First in 1993. The First Down Dash gelding missed the board on that night, but he had the honor of sharing the starting gate in the Champion of Champions with AQHA World Champions Refrigerator and Down With Debt and with the likes of great stars like Rare Form, Dash Master Miss, Six To Five, Childish and more.
"It was a rainy night and Mongoose First hated the mud," Givens said. "It was still a great time. Special Mongoose had the fastest time to the Los Alamitos Million (in 1996). Billy Peterson rode him in the final. That was another special time."
"Tom had a lot of fun in the racing game," Givens said with a smile. "We had this pony horse that was Tom's million dollar horse. He actually traded a Rolex watch for this racehorse, but the horse couldn't run at all, but he became a nice pony horse for us. Tom would called him 'Rolex.'"
Many of the horses that McEwen raced traced back to his foundation broodmare Charmin Effort, a blue hen producer that he acquired from the great racing stock of Dan and Jolene Urschel. Charming Effort's daughter, Mongoose Effort, is the dam of the champion Mongoose Jet Eye.
McEwen was nicknamed "The Mongoose" in 1964, as part of a campaign to reel rival driver Don "The Snake" Prudhomme into a high-exposure match race. Through his long association with Prudhomme, a friendship that survived their racing careers and sometimes bitter rivalry, McEwen helped blaze the trail toward the sponsored drag racing team. Their Mattel sponsorship gave way to "Snake" and "Mongoose" Hot Wheels toys. Coca Cola and Careless sugar free gum were also sponsors.
With a reputation of being one of the most colorful figures in NHRA, McEwen won five NHRA national events during his 35-plus-year career that included time in Funny Cars and Top Fuel dragsters. McEwen enjoyed one of his biggest moments in 1978 with his U.S. Nationals Funny Car victory over Prudhomme. He also won the prestigious Big Bud Shootout in 1984 and won Top Fuel at the 1991 Summernationals to become one of a short list of drivers to have won in both nitro classes.
As star driver on the automobile track, and as a wonderful owner and breeder on the horse track, McEwen will be long remembered at Los Alamitos Race Course for his love of everything that raced fast. This story will be updated as more information becomes available.
Information on his driving career courtesy of NHRA.
* * * * * * * * * * * * * * *
Courtesy of www.losalamitos.com.