RACING THIS WEEK
FEATURES
SERVICES
This week's AQHA National Racing polls feature a diverse cast of runners.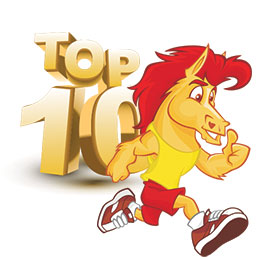 AQHA Racing National Poll Feature a Diverse Cast of Runners
AMERICAN QUARTER HORSE ASSOCIATION—AUGUST 9, 2018—
Following a fair number of changes to both AQHA Racing National Polls over the past several weeks, the latest rankings for older horses and 2-year-olds were essentially unchanged this week after a light weekend of stakes action, but the polls show a diverse range of horses.
In the older-horse poll, Oklahoma and California competitors dominate the top positions. At the top, two-time world champion Jessies First Down extended his reign at No. 1 in the rankings to 15 consecutive weeks, riding on the accomplishments of winning the Grade 1 Leo Stakes and Remington Park Invitational.
He is followed by Sooner State Stakes (RG1) winner Hold Air Hostage, and then Idaho-bred California rivals BH Lisas Boy and Zoomin For Spuds. The latest poll did feature a bit of an anomaly as four horses – A Political Lady, Jess My Kiss, PYC Fun N Fancy and Uptown Dynasty – all tied for No. 10.
The coming weekend is set to feature a showdown between No. 2 Hold Air Hostage and No. 3 BH Lisas Boy in Saturday's Bank of America Los Alamitos Championship Challenge (G3). The winner earns a berth in the November 17 Bank of America Challenge Championship (G1), also to be run at the Southern California track.
In the 2-year-old poll, New Mexico represents with MM Fourinthemorning in the top spot for the third straight week after winning the Rainbow Futurity (G1) at Ruidoso Downs. California darling Wave Her Down sits a solid second with a three-race undefeated record that includes the Ed Burke Million Futurity (G1).
While the stakes action is light again this coming weekend, save for the Los Alamitos Challenge, a bevy of ranked horses should be in action the following week with trials on tap for the All American Futurity (G1) and All American Derby (G1) at Ruidoso Downs and the running of the Golden State Derby (G2) at Los Alamitos.
NATIONAL RANKINGS, 3-YEAR-OLDS AND OLDER
1. JESSIES FIRST DOWN (92)
2. HOLD AIR HOSTAGE (76)
3. BH LISAS BOY (68)
4. ZOOMIN FOR SPUDS (64)
5. JESS MOVE YOU (59)
6. HEZA DASHA FIRE (44)
7. KVN CORONA (33)
8. BRUCE ALLMTY (30)
9. DF AJ GREEN LEAVES (18)
10. (tie) A POLITICAL LADY (9)
10. (tie) JESS MY KISS (9)
10. (tie) PYC FUN N FANCY (9)
10. (tie) UPTOWN DYNASTY (9)
BIGG DADDY (8), THERMONUCLEAR ENERGY (6), IMPERIAL EAGLE (5), WAGON ON FIRE V (5), VALIANT ROGUE (4), EOS A POLITICAL WIN (2).
NATIONAL RANKINGS, 2-YEAR-OLDS
1. MM FOURINTHEMORNING (94) 2. WAVE HER DOWN (83)
3. BLUE CORAZON (81)
4. SUZE RETURNS (62)
5. LONG WAGON HO (49)
6. WICKED AFFAIR (43)
7. LYNNDER 16 (41)
8. JESS FIRE CHICK (35)
9. ZEE JAMES (15)
10. POWERFUL FAVORITE (14)
DAK (10), LETHAL LIL (10), JESS LET IT B (5), GUIDRY PRIDE II (3), RAPPID (3), FLYING EAGLE 07 (2).
The integrity of American Quarter Horse racing is of utmost importance to AQHA. As part of a multifaceted effort to ensure integrity, AQHA has instituted a policy concerning awards and publicity that makes horses with racing medication positives and horses trained by trainers with racing medication positives ineligible for the AQHA Racing National Polls. CLICK HERE to read the complete policy.
* * * * * * * * * * * * * *
AQHA News and information is a service of the American Quarter Horse Association. For more news and information, follow @AQHARacing on Twitter, watch the AQHA Racing Newscast and visit aqha.com/racing.