RACING THIS WEEK
FEATURES
SERVICES
The Lone Star Park Charitable Foundation for Grand Prairie will host its annual grant ceremony at Lone Star Park on Tuesday, March 19.

© Dustin Orona Photography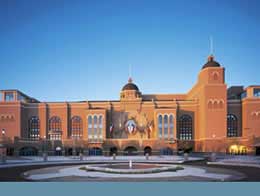 Lone Star Park Charitable Foundation To Award $50,000 To 24 Worthy Grand Prairie Charities
GRAND PRAIRIE, TX—MARCH 14, 2019—
The Lone Star Park Charitable Foundation for Grand Prairie, a 501 (c) (3) non-profit organization will host its annual grant ceremony at Lone Star Park on Tuesday, March 19. Funds being distributed were raised through charitable events in 2018.
The LSPCF has selected 24 local Grand Prairie charity and non-profit organizations to receive funds. Those chosen to share in the $50,000 are: Big Brothers Big Sisters, Boys & Girls Club of Greater Dallas, Brighter Tomorrows, Children First Counseling Center, Inc., Christian Women's Job Corps, Crime Stoppers, Inc., Kids in Need of Clothing, NAACP, Food & Clothing Co-Op Grand Prairie, Association of Grand Prairie Artists, Grand Prairie Arts Council, GPPD Police Explorer Post, GPFD Hearts & Hoses, Helping Us Help Her, LifeLine Shelters for Families, Inc., Pregnancy Resources Center of Grand Prairie, Santa Cop, Inc., Grand Prairie Pride, Grand Prairie United Charities, Grand Prairie Police Youth Boxing Program, Rotary Club of Grand Prairie, Crisis Response Ministry, Vietnam Veterans of America GP Chapter 1013, and YMCA of Grand Prairie.
Since its formation in 2001 the LSPCF has raised over $1.1 million for worthwhile Grand Prairie organizations.
"Hard work and the generosity of many people make these distributions possible," said Charitable Foundation President Scott Wells. "We are grateful to these organizations that do a great deal to improve the quality of life in the Grand Prairie community."
The Lone Star Park Charitable Foundation for Grand Prairie, a 501 (c) (3) non-profit organization was established in June 2001 to raise the quality of life for Grand Prairie citizens through numerous fundraising efforts and the promotion of volunteerism. Funds raised are annually distributed to local non-profit organizations through grant applications at year's end.
The "A Taste of the Derby Party," an annual fundraising event held at Lone Star Park is Wednesday, May 1 in the Alysheba Room at Lone Star Park. Please make plans to attend this fun and worthwhile event.
For more information on the Lone Star Park Charitable Foundation, please contact Diane L'Heureux at (972) 237-5127.
* * * * * * * * * * * * * * * * * * * *
Lone Star Park at Grand Prairie, a Class I racetrack operated by Texas Partners LSP and Global Gaming LSP. The track's 16-day 2018 Quarter Horse Season opens Friday, September 21, and concludes on Saturday, November 10. Live racing will be held two days a week, Friday and Saturday at 6:05 p.m. For more information on Lone Star Park visit LoneStarPark.com or follow us on Facebook and Twitter.
Lone Star Park is also home to the multi-million dollar simulcast racebook, sports bar and event venue, Bar & Book. The 36,000 square foot venue is open to the public 363 days a year.
* * * * * * * * * * * * * * * * * * * *
Global Gaming Solutions, LLC (GGS), is a wholly owned subsidiary of the Chickasaw Nation with a primary business focus of pursuing entertainment, gaming and racing related opportunities in emerging jurisdictions in the United States and overseas as well as acquisition of regional gaming and entertainment assets. GGS LLC is the parent company of GG RP, which owns Remington Park in Oklahoma City, OK and GG LSP, which owns a significant stake in Lone Star Park. GG LSP is the track operator who owns the license to operate Lone Star Park and leases the property from the Grand Prairie Sports Facilities Development Corporation.