RACING THIS WEEK
FEATURES
SERVICES
Jockey Erasmo Gasca gets his first Grade 1 win in the Charger Bar Handicap with Famous Shining Star Sunday night at Los Alamitos Race Course.

© William Zuazo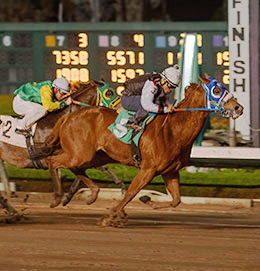 Famous Shining Star Dominates Charger Bar, Winning Rider Gasca Enjoys First G1 Stakes Win
LOS ALAMITOS, CA—JANUARY 1, 2023–Johnny Trotter's Famous Shining Star took advantage of a terrific start from post number four in the running of the Grade 1, $100,000 Charger Bar Handicap and she was never threatened from there in route an upset victory at odds of 17-1 in this 400-yard dash on Sunday at Los Alamitos.
Ridden by Erasmo Gasca, who was picking up the first Grade 1 stakes win of his career, Famous Shining Star led by ¾ lengths early on, extended her advantage to 1 ¼ lengths past the midway point, and then cruised to victory, her sixth in 18 career starts.
Trained by Jose Flores, who was winning the Charger Bar for the first time in his career, Famous Shining Star covered the distance in :19.726 over a track labeled as sloppy. Gentry Farms' College Scandal finished second at 24-1 odds, while Edward and Theresa DeNike's Sweet Tess, the winner of the Los Alamitos Oaks last year, finished third.
Jockey Erasmo Gasca is all smiles after winning the Charger Bar Handicap with Famous Shining Star.
© © William Zuazo
Sweet Dasha Fire, Nymphette, Letty Cartel, Jessapolliticalgirl, and La Estrella Corona followed the top three finishers across the wire. AQHA champion aged mare Kiss Thru Fire, the winner of the Charger Bar each of the last two years, and Pattys Saint, the winner of the Grade 1 Mildred Vessels Memorial Handicap, were both scratched from this race.
For Gasca, 30, it was nearly impossible for him to stop smiling following his excellent ride aboard Famous Shining Star.
"I'm thrilled," Gasca said. "You feel happy after every single win, but to win one like this is a big thrill, it's a huge thrill. I don't have the words to describe how happy I am right now."
Earlier this week, Flores, the leading Quarter Horse trainer at Los Alamitos in 2022, had credited Gasca for his hard work and dedication that helped Flores' barn become the top stable at Los Alamitos.
Winning trainer Jose Flores with Charger Bar Handicap winner Famous Shining Star.
© Coady Photography
"We are a team," Gasca said. "We collaborate in the barn to help things run smoothly. With hard work, things are coming together for us. We work hard each day and tonight it was our turn. When the gates opened, this mare was off and running. She left the gate powerfully and down the lane I was pushing her and hustling her hard so that we could continue strongly. At about 350 yards into the race, I started hooting and hollering to make sure that she didn't stop. I started to feel the other mares coming at us, but the mares remained strong, and did a really great job winning the race."
Bred in Texas by Julianna Hawn Holt, Famous Shining Star earned $48,000 for the win to take her lifetime earnings to $149,903. The 5-year-old mare by One Famous Eagle and out of the Mr Eye Opener mare Thewayouwantmetoo won both the Virginia Hyland Stakes and the Sound Dash Handicap here last year. This was the half-sister to last year's leading second-crop sire A Revenant's 10th consecutive start in a stakes race since November of 2021.
"She's been a hard-trying mare every time," Flores said. "She does her job every outing. She came up a little short in the big race last year, but of course, it's very hard right here against the great mares out here. It was her turn today. She did everything right, every painted her way and it was a good race. Mr. Trotter has been so good to our team. He's really supported us with some good horses. We're going to go through the schedule, see what we have to do (with Famous Shining Star) and go from there. I remember when we first ran her here, I told him that I absolutely love this mare. She won very easily, and I told him that she had a ton of talent. She's ran some bad ones and some good ones. Today was a good one.
"I'm very proud of Erasmo Gasca. He's a hard-working rider, him and Cruz (Mendez), Jairo Rangel and Irving Lara, they've been part of my team. All four of those boys have really worked hard in my barn always. I joke around and I always tell Gasca, 'hey, out of the four, you're the only who hasn't won a Grade 1.' Now he got it done. I'm very happy for him because he works hard and deserves all the best. The fact that he won with one of our horses, that makes it even better."
* * * * * * * * * * * * * *
For more info, please contact larace@losalamitos.com. Follow us on Twitter or Instagram at @losalracing or visit us online at losalamitos.com.