RACING THIS WEEK
FEATURES
SERVICES
The Jockeys and Jeans organization will give G.R. Carter , Jr the Uphill Push Award at the Caesars Entertainment Jockeys and Jeans Fundraiser at Monmouth Park Racetrack on Saturday.

© Scott Martinez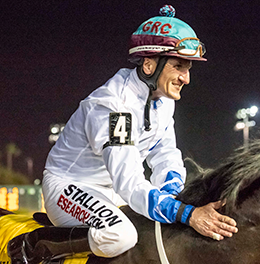 G.R. Carter Jr. Slated For Uphill Push Award
OCEANPORT, NJ—SEPTEMBER 10, 2021—
G.R. Carter Jr. s set to receive the Uphill Push Award on Saturday (Sept. 11) at the Caesars Entertainment Jockeys and Jeans Fundraiser at Monmouth Park Racetrack in New Jersey. The award is given annually to the single person who did the most to aid disabled former jockeys.
In the fall of 2020, Carter was made a Jockeys and Jeans Ambassador and he quickly went to work in the annual Jockeys and Jeans Stallion Season Sale that for the first time included Quarter Horse stallions. He personally sold stallion fees that totaled nearly $32,000.
All proceeds from the sale and the event go to Permanently Disabled Jockeys Fund, which provides a $1,000 monthly stipend to over 60 American jockeys who suffered career-ending racing injuries.
Carter, who rode over 30,000 races, knows what he calls "a jockey's nightmare" can happen to any race rider.
"It doesn't matter if you're riding at a C track or Saratoga, becoming permanently disabled and in a wheelchair can happen to any of us. Those 60 former jockeys gave the rest of their lives to horse racing and this is a great way to give back to them."
Jockeys and Jeans President Barry Pearl, like the other five founding members, was a jockey. "Anything I could think of to say about G.R. would be an understatement," he said. "He is as much a great humanitarian as he was a jockey and he is one of the best in all of racing history to ever pick up a pair of reins."
George Robert Carter Jr., in 24,654 Quarter Horse races, won a record 3,906 and permanently retired in 2018 with a record of more than $75 million in mount earnings. Carter has been named the American Quarter Horse Association Champion Jockey ten times, including six years consecutively from 2003-2008.
No other jockey has won more than five titles. Carter was known throughout the racing world for his "back-flip" dismounts.
He lives in Oklahoma City and today is an avid team roper, as well as serving as the AQHA Racing Committee Chairman. He has been a board member of PDJF since its founding in 2006 and will attend the event with his wife Shaena.
The gathering will attract a dozen Thoroughbred Hall of Fame jockeys and G.R. will have his place beside them on the dais. They will be there to honor seven permanently disabled jockeys including Anne Von Rosen, who became a paraplegic when Quarter Horse Panchita Bonita collapsed and fell following a race at Turf Paradise in March 2014.
The all-volunteer Jockeys and Jeans, founded in late 2014, has raised over $1.6 million for PDJF.
For more information contact the VP Marketing, Eddie Donnally, edjockeysandjeans@gmail.com 818-653-3711, or President Barry Pearl, jockeysandjeans@gmail.com, 717-503-0182.
Check out website, jockeysandjeams, or the Facebook Page.