RACING THIS WEEK
FEATURES
SERVICES
Taos River Ranch paid $150,000 for Hip #651 Daddys Mony,Saturday's session co-high seller for $150,000.

© Heritage Place Sale Company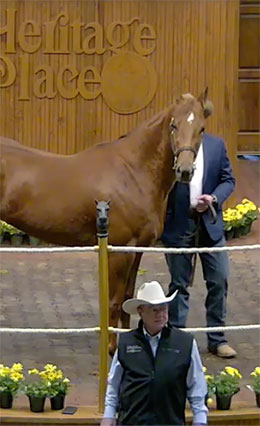 2023 Heritage Place Winter Mixed Sale Recap: Session 3 (VIDEO)
OKLAHOMA CITY, OK—JANUARY 21, 2023—-StallioneSearch.com concludes its webcast coverage of the 2023 Heritage Place Winter Mixed Sale today on StallioneSearch.com and Facebook.
Heritage Place Sale Company reported 705 of the 798 horses passing through the ring sold for gross receipts of $15,680,600, a 6% year-on-year increase over 2022. The average price rose 5% to $22,242 compared to $21,280 last year and the median price soared 11% to $15,000 vs. $13,500 in 2022. Eighty-nine percent of the horses offered over 3 days were marked sold. (see related story).
StallioneSearch.com was on hand in Oklahoma City to capture the top three-sellers from Day 3 including co-session toppers, Hip 651 Daddys Mony and Hip 946 Apolliticalfastlane.
CLICK the arrow below to watch Saturday's Session 3 Recap.
For preliminary results, including hip-by-hip prices, CLICK HERE.
* * * * * * * * * * *
Coverage of the 2023 Heritage Place Winter Mixed Sale is presented on StallioneSearch.com by the stallion roster of Robicheaux Ranch, Inc. in Breaux Bridge, Louisiana. CLICK HERE to visit the ranch's website.