RACING THIS WEEK
Additional Challenges

Current Nominees and Sustaining Payments
FEATURES
SERVICES
True Copy gallops in preparation for the Bank of America Challenge Championships.

© Andrea Caudill / AQHA Racing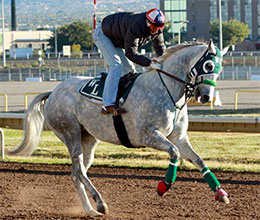 A Canadian Contingent Prepares For The Bank Of America Challenge Championships
By Andrea Caudill
AQHA RACING—OCTOBER 26, 2019— It took 22 hours of travel to make it from Stirling, Alberta, Canada, to Albuquerque, but it's certainly warmer here than it is at home.
At least that is what trainer William Leech says with an easy chuckle, as he works to prepare the four horses he has for their starts in the Bank of America Challenge Championships on Saturday.
"The Challenge program helps us have the chance to run for some pretty big money," he said. "Other than the Brazilians, we probably traveled farther than anyone, but all our owners are pretty excited, they're making a holiday out of it.
"So far it's been really great for us, the people here have treated us really well, we're really enjoying it," he said.
The trainer, who has more than $4 million in career earnings, will send out Stripsteak in the $250,000 Bank of America Challenge Championship (G1), Getit Hot in the $150,000 Adequan® Derby Challenge Championship (G2), True Copy in the $100,000 ARC Distaff Challenge Championship (G1) and Gone To Be Bright in the $100,000 Cox Ranch Distance Challenge Championship (G1).
"They've all been really nice horses at home," Leech said. "This is by far going to be their toughest test, with some of the world's best. But we're in the gate, and hoping to have some fun with it."
The first three horses are raced by John Deere Challenge Champion Owner Charles Stojan. Gone To Be Bright is raced by his breeders, Jack and Deborah Williams, in the name of their Gonetothebrightside Syndicate.
Stripsteak won his regional race at Evergreen Park, but will face his toughest competition on Saturday.
"He's not a real big horse, but he has a lot of heart and a lot of desire," Leech said. "For his size, you might not think he could run 440, but he has some nice kick toward the end of the race that will hopefully help him out down here."
Stojan claimed Getit Hot last year with an eye to winning the Adequan® Evergreen Park Derby Challenge. The Martha Wells-bred mare is by Walk Thru Fire and out of the Separatist mare Getit Together. She has won half of her 10 career starts, including two of three this year, and has earned $39,376.
"She's been working out really well for us," Leech said.
True Copy is a stout gray mare who has improved since getting flapper surgery last year. The earner of $79,711 has won three of four races this year, including the ARC Evergreen Distaff Challenge. The daughter of Tr Dasher out of the Separatist mare Realistically was bred by Dr. Ed Allred.
"She doesn't make many mistakes," he said. "She runs hard."
The homebred Gone To Be Bright looks to follow in his sire, Gone To The Mountain's footsteps in the Distance Championship. His sire won the race 10 years ago. Gone To Be Bright raced in Texas and New Mexico early in his career before returning to Canada, where he has run consistently and earned his first stakes win after being stretched around the turn, winning the Cox Ranch Evergreen Distance Challenge.
"We had him as a 3-year-old and by the end of the year he really started coming around and was stakes placed," Leech said. "This year we turned him into an 870 horse, which his dad was really good at, he seems to really like the distance."
The Leech family – including his wife and daughter, as well as his new son-in-law, Ricardo Moreno – are all enjoying their work together with the racehorses, as well as their trip to New Mexico.
"It's a family thing," he said. "It's been good."
AQHA News and information is a service of the American Quarter Horse Association. For more news and information, follow @AQHAnews on Twitter and visit aqha.com/news.