RACING THIS WEEK
Additional Challenges

Current Nominees and Sustaining Payments
FEATURES
SERVICES
Grants Pass is set to host the Adequan Grants Pass Derby Challenge on June 19.

© Vince & Linda Williams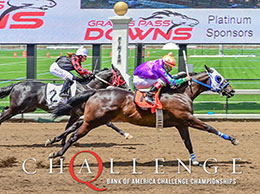 Adequan® Grants Pass Derby Nominations Due April 1
GRANTS PASS, OR–MARCH 21, 2022–The $400 nomination payment for the Adequan® Grants Pass Derby Challenge is due April 1.

Grants Pass at Grants Pass, Oregon, is set to host the $30,000-added race for eligible 3-year-old American Quarter Horses.
An $800 sustaining payment or $2,500 late payment on May 1 will set horses up for the May 29 trials (if needed).

The 400-yard stakes race is set to be held on June 19.

To nominate a horse, you can make payments online via the Online Challenge Nominations page.

To make payments by phone, call the Racing Challenge Hotline at 877-222-7223 or email mreed@aqha.org.

To mail payments, send to:
Bank of America Racing Challenge
P.O. Box 32892
Amarillo, TX 79120
AQHA News and information is a service of the American Quarter Horse Association. For more news and information, follow @AQHA Racing on Twitter, "like" Q-Racing on Facebook, and visit www.aqha.com/racing.