RACING THIS WEEK
Additional Challenges

Current Nominees and Sustaining Payments
FEATURES
SERVICES
The Bank of America Racing Challenge Championships will find a home at The Downs at Albuquerque for three years.

© Coady Photography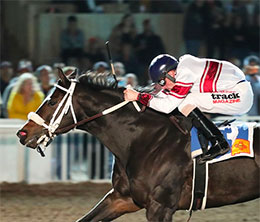 Bank of America Racing Challenge Championships Commit To Three-Year Deal WithThe Downs Albuquerqe
AMERICAN QUARTER HORSE ASSOCIATION—With the promise of warm weather and great racing, one of American Quarter Horse racing's premiere events will settle in one spot for the next three years.

After at the Bank of America Racing Challenge Championships are at Lone Star Park in 2023, they will move to The Downs at Albuquerque each fall from 2024 through 2026.

"The Challenge Championships have always been a celebration of American Quarter Horses from all over the world coming together to provide a great night of racing," said AQHA Chief Racing Officer Janet VanBebber. "The Downs at Albuquerque has already proven to be a great venue, and we're pleased to partner with them and give horsemen an opportunity to plan ahead for their racing goals in the next few years."

The Downs at Albuquerque, a racetrack with a rich history in the sport of racing the world's fastest athlete, has been a host for the popular event in 2019, 2020 and 2021.

Among the champions who pranced out onto the track during these years were Danjer, a past world champion and the sport's No. 3 all-time leading money earner, and distance champions Let There Be Sound, Madewell and Wascallywittlewabbit.

Management at The Downs at Albuquerque have already proven a deep commitment to American Quarter Horse racing, as well as the Challenge program. They will again step up, with a commitment to increase added money to the event's purses each year, up to $350,000 in 2026, providing a very lucrative night when added to the Bank of America Challenge funds for the Championship card.

"The Racing Challenge provides significant opportunity for horsemen every year," said Racing Department Manager Malynda Reed. "We appreciate everyone at The Downs at Albuquerque for hosting this great event, and we look forward to great racing."
* * * * * * * * * * * * * * *
AQHA News and information is a service of the American Quarter Horse Association. For more news and information, follow @AQHA Racing on Twitter and on Instagram, "like" Q-Racing on Facebook, and visit www.aqha.com/racing.