RACING THIS WEEK
FEATURES
SERVICES
Bail Czech set the fastest time over Powerful Favorite(#1) and Bos Time Machine (#7) in the opening trial for the Brad McKinzie Los Alamitos Winter Championship (G1) Sunday night at Los Alamitos.

© Scott Martinez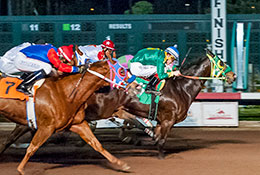 EG High Desert Farms' Bail Czech Delivers Fastest Time To Brad Mckinzie Final
LOS ALAMITOS, CA—JANUARY 19, 2020—
EG High Desert Farms
' Bail Czech posted the fastest qualifying time while winning the first of three trials to the Grade 1, $159,550 Brad McKinzie Los Alamitos Winter Championship at 400 yards on Sunday night.
Ridden by Juan Pablo Leon for trainer Jorge Farias, Bail Czech won at 17-1 odds while covering the distance in the fastest time of :19.764. Farias is now the main trainer for EG High Desert Farms, a racing operation that perennially ranks among the top three in Quarter Horse wins at Los Alamitos.
In Bail Czech, Farias inherited a talented Corona Czech gelding with over $100,000 in career earnings. The winner of the Vandy's Flash Handicap last year, Bail Czech improved his record to five wins in 19 starts. He ran in the Los Alamitos Super Derby and was second in the Golden State Derby last year.
"He's a solid horse that's capable of running some big races," said Enrique Gonzalez, the owner of EG High Desert Farms.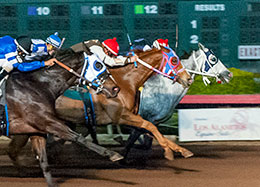 Corona Jumpim Mrl (#4) edges Jess Macho Corona(#5) and Jess My Kiss (#5) in the second Winter Championship trial on Sunday night at Los Alamitos Race Course.
© Scott Martinez
Leon has been on a meteoric rise to stardom over the past five weeks. He piloted Cartel Jess Rockin to victory in the Grade 1 Los Alamitos Two Million Futurity on December 15 and was back aboard the 2019 2-year-old champion filly in her qualifying victory to the Grade 1 Los Alamitos Winter Derby here on Saturday night.
His previously established working relationship with Farias has now provided the jockey with the opportunity to ride horses for one of the biggest barns at Los Alamitos in EG High Desert.
Leon qualified one other horses to the Winter Championship, as he rode My Favorite Cartel to the 10th fastest qualifying out of the second trial.
The top five finishers from each of the first two trials advanced to the Brad McKinzie final to be held on Sunday, February 9.
The winner of the Brad McKinzie final will earn a provisional berth to the 2020 Champion of Champions. In addition to Bail Czech, Poweful Favorite, Bos Time Machine, Katies Easy Moves and Red Hawk Cartel also qualified to the final.
Racing for 2019 AQHA champion owners Rosenthal Ranch, Powerful Favorite will be looking to sweep the Winter Series after winning the Winter Derby last year. AQHA champion trainer Chris O'Dell trains Powerful Favorite.
O'Dell also saddled trial two winner Corona Jumpim MRL, the 2018 AQHA South American champion, to the second fastest qualifying time of :19.782. The Brazilian-bred gelding has won two of his last three starts for O'Dell.
"We're starting to figure him out a little bit or maybe he's figuring us out – one or the other," the trainer said. "He's a pretty cool horse. We put a flipping halter on him. Sometimes that's our go to move. He's been much better. He fought the gate all the time without it. Now he goes in there and stands. He's not a rocket out of there, but at least he gets going in the right direction. He likes to run them down at the end of the race. For a big, heavy horse he does well. He'll dig in and prove that he can run a little bit. He prevailed tonight. His owner in Brazil, Marcos Ribeiro Leite, he's probably pretty happy right now."
For the complete list of Brad McKinzie Los Alamitos Winter Championship qualifiers with times, sires, dams, owners, breeders, trainers and jockeys CLICK HERE.
* * * * * * * * * * * * * *
Courtesy of www.losalamitos.com.