RACING THIS WEEK
FEATURES
SERVICES
The UQHRAís Beehive Stallion Auction will run through January 15, 2020 at 7:00 p.m. (MST).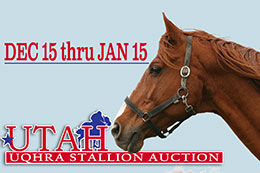 UQHA Beehive Stallion Auction Now Live
SANDY, UTóJANUARY 5, 2019ó
The Utah Quarter Horse Racing Associationís (UQHA) annual Beehive Stallion Auction is now live and will continue through Wednesday, January 15. at 7:00 p.m. (MST).
Horsemen and women can bid on the great selection of more than 65 proven stallions now by CLICKING HERE.
All foals sired by stallions from a resulting breeding sold in the auction will be eligible for nomination to the 2023 $100,000-est. Beehive Futurity.
New this year UQHRA will pay the farm fee on any stallionís that is purchased for their full value price.
Available stallions include Bf Farm Boss, Big Daddy Cartel, Bigtime Favorite, Jess Genuine, Bogart, Carpathian, Cd Rockin Da Wagon, Chips All In, Conn Creek, Eagle Deluxe, Ec Jet One, Eye Am King, Eye On Corona, Fast Prize Jordan, FDD Going Grand, First Down Mr Jess, First Moon Medley, First Prize Doc, Five Bar Cartel, Four Six Jess, Freakier, Glock, Guys Eye Paint, Heat Warning, Heza Fast Rogue, Indigo James, JA Jess Perfect, Jess Being Valiant, Jr Dynasty Mountain. Justaheartofawarrior, Justified, Kas Tempting, King Henry, Kiss My Hocks, Kool Wagon, Kvn Corona, Lethal Corona, Louisiana Jambalaya, LT Tres Ta Fame, Mr Apollitical Dash, Mr Piloto and My Famous Romance.
Also, Oceans Apart, One Dashing Eagle, One Fabulous Eagle, One Handsome Man, One Sweet Jess, Paint Me Perry, Pappasito, Pc Redwood Manny, PCR Pink Cadillac, Pistol Packin Perry, Racy Casanova, Rebs Easy Cash, Rip Tide, Royal Quick Dash, Seperate Interest, Stevie B First Cash, Stylalistic, Tarzanito, Texas Icon, Tf Im That Guy, Twoforthedough, View Me Flying, Winners Version, and You Drive I Fly.
No Rush Bidding!
There is a five Minute Extension to allow time for everyone to bid! If two or more people are bidding on the same stallion service within the last five minutes of the auction closing, the bidding will automatically continue in increments of five minutes until only one person is bidding. The stallions that are extended will be noted in red on the auction page.
Please Note
Once a stallion's bidding has been extended, bidders MUST be on the Stallion's Bidding page to see the countdown clock for that Stallion. That Stallion's countdown clock will automatically reset and add 5 minutes anytime a bid is made. This Stallion Listing page only refreshes when the Auction clock expires. To see updated bids, refresh this page.
Stallion services that do not sell at the live auction will be available until March 31, on the UQHRA website.
For additional information on the auction contact Taylor Johnson 801-791-2637 or email at uqhrastallionauction@gmail.com.
* * * * * * * * *
Contracts for stallion donations are still available on the associationís website, uqharacing.com, for any owner or farm still wanting to donate a stallion breeding for 2020. UQHRA will accept them at any time. There are currently 67 stallions, and more are being added.