RACING THIS WEEK
FEATURES
SERVICES
Leading sire Apollitical Jess surpassed the $50,000,000 mark in progeny earnings over the weekend.

© Amanda Glidden / Plugged In Marketing
Apollitical Jess Breaks $50 Million Mark In Progeny Earnings
NORMAN, OK–JUNE 13, 2022–Bob Moore Farms' Word champion and current leading sire of money earners for 2022 Apollitical Jess surpassed the $50 million mark in sire earnings this week, eclipsing all-time leading sire First Down Dash in the number of crops to race that it took to get there.
All-time leader First Down Dash broke the $50 million dollar barrier at the end of 2005 with his 16th crop to race at the track that year. Apollitical Jess has reached $50 million in just nine crops to hit the racetrack.
Through today (June 13), the son of former leading sire Mr Jess Perry has sired 831 starters, 535 winners, 109 black type winners, 81 black type placed (23% black type), earners of $50,485,510 with average earnings per starter of over $60,750 per head.

Apollitical Jess currently sits #4 on the All-Time Leading Sire of Money Earners list, some $9 million behind his sire Mr Jess Perry (#3 - $59.9 million), Corona Cartel (#2 - $66.7 million) and First Down Dash (#1) with $89.8 million in earnings.
Also, through today Apolliticial Jess' 2022 earnings mark is at $3.2 million, of which he will have to surpass $9.046 million by the end of the year to top his 2021 all-time seasonal earnings record.
Last year's All American Futurity(G1) winner Kj Despardo leads the young sires' 2022 progeny by earnings with $285,790, following a dominating performance in the Grade 1 $850,000 Ruidoso QH Derby (see related story) on Sunday at Ruidoso Downs.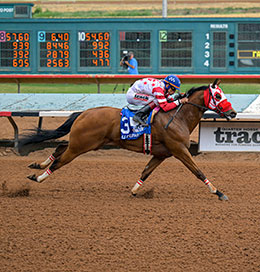 KJ Desparado's win in the G1 Ruidoso Derby on Sunday helped propel his sire's earnings mark to more than $50-million dollars.
© Jake Rogers / Ruidoso Downs
His other 2022 stakes winners (with 2022 earnings total) include Los Alamitos Oaks(G3) winner Sweet Tres ($193,845), Heritage Place Oaks winner Political Rose ($141,436), Juno's Request Stakes(G1) winner Pops First Lady ($112,149), Sam Houston Derby(G3) winner Special Apollitical ($111,160), Ruidoso QH Invitational winner A Pollitical Candy V ($91,025), Brad McKinzie Winter Championship(G1) winner Apollitical Pence ($W68,534), West Texas Maturity(G3) winner Mitey Political ($65,359), Mighty Deck Three Stakes(RG2) winner Jc Wild King ($63,960), Texas Twister Stakes winner El Tartanero Jess ($47,340), Ruidoso QH Juvenile(G3) winner Rock A Jess V ($44,541), Slm Big Daddy Stakes (G3) winner O Donovan Rossa ($38,446), West Texas Juvenile winner Apollitical Jet ($26,630), Check Her Twice Handicap winner In My Heart ($26,400), Dashing Folly Stakes winner Gotta Corona Jess ($52,579).
Apollitical Jess has sired eight millionaires including Apocalyptical Jess SI 103 (9 wins to 6, 2022 $2,251,556 three-tme AQHA Racing Champion, All American Futurity-G1, etc.), Kj Desparado SI 104 (7 wins to 3, 2022 $2,109,761 All American QH Futurity-G1, Texas Classic Futurity-G1, etc.), Mr Jess Jenkins SI 104 (4 wins to 3, $1,631,033 All American Futurity-G1, etc.), Apollitical Blood SI 99 (6 wins to 3, $1,519,800 AQHA Racing Champion 3-Year-Old Colt, All American Derby-G1, etc.).
Also, Apollitical Pence SI 106 (14 wins to 6, 2022 $1,516,985 AQHA Supreme Race Horse, Champion of Champions S.-G1, etc.), Hold Air Hostage SI 108 (9 wins to 5, $1,415,551 two-time AQHA Racing Champion All American Derby-G1, Rainbow Derby-G1, etc.), Empressum SI 110 (13 wins to 4, 2022 $1,098,629 two-time AQHA Racing Champion Rainbow Derby-G1, Ruidoso Derby-G1, etc.) and Apollitical Gold SI 96 (5 wins to 4, 2022 $1,001,075 AQHA Racing Champion 2-Year-Old Gelding, Golden State Million Futurity-G1, etc.).
Owned by Rancho El Cabresto, Inc., Apollitical Jess stands at Bob Moore Farms in Norman, Oklahoma. Booked full in 2022, his fee was $26,000.
For additional information or breeding contracts call Mikayla Yonkers, Bob Moore Farm Manager, at 405-329-8571.