RACING THIS WEEK
FEATURES
SERVICES
Far Niente (inside), under jockey Ramon Sanchez, and Dynasty Red post the to qualifying times to the PCQHRA Breeders Derby on Friday at Los Alamitos on Friday night.

Scott Martinez Photo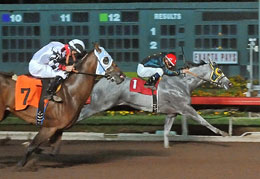 Far Niente Is Fastest Qualifier Again Following Breeders Derby Trials
LOS ALAMITOS, CA—SEPTEMBER 13, 2013—
Tom Atwood and
Vessels Stallion Farm
LLC's Far Niente struck gold once again from post number one, as the recent winner of Grade 1 Golden State Derby recorded the fastest qualifying time to the $175,000 PCQHRA Breeders Derby on Friday at Los Alamitos.
Ridden by Ramon Sanchez for trainer Jose Hernandez, Far Niente's trial win was of the hard fought variety in a 400-yard time of :19.605. The son of FDD Dynasty was third as the start of his trial race before flying in the second half of the race to hold off Spackman Racing and Lin Melton's Dynasty Red.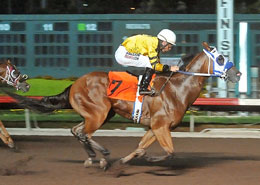 Cody Jensen gets a 1 ¼ length victory aboard Tres Corona Mas in the second trial.
Scott Martinez Photo
Far Niente came into this trial race after scoring a neck victory in the $233,000 Golden State final on August 25. He was the fastest qualifier to the Golden State and also to the PCQHRA Breeders Futurity last year, winning that trial outing from post number one.
"He's done time and time again from post one," said John Wells, who trained Far Niente last year and now oversees Atwood's racing interests.
"Is he the best 3-year-old on the grounds?" asked Kevin Dickson of Vessels Stallion Farm. "We think he's right up there with the best."
"I think he's the best 3-year-old in country," Wells added.
Bred in Texas by Bielau Oaks, Far Niente has certainly proved to be at the top of his game since being gelded prior to the August 11 trials to the Golden State Derby. He is now a perfect three for three as a gelding. In his only other start of 2013, he was second to Buy By in a trial to the Los Alamitos Winter Derby. Far Niente won the last of four trials to the PCQHRA Breeders Derby, which will feature the horses with the 10 fastest times in Friday's trials. The final will be contested on the eve of the Los Alamitos Equine Sale on Friday, October 4.
Ill Be A Dasher under jockey Jay Conklin wins the first trial.
Scott Martinez Photo
"We would love, love to start from post number one in the derby final," Dickson added. "He just loves it in there. I'm just thrilled to see that all the changes we've done with him have worked."
"We're 'old school' in the way we do things and 'old school' wins races," Wells added.
Saddled by Lin Melton, Dynasty Red finished as the second fastest qualifier with a time of :19.645. Also sired by FDD Dynasty and bred in Mexico by Anselmo Aguilar, Dynasty Red was making his first start since running third in the Vandy's Flash Handicap on June 29.
"He always runs big," Melton said. "No matter where he is at, he always gives you a good race. He looked good tonight. He ran a pretty strong race. I thought he did everything perfect after being two months off. I love FDD Dynasty babies and the top two finishers in this race are both by FDD Dynasty."
Dynasty Red was third in last year's Wild West Futurity and also third in the Holiday Handicap on December 30. He hit the board in the John Deere Les Bois Park Juvenile Challenge last year and was second across the wire in this year's Bitterroot Derby before disqualified from that spot and placed fifth. Despite that result, he has still finished in the top three in 11 of 13 career starts.
Vessels Stallion Farm LLC's Tres Coronas Mas finished as the third fastest qualifier following his impressive 1 ¼ length victory in the second trial. Saddled by Cody Joiner and ridden by Cody Jensen, the Tres Seis gelding covered the distance in :19.731 while enjoying his first victory since breaking his maiden eight races ago in July of 2012.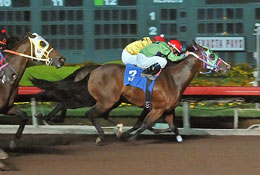 Paul Jones stablemates Splendiferous Diva (#3) and Joy Roses Eagle (#1) race to the wire in the third trial.
Scott Martinez Photo
"He ran a very professional race tonight and looked like an older horse out there," Dickson said. "Cody Joiner has done a phenomenal job with him and he really has him going in the right direction. We tried to manage him from home, but maybe that was a mistake on our part. We decided to leave him at the track because that's where he needed to be. He's really enjoyed that and now he's eating the bottom out of the tub. Cody has a great program going with this horse.
"We were approach a couple of times to sell him last year," he added. "But Kash (Vessels) stuck with this horse and I'm glad that he did. He looks like the real deal and I believe that the best is yet to come. He looked like he was out for a gallop in this race and he didn't turn it on until about the 1/16th of a mile pole. Cody Jensen never touched him."
RTM Stables LLC and Two The Max Investments LLC's Ill Be A Dasher won the opening trial of the night with a solid ¾ length victory in a time of :19.825. The gelding by Carters Cartel has won his last four starts, which include the $27,448 Maiden Frolic at Les Bois Park. Trained by Jim Hanson in Idaho, Ill Be A Dasher was saddled at Los Alamitos by his son, Ryan Hanson, and ridden by Jay Conklin.
"He had bad luck last year," Hanson said. "In his first start he broke well but then he went out almost to the fence. He just had a lot of bad luck. This year he has matured a lot and that's been a big difference." "He's really come into his own," Conklin added.
Veronica Gail Worth's Splendiferous Diva held off Splenda LLC's Joy Roses Eagle Sa to win the third trial of the night. The two fillies earned qualifying spots thanks to their efforts with Splendiferous Diva finishing as the ninth fastest qualifier with a time of :19.965 and Joy Roses Eagle Sa securing the 10th fastest time in :19.981. Paul Jones saddled both fillies. Splendiferous Diva is by leading sire Separatist and Joy Roses Eagle is a daughter of all-time leading first crop sire One Famous Eagle.
Jones also qualified Lanty's Jet Handicap winner Significant Heart and Stylish Jess Br Handicap winner Look Whos Running.
For the complete list of qualifiers , times, sires, dams, owners, breeders, trainers and jockeys CLICK HERE.
Courtesy of www.losalamitos.com