RACING THIS WEEK
FEATURES
SERVICES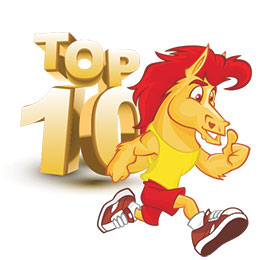 AMERICAN QUARTER HORSE ASSOCIATION—OCTOBER 18, 2017—The two biggest races of the past weekend – the $330,000 Bank of America Challenge Championship (G1) at Prairie Meadows and the $125,000 Robert L. Boniface Los Alamitos Invitational Championship Stakes (G1) at Los Alamitos – shook up the AQHA Racing National Poll for older horses, as the two winners both advanced in the rankings. Heza Dasha Fire, the 2015 world champion who went over the $2 million mark in career earnings with his victory at Los Alamitos, moved up from a tie for fourth to be a clear No. 3 behind Hold Air Hostage and Jessies First Down, respectively, in the latest poll. The 5-year-old won the Go Man Go Handicap (G1) ...
---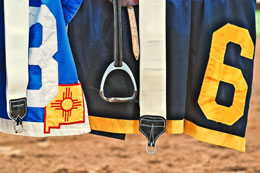 ALBUQUERQUE, NM—OCTOBER 18, 2017—Horsemen and women are reminded that nominations close on November 1 for five 2018 stakes at Albuquerque Downs. All five stakes will be contested during Albuquerque Downs' closing weekend, September 22-23, 2018. "We paid a track-record of more than $1.5 million in purses during closing weekend of our 2017 season, and we hope to top that next year," said Downs president of racing Don Cook. "We are growing, and we invite our horsemen to grow with us." Click on the links below to download nomination forms, or visit the horsemen's page on the ...
---
ADVERTISEMENT
---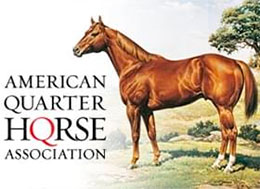 By AQHA Executive Vice President Craig Huffhines OCTOBER 16, 2017—As the largest single-breed equine association in the world, the American Quarter Horse Association strives for excellence as a breed registry and to provide outstanding customer services as an Association. To deliver the best service to our members and horse lovers around the world, it is necessary for AQHA to review the Association's budget and make changes to maintain a strong financial position to support the future of our great Association. Every year, internal staff develops a tentative budget prior to the beginning of the fiscal year, which is approved ...
---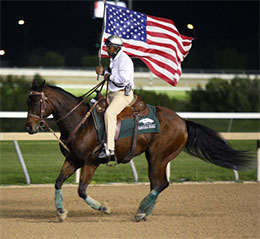 By Tom Harris, Retama Park SELMA, TX—OCTOBER 15, 2017—An evening at Retama Park brings out all the atmosphere of the sport of horse racing with teams of horses and jockeys, trainers with their horses in the paddock and so on. But there is another team that often goes overlooked, the outriders. For nine years, Jon Boxie has been leading the horses to the track for the post parade, and much of that time has been with his beloved partner Riley. Jon has had Riley since he was a foal, and together they have stood watch at the San Antonio-area oval in the mornings and during the races at night. It's a job of keeping people safe. A ...
---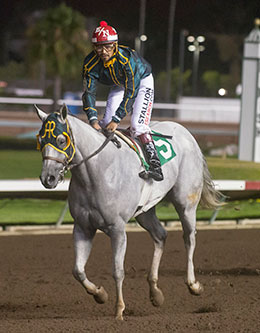 LOS ALAMITOS, CA—OCTOBER 13, 2017—Far Niente, a three-time Grade 1 stakes winner at Los Alamitos and one of the top horses in his division dating back to 2013, was euthanized on Wednesday after an accident in his stall on Saturday night. Owned by Tom Atwood and John Wells, Far Niente had head trauma and a loss of vision as a result of the accident. "It's hard for me to talk about him because he meant the world to me," said Wells, who trained Far Niente for many of his 28-career starts. "I had him for six years. He's the horse that brought me back to training horses. He was more than ...
---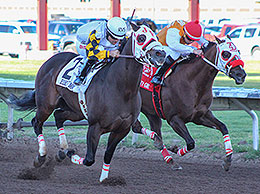 LOS ALAMITOS, CA—OCTOBER 13, 2017—According to a report in a special edition of the TRACK Magazine's Monday Report track management at Los Alamitos Race Course has denied a stall to defending World Champion Jessies First Down who earned a berth to the 2017 Champion of Champions(G1) with his win in the $250,000 Downs at Albuquerque Championship on September 24th. Owner/breeder Ted Abrams told TRACK Magazine "We are very disappointed that we can not run our horse in the Champion of Champions." "This horse has done everything that he was supposed to have done to qualify for the race. We ran at Albuquerque to help our friend Paul Blanchard with his new race and because we knew that the winner of the race would get to run ...
---
RUIDOSO DOWNS, NM—OCTOBER 13, 2017—The sale of Ruidoso Downs, the Billy the Kid Casino and the Ruidoso Horse Sale Company closed on October 12 to a group of four accomplished horsemen and businessmen. The buyers are Stan Sigman, John Andreini, Narciso "Chicho" Flores and Johnny Trotter. The new ownership is named All American Ruidoso Downs, LLC (AARD) and All American Ruidoso Horse Sales, LLC (AARHS). The four men comprise the board of directors for both entities with Sigman selected as the chairman. The new ownership group are each racehorse owners and breeders with extensive business experience inside and outside the horse industry. "I'm just a spokesperson for the board ...
---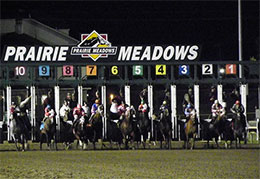 QUARTER RACING JOURNAL—OCTOBER 12, 2017—On Saturday, October 14, horses will line up to contest the 25th edition of the Bank of America Challenge Championships at Prairie Meadows in Altoona, Iowa. The event's history is sprinkled with many past champions, and it is possible that a new champion will perform at this event. The Bank of America Challenge Championship offers regional, maiden and bonus Challenge races around the world, with the regional races culminating in a year-end matchup, the Challenge Championships. The program provides more racing opportunity for American Quarter Horses of all ages. This year's Championships begin with Race 6 on the Prairie Meadows card. ...
---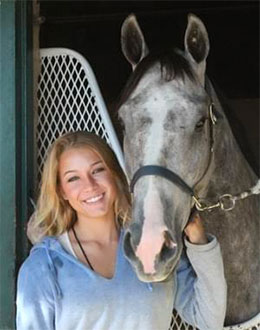 AMERICAN QUARTER HORSE ASSOCIATION—OCTOBER 11, 2017—This week the American Quarter Horse Association will host five American Quarter Horse Youth Association members during the National Youth Racing Experience at Prairie Meadows in Altoona, Iowa, during the Bank of America Challenge Championships. "To apply, youth members were required to complete an application and online skillathon contest," said Jacy Hammer, AQHA manager of youth development and AQHYA. "During the trip, participants will go through a new interview round where they ...
---