RACING THIS WEEK
FEATURES
SERVICES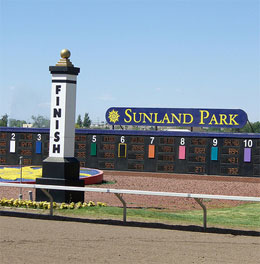 SUNLAND PARK, NM—JUNE 22, 2018—The Fulton family, owners of Sunland Park Racetrack and Casino, officially announced their intent to submit a bid to the New Mexico Racing Commission seeking the state's only remaining racing license. Rick Baugh, General Manager of Sunland Park Racetrack, made the announcement on Thursday (June 21) at the New Mexico Racing Commission meeting on behalf of the family. The Fulton family has owned and operated Sunland Park Racetrack and Casino since 2000 and built it into one of the premier horse racing facilities in the country. The family's passion for quality horse racing in New Mexico is ...
---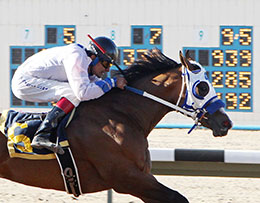 ALBUQUERQUE, NM—JUNE 22, 2018—SunRay Downs announced today their $96,589 Four Corner Futurity final, originally set for June 17th, has been rescheduled for Sunday, July 1st and will be contested at Albuquerque Downs. SunRay was forced the cancel the 350 yard stakes for 2-year-old American Quarter Horses due to track conditions at the Farmington racecourse after a summer storm hit the area on closing weekend of the meet. Wallace Johnson's Shes Got Fire, a Utah-bred daughter of leading living Quarter Horse sire
Corona Cartel
trained by Justin Joiner, should be the morning-line choice for Four Corners Futurity final. The fastest qualifier, Shes Got Fire made her debut with a wire-to-wire, 1-¼ length victory in the last of four trials ...
---
ADVERTISEMENT
---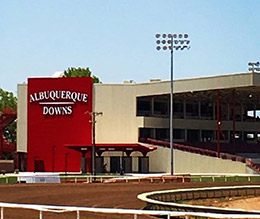 ALBUQUERQUE, NM—JUNE 21, 2018—The Downs at Albuquerque has released its track-record 23-race, $2.602-million stakes schedule for its 2018 Thoroughbred and Quarter Horse meet, which opens June 29. Of The Downs 23 stakes races, 15 will be for Thoroughbreds and eight will be for Quarter Horses. The track's Thoroughbred stakes will be worth an estimated $1.08 million, and its Quarter Horse stakes will be worth an estimated $1.4 million. The highlight of the 55-date season, the 440-yard Albuquerque Fall Quarter Horse Championship, Presented by South Point Hotel & Casino in Las Vegas, will be one of five stakes offered on closing day, September 23. In addition to being granted Grade 1 ...
---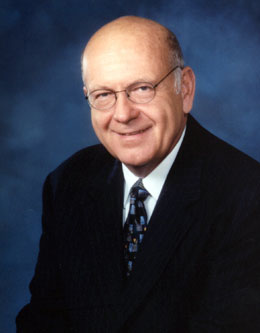 LOS ALAMITOS, CA—JUNE 20, 2018—Ed Allred, the owner and chief executive officer of Los Alamitos Race Course, had successful throat surgery on Wednesday morning and will be discharged from the Mayo Clinic in Phoenix, Arizona on Thursday. "I just spoke to Ed on FaceTime and he looked and sounded great," said Cathy Monji, the president of Los Alamitos Race Course. "He's already looking forward to watching and enjoying all of the Los Alamitos races on TVG." Allred, the all-time leading owner and breeder of American Quarter Horses, ...
---
PRESCOTT, AZ—JUNE 20, 2018—The former Yavapai Downs horse track will reopen with a new name: Arizona Downs. Arizona Downs was the name of a former racetrack in Phoenix that opened in 1951 at one site and later ran its annual race meetings by leasing Turf Paradise before ceasing operations in 1985. Yavapai Downs last ran in 2010. The ...
---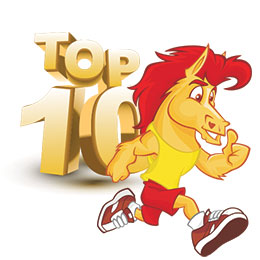 AMERICAN QUARTER HORSE ASSOCIATION—JUNE 20, 2018—The last AQHA Racing National Poll before summer officially arrives on June 21 did not change much compared to the previous week, but with American Quarter Horse racing's busiest season on tap, there should be some significant movement over the next three months. In the poll for older horses, Jessies First Down held the top spot for the eighth consecutive week. The 7-year-old gelding by
FDD Dynasty
is undefeated this year after notching two Grade 1 wins during the Remington Park meet. No. 2 ranked BH Lisas Boy was in action this past weekend with a victory in his Vessels Maturity (G1) trial at Los Alamitos, and he's set to return for the July ...
---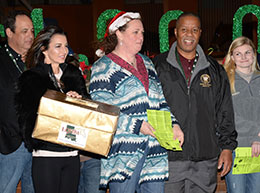 ALEXANDRIA, LA—JUNE 19, 2018—The Louisiana Quarter Horse Breeders Association (LQHBA) will award two $1,500 scholarships to further the education of Louisiana students on Saturday, July 7 at Delta Downs. The final night of the 2018 Quarter Horse racing season will feature several quality stakes, including the $700,000 Lee Berwick Futurity (RG1) and the $268,655 Delta Downs Louisiana Bred Derby (RG3). Through the generous support of sponsors
Jet Black Patriot
and Robicheaux Ranch, Inc., two $1,500 scholarship drawings will be awarded as part of the very special evening saluting accredited Louisiana-bred racehorses. Scholarship entrants must be a Louisiana High School graduate or a Louisiana High School student graduating in 2019 ...
---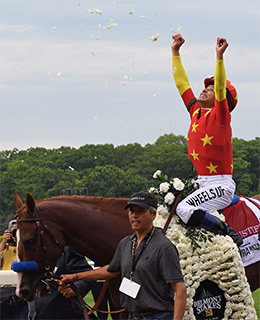 RUIDOSO DOWNS, NM—JUNE 16, 2018—Triple Crown winning jockey and New Mexico native Mike Smith will make a celebratory appearance at Ruidoso Downs on July 8. "Mike is a global celebrity now and we are honored by his willingness to come to Ruidoso Downs to share his Triple Crown celebration with us," Ruidoso Downs' president and general manager Jeff True said. "He is a wonderful ambassador of our sport and he never forgets where he came from. "He told me his family will fill half the ...
---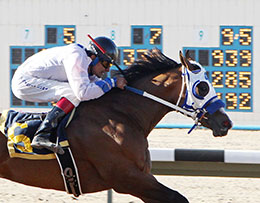 FARMINGTON, NM—JUNE 17, 2018—Due to track conditions SunRay Park was forced to cancel races 4 through 10 today (Sunday) including the $25,000-added Four Corners Futurity. Inclement weather hit the area overnight and track officials had worked hard to get the surface ready for Sunday. She Got Fire, a daughter of leading sire
Corona Cartel
from the Ed Burke Million Futurity(G1) winner Separate Fire, by Walk Thru Fire, broke her maiden in the Four Corners Futurity trials, her first career start, on June 1st. Owned by Wallace Johnston and trained by Justin Joiner, She Got Fire was a $50,000 repurchase in the Heritage Place September Yearling Sale in Oklahoma City. She was set as at the ...
---
SOUTH JORDAN, UT—JUNE 16, 2018—The Utah Quarter Horse Racing Association instituted hair-testing for the recent trails held at Laure Brown Racetrack. Trials were conducted for the $15,070 South Valley Futurity on June 1 and the $92,233 Beehive Futurity on June 2. "We received Positive hair tests for Jess A Success who was second fastest qualifier in the South Valley Futurity and Heza Winners King who was going to run in the Beehive Consolation Futurity Finals," a spokesman for the association said. Both horses have been disqualified and have been given a no time. Due to the disqualification in the South Valley, the 11th qualifier, Flare Up Baby, has been moved up to 10th and made eligible to enter today's (June 16) final. Flare Up Bay is a daughter of Quick To ...
---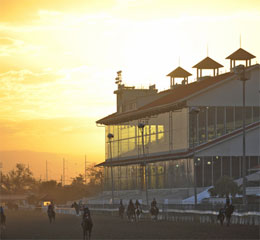 NEW ORLEANS, LA—JUNE 15, 2018—Fair Grounds Race Course in New Orleans, which opens its 10 day 2018 American Quarter Horse meet on August 16, has released their 2018 QH Stakes Schedule headed by the RG1 $150,000-added LQHBA Sale Futurity. The restricted Grade 1 sale futurity is for 2-Year-Olds who passed through the 2017 LQHBA Yearling Sale in Kinder, Louisiana or the LQHBA Fall Mixed Sale (as long as they are paid to date in the LQHBA Louisiana Million). Jrs Taylors Runaway, a $10,000 repurchase in the 2016 yearling sale, earned ...
---