RACING THIS WEEK
FEATURES
SERVICES
Painted Turnpike, under jockey Cody Smith, drives through the rain at Lone Star Park Saturday night to become the first ever Speedhorse Paint & Appaloosa Triple Crown winner!.

© Dustin Orona Photography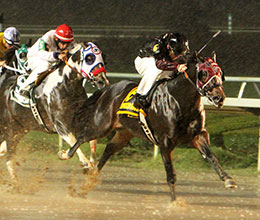 Painted Turnpike Does It! Becomes First Ever Speedhorse Paint & Appaloosa Triple Crown Winner
GRAND PRAIRIE, TX—OCTOBER 30, 2015—
On the eve of the 32nd Breeders' Cup, an American Paint Horse named Painted Turnpike wins the Grade 1 $89,780 Speedhorse Paint & Appaloosa Futurity at Lone Star Park and with that, he became the first ever Speedhorse Paint & Appaloosa Triple Crown winner!
2015 marks the fourth year the Speedhorse Paint & Appaloosa Triple Crown has been in existence and the first year to crown a champion.
Trained by Matt Whitekiller for owner/breeder Nolan D. Pevehouse, the newly crowned champion Painted Turnpike put forth a powerful effort under regular rider Cody R. Smith, winning by a 1½ lengths in gate to wire fashion over Bull in second place and Sturgis in third. In the driving rain and with a big boom of thunder as he crossed the finish line it was as if the clouds were applauding the effort.
Speedhorse Magazine publisher John Bachelor presents the winning connections with the stakes trophy for their victory in the Speedhorse Paint & Appaloosa Futurity and Speedhorse Paint & Appaloosa Triple Crown on Saturday at Lone Star Park.
© Duston Orona Photography
The winner covered the 400 yards in 20.150 seconds over a sloppy (sealed) racetrack. The speed index earned for the effort was 83.
This was the eighth win from nine career starts for Painted Turnpike, a 2-year-old colt bred in Oklahoma by Pyc Paint Your Wagon (QH) out of High Class Turnpike by Royal Quick Flash. After pocketing $36,810 for the victory, his earnings now total $231,473, plus for earning the Triple Crown, his owner was awarded a 3-horse gooseneck Star Trailer, a $35,000 discount towards the purchase of a SportChassis, LLC heavy-duty truck, a trophy and a buckle. Besides the Crown, he was awards high point champion for more awards including a $5,000 cash bonus.
Congratulations to all of Painted Turnpike's connections and for becoming the first ever Speedhorse Paint & Appaloosa Triple Crown Champion!
Buddy Albin's Bull boosted his earnings to $70,642 after pocketing $15,263 for finishing second. Jason Olmstead saddled with Jorge Torres riding the Cartel Success (QH) colt from the Texas Hero mare Memories Of Texas. Bill Price is the breeder.
Dee Keener saddled Sturgis for owners Paint Horse Queens. Steven Wright bred the Dos Poruno colt in Oklahoma from the Country Quick Dash mare Biker Chick. Ridden by Jose Vega he eared $9,976 for the effort.
Mutuels returned $2.60, $2.60 and $2.40. For place Bull returned $5.40 and $4.00. Sturgis returned $5.60 for show.
Wagonette, Dtl Head Honcho, Texas Snowman, Imahotchicken, Psychedelic Scott and Face Paint completed the order of finish. Paleface Cartel was a late scratch from the race.
On the Track: Join us Saturday, October 31 for more live racing at Lone Star Park plus, watch and wager on the 32nd Breeders' Cup simulcast live from Keeneland in Lexington, KY. Gates open early at 9:30 a.m. A special first live race post time is at 1:35 p.m. (CDT).