RACING THIS WEEK
FEATURES
SERVICES
Heza Dasha Fire became the first horse to win consecutive runnings of the Los Alamitos Invitational Championship since 2009.

© Scott Martinez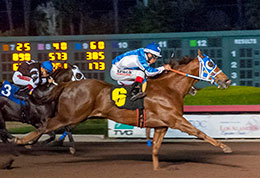 Heza Dasha Fire Defends Los Al Invitational Championship Title; Goes Over $2 Million In Earnings
LOS ALAMITOS, CAóOCTOBER 15, 2017ó
S-Quarter K LLCís Heza Dasha Fire, the 2015 AQHA World Champion, is now a multi-millionaire after becoming only the sixth horse to win back-to-back runnings of the Grade 1 Robert Boniface Los Alamitos Invitational Championship thanks to a ĺ length victory over Johnny Trotterís Bodacious Eagle on Sunday night.
Ridden by Cruz Mendez from post number six for trainer Jose Flores, the 2-5 favorite Heza Dasha Fire finished powerfully in the 440-yard classic after running past early leaders Bodacious Eagle and Big Lew near the halfway mark of the race. The homebred gelding by Walk Thru Fire earned $58,570 for the win to take his career earnings over the $2,000,000 mark. His new bankroll is now $2,047,807 from 15 wins in 20 career starts.
Heza Dasha Fire is the first to win consecutive runnings of the Los Alamitos Invitational Championship since Freaky in 2009-10. The others to successfully defend their title in this race are: three-time winner Catchmeinyourdreams (2003-05), Heza Rambling Man (1997-98), Refrigerator (1992-93), and four-time winner Go Josie Go (1965-1966, sweeping the Spring and Fall Championships each year).
"Itís a privilege to be able to win this race again," said Don Meneely of S-Quarter K. "It was not his greatest start in the world. He didnít break real well. He was in the middle pack, but in the last 100 yards he accelerated. That was exhilarating to see. He showed his class at the end of the race. He was really on his toes. I donít know why he didnít break as sharp as he usually does. Thatís horse racing. You are not always going to break on top. He found a way to win the race. Weíre really excited and really happy."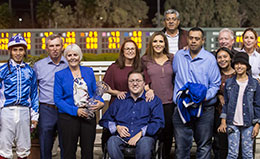 The winning connections of Heza Dasha Fire accept the Los Alamitos Invitational Championship stakes trophy Sunday at Los Alamitos.
© Scott Martinez
Flores, who has trained the Washington-bred Heza Dasha Fire from the start, had similar thoughts on the race.
"I didnít see him get away like he usually does," the trainer said. "He moved a little bit in the gates. They did a good job getting them out the gate. Half the way there I was a little bit nervous. Bodacious Eagle got in front of him, but (Heza Dasha Fire) prevailed. That heart of his just keeps showing up. Sometimes heart means more than anything. I was very happy that he finished the way he did."
Heza Dasha Fire has now won eight Grade 1 races at Los Alamitos. He won the (G1) Ed Burke Million Futurity and (G1) Golden State Million Futurity during his freshman campaign when named 2014 champion 2-year-old gelding. He won the (G1) Los Alamitos Super Derby, (G2) Golden State Derby, and (G1) Champion of Champions during his sophomore season when named 2015 World Champion, champion 3-year-old, and champion 3-year-old gelding, and last year he won the (G1) Go Man Go Handicap and (G1) Robert Boniface Los Alamitos Invitational Championship. Heís now successfully defended his titles in both the Go Man Go and Los Alamitos Invitational Championship to give him eight great Grade 1 wins.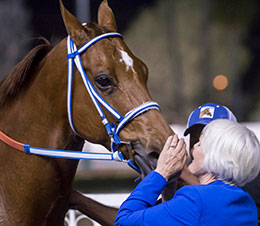 Kathy Meneely with Heza Dash Fire.
© Scott Martinez
"Those things will be a lot more important later on in the years when you look back," Meneely continued. "Right now you just want him to continue to show the form that he has in the past. Tonight he found another way to win. Instead of going wire-to-wire he showed some real guts, determination, and speed on the end. That was really exciting to see."
After his 1 ĺ length win in the Go Man Go on September 3 and now this come-from-behind victory, is this Heza Dasha Fire as good as the 2015 version?
"He might be," the owner responded. "We were really worried after (a runner-up effort) in the Spencer Childers Championship Handicap in the way he lacked his finish. He came back to form (in the Go Man Go). We were wondering what we would see tonight. He was on his toes in the paddock and he was all business. Iíll have to look at the film to see why he broke late or maybe itís just what happened. He had his mind on winning in that last 100 yards of the race. He would not be denied. We are excited about the form that he is in right now."
Having now earned a berth to the $750,000 Champion of Champions on December 16, Heza Dasha Fire will now enjoy some time off before beginning preparations to become a two-time winner of the Champion of Champions.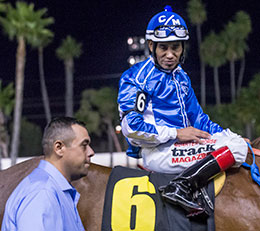 Jockey Cruz Mendez and trainer Jose following Heza Dash Fire's second straight win in the Los Alamitos Invitational Championship.
© Scott Martinez
"Heís in great shape and heís extremely healthy," Meneely continued. "Thatís a good set-up for the Champion of Champions. Itís nice to win going into the Champion of Champions. Heíll probably have a work somewhere in there to keep him sharp. Jose has done a fantastic job. You have to train them a little different when theyíre five than when theyíre two or three. Jose does a great job with that. With some luck and some good health going into it, I think we have a good chance."
Flores indicated that training Heza Dasha Fire for this yearís Champion of Champions figures to have some subtle differences than his training when he first won the race in 2015.
"Heís getting older," Flores began. "Weíve changed a little bit his training pattern. Hopefully it works out good for us. He got a little bit sick on us last year, but all through this year Dr. Ricky Overly and his team have done a great job working with him. Theyíve kept him sound and healthy and thatís the key with him, to keep him healthy. Heza Dasha Fire will have good race if he goes into the Champion of Champions healthy."
In the meantime, the connections of Heza Dasha Fire will continue to enjoy their "once-in-a-lifetime" superstar.
"Heís unbelievable," Meneely said. "Thereíll be a point in time where he doesnít want to run or canít run to the form that heís running in. Heíll tell us when that point in. Until then weíll just enjoy the heck out of him. We know that heís an once-in-a-lifetime horse. Heís extremely well-bred (by Walk Thru Fire and out of Dasha Freda). Heís not a fluke breeding wise. He deserves to be there. Heís got brothers and sisters that have been extremely successful. Heís very, very special horse."
Ridden by Ricky Ramirez and trained by Jaime Gomez, Bodacious Eagle ran a great race from post number one in what was his first start in California since running in the Los Alamitos Two Million Futurity on December 14, 2014. A five-time major stakes winner in his career, Bodacious Eagle earned $25,000 in this race to take his career earnings to $833,549 for Johnny Trotter. Bred by La Feliz Montana Ranch LLC, Bodacious Eagleís stakes wins include the Grade 1 Leo Stakes, Grade 1 Texas Classic Derby, Grade 2 Eastex Handicap, Grade 3 Dash For Cash Derby, and Grade 3 Higheasterjet Handicap. Bodacious Eagle is an Oklahoma-bred gelding by One Famous Eagle.
Reliance Ranches LLCís Big Lew, winner of the Super Derby last year, earned $12,500 for his third place finish. Jesus Rios Ayala piloted the son of Corona Cartel for trainer Mike Robbins. Big Lew has now earned $638,878 in his career. Katies Easy Moves, He Looks Hot, Thermonuclear Energy, The Charm Of Corona, Stel Easy, and We Like Corona completed the field.
Courtesy of www.losalamitos.com.