RACING THIS WEEK
FEATURES
SERVICES
Ld Is Back, under jockey Rodgrigo Aceves, setting the fastest time for the Grade 1, $956,600 Los Alamitos Super Derby Saturday at Los Alamitos Race Course.

© Scott Martinez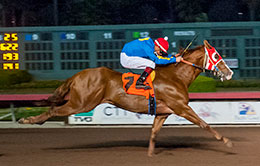 Ld Is Back Is At The Front Of Qualifiers To Grade 1 Los Alamitos Super Derby
LOS ALAMITOS, CA—OCTOBER 20, 2017—
Darling Farms and Jaime Gomez's LD Is Back has posted some eye-catching efforts this year.
There was his maiden win on July 1 when he surged to a half-length victory after a slow start and also his runaway stakes victory in the Jens List Memorial Stakes on July 29. He also showed his powerful late kick on October 6 when he flew for fourth in the PCQHRA Breeders Derby after being in last place after a troubled start.
Yet, LD Is Back's best race may have come on Saturday night, as the gelding by Walk Thru Fire separated himself from his rivals midway through his 400-yard trial in route to posting the fastest qualifying time to the Grade 1, $956,600 Los Alamitos Super Derby.
Jockey Juan Ramiez rides Jess Mas to the second fastest time in opening trial Saturday night.
© Scott Martinez
Ridden by Rodrigo Aceves, LD Is Back trailed Blueyedeagle at the start, but then he turned on the jets to win by 1 ½ lengths. The Gerardo Pasquel-bred runner covered the distance in :19.718 and will now be among the 10 horses that will return for the derby final on November 12. The winner of the Super Derby final will earn a first place check of $387,030 and a berth to the Grade 1, $750,000 Champion of Champions to be held here on December 16. This year's Super Derby purse is up 25% increase from last year's final purse.
LD Is Back has now won three of five starts this year after going winless in eight starts in 2016. His dam won the Grade 1 AQHA Derby Challenge Championship.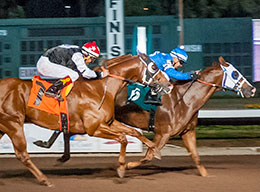 Kissed By An Eagle, under jockey Cesar DeAlba, winning the third trial.
© Scott Martinez
"We did minor surgery on LD Is Back after his 2-year-old campaign and he's come back in unbelievable form," Gomez said. "He's just such a powerful finisher. He finished so good in this race, but he also finished extremely well in the PCQHRA Breeders Derby. He didn't win the Breeders Derby, but he had an awesome finish in that race."
Gomez will train two other horses in the Super Derby final, as he qualified Dutch Masters III's Chazaq, the winner of the Grade 1 Ed Burke Million Futurity last year, and Paul Blanchard and Dutch Masters III's Katella Deli, a multiple Grade 1 finalist and the winner of the second of five derby trials on Saturday night.
"Chazaq also had a little surgery after his juvenile season," Gomez said. "He ran a pretty good race in these trials."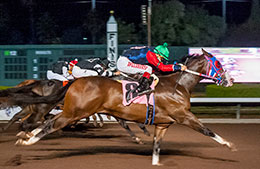 That Rico, under jockey Jesus Ayala, winning the final trial on Saturday.
© Scott Martinez
Trained by Elena Andrade for Burns Ranch and Oscar Andrade, Jess Mas was terrific in winning the first trial of the night, as the filly by
One Sweet Jess
led from start to finish from the outside post eight on the way to an 12-1 upset win over Chazaq and 2016 PCQHRA champion 2-year-old colt Tarzanito.
Ridden by Juan Ramirez, Jess Mas finished the night with the second fastest qualifying time of : 19.744. This was her first start since taking part in the La Pacifica Handicap on May 12. The Elena Andrade-bred runner came into this race after a series of nice works that included a :17.90 gate drill at 350 yards, which was the fastest of eight drills posted at that distance on September 30.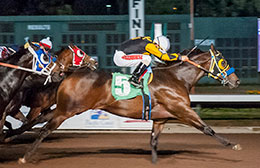 Katella Deli, under jockey Jose Nicasio, winning the second trial.
© Scott Martinez
"We gave her a second work (September 30) because I wasn't super excited about her first work that she gave me (on September 16)," Andrade said. "It was still a good work, but I knew she had a lot more in her. Her (trial) race was amazing. She went against some really nice horses. You kind of second guess yourself when you go with a horse into the trials without having a race, but I was really happy with her second work. We had some company and that was great practice for her. The break (between starts) really helped her a lot. She needed it mentally. She needed a break from the track. She went home with us. My son galloped her the whole time all the way until she came back to the track. They got along perfect. He's a big part of this."
Andrade is looking forward to seeing how Jess Mas will do now that she has the benefit of having Ramirez piloting her back in the final.
"After she's qualified in the past, we've had to find another jockey for the final," Andrade said. "I think we've found somebody that will stick with her and I think that will make a huge difference. She's kind of a special horse. You have to get to know her and I think this combination just really works."
Mark and Peggy Brown's Kissed By An Eagle posted the fourth fastest qualifying time after winning the third heat in a time of :19.836. Ridden by Cesar De Alba for trainer Roman Figueroa, Kissed By An Eagle was fourth in the Grade 2 Golden State Derby and won the Vandy's Flash Handicap earlier this year. He also shared the starting gate with Jess Mas in the Los Alamitos Two Million Futurity last year and won the John Deere California Juvenile Challenge. The son of One Famous Eagle has won seven of 13 career starts.
Paul Jones and Thompson Racing LLC's That Rico posted his fifth win a row after winning the final trial in a time of :19.867. Ridden by Jesus Ayala, That Rico led from start to finish and won by a half-length while holding off Reliance Ranches LLC's Billionaire Boy.
"That was a really good race all the way around," Terry Thompson said. "It looked like everyone got out pretty clean. We're just pleased that he qualified. It looks like he came out of the race pretty nice. We're pleased to be in the big dance. I think he's going to relish the distance. Early in his career, we were a little skeptical if he could go 400 yards. He's proven that he wants more yardage. He's game. He's a nice horse." Sired by Carters Cartel, That Rico has won nine of 15 career starts. The Double Bar S Ranch-bred runner is already a three-time stakes winner this year after taking home trophies in the aforementioned Golden State Derby at 400 yards, the Old Habits Handicap, and Independence Day Handicap.
The complete list of qualifiers to the Los Alamitos Super Derby, times, sires, dams, owners, breeders, trainers and jockeys CLICK HERE.
Courtesy of www.losalamitos.com.