RACING THIS WEEK
FEATURES
SERVICES
Pops Tempting Wagon, under jockey Larry Payne, drives to fastest qualifying time from 12 trials contest Saturday night at Remington Park for the Grade 3 Oklahoma Futurity

© Dustin Orona Photography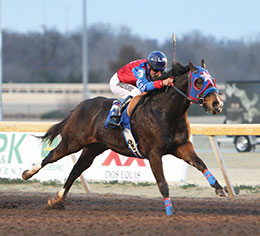 Pops Tempting Wagon Is The Top Qualifier For Oklahoma Futurity At Remington Park
OKLAHOMA CITY, OK--MARCH 10, 2018--
A dozen trials were conducted on Saturday at Remington Park to determine the final field for the Grade 3, $371,200 Oklahoma Futurity.
Pops Tempting Wagon had the best time for the group of 2-year-olds heading to the historic March 24 final.
Owned by Gabriel Gutierrez of Tulsa, Okla. and trained by Guillermo Valdivia, Pops Tempting Wagon was ridden to victory by Larry Payne.
The 2-year-old colt had a great start to immediately go to the lead. He was never seriously threatened while gliding sharply to victory.
Pops Tempting Wagon beat Demi More by three-quarters of a length in the sixth trial, crossing the 300-yard finish in :15.414 over a fast track.
Reggies Bailbond (#2) battles fellow qualifier Tempting Illusion in Oklahoma Futurity Trial 7.
© Dustin Orona Photography
Bred in Oklahoma by Pat Kurz, Pops Tempting Wagon was the first of three finalists sired by champion/champion sire
Tempting Dash
. He's out of the
Pyc Paint Your Wagon
mare Pops Zooming Wagon.
Tempting Dash also sired Tempting Illusion who posted the 7th fastest clocking of :15.542 and First Prize Shawn who secured the final slot with a :15.590 time.
Third-crop sire High Rate Of Return sired the second fastest qualifier, Reggies Bailbond, who posted a :15.506 clocking when he defeated the aforementioned Tempting Illusion by a neck Trial 7.
Igotta Go Gotta Go, under jockey Daniel Torres, winning the opening trial on Saturday at Remington Park.
© Dustin Orona Photography
Reggies Bailbond, an Oklahoma homebred racing for Bret Pevehouse, was the first to two qualifiers saddled by trainer Clinton Crawford. The sorrel gelding is out of Landaluce by Southern Cartel. Omar Reyes was riding.
Crawford's other qualifier Cr Smoke, came out of the final trial. Also ridden by Omar Reyes, the daughter of first-crop sire Pyc First Fancy Lee races for Renee Wilson and is out of the Oak Tree Special mare Fly On Candy Tree.
Igotta Go Gotta Go kicked off the night in the first trial when he posted the third fastest time of :15.523 seconds for owner/breeder Sammy Manek and trainer Luz Chavira. Daniel Torres rode the Separatist filly, out of Igottagoodee by Agouti, to a half-length win.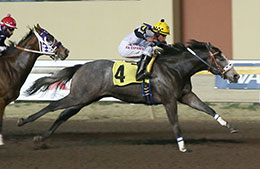 Cr Smoke, under jockey Omar Reyes, closing out the night by qualifying from the 12th trial.
© Dustin Orona Photography
Highly anticipated first crop sire
Coronado Cartel
got his first winner and first graded qualifier when Shez A Cartel Chick defeated fellow qualifier First Prize Shawn by a neck in Trial 11.
Michelle Hurdle saddled the bay Oklahoma-bred filly from the Country Chicks Man mare Chase This Check for owner/breeder Double O Acres LLC. She stopped the timer in :15.548 seconds to get the ninth fastest clocking.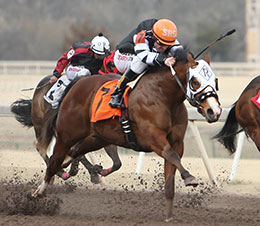 Sc Money Maker, under jockey Storm Smith, qualifying in the second trial.
© Dustin Orona Photography
Coronado Cartel
also sired Jet Packed Kicks who posted the 12th fastest time to earn a spot in the March 24th $50,000-Guaranteed Oklahoma Juvenile.
Reliance Ranches LLC and trainer Mike Robbins qualified Sc Money Maker, a Pyc Paint Your Wagon gelding out of four-time champion Spit Curl Diva with the 5th fastest time of :15.537 seconds andthe aforementioned Demi More, a Corona Cartel filly out of A Tiny Bit More, with the 6th fastest time of :15.538 seconds.
Demi More is a $48,000 Ruidoso Summer Sale graduate bred by Double Bar S Ranch LLC and Sc Money Maker is a Reliance Ranches Oklahoma homebred.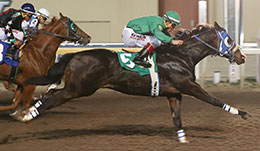 Long Wagon Ho, under jockey Alfredo Triana Jr., qualifies in the ninth trial.
© Dustin Orona Photography
Owner-trainer Julio Corral got the 8th fastest time with $13,000 Heritage Place Yearling Sale graduate Long Wagon Ho by
Pyc Paint Your Wagon
. Bred by Grants Farms, from the
Strawfly Special
mare The Long Straw, Long Wagon Ho clocked a :15.547 time for the 300 yards.
Fernando Carrete trains the aforementioned Tempting Illusion for owners Samuel and Elizabeth Mendoza. The $11,000 Ruidoso Select Yearling Sale graduate is out of Charming Illusion by First Illusions.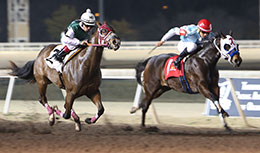 Shez A Cartel Chick (outside) runs down fellow qualifier First Prize Shawn (on the rail) in the 11th trial.
© Dustin Orona Photography
Tenth qualifier First Prize Shawn is an Oklahoma homebred racing for owner/breeder Weetona Stanley and trainer Dustin Cox. The
Tempting Dash
gelding is out First Prize Shaunda by
Pyc Paint Your Wagon
.
For the complete list of qualifiers for the 77th running of the Oklahoma Futurity, with their qualifying times, sires, dams, owners, breeders, trainers and jockeys CLICK HERE.
The Oklahoma Futurity, the longest-running futurity in the sport of American Quarter Horse racing, will headline a stakes-laden program on Saturday, March 24.
The $50,000-Guaranteed Oklahoma Juvenile will also be contested on Saturday, March 24. The second ten fastest qualifiers from tonight's trials are preferred invites for the Juvenile. CLICK HERE for that list.
* * * * * * * * * * * * * * * * *
The Opening Weekend of the 2018 American Quarter Horse Season at Remington Park will conclude on Sunday, March 11 with a 14-race program. The card will consist of qualifying trials for three stakes races that will be on the undercard of the Oklahoma Futurity night: the Oklahoma Derby; the Oklahoma Paint & Appaloosa Futurity and the Speedhorse Graham Paint & Appaloosa Derby. The first race Sunday is at 1:30pm.
* * * * * * * * * * * * * * * * * * * * *
Tracked by over 136,000 fans on Facebook and more than 9,600 Twitter followers, Remington Park has provided over $187 Million to the State of Oklahoma general education fund since the opening of the casino in 2005. Home to the 77th running of the Grade 3, $450,000 Oklahoma Futurity on Saturday, March 24, Remington Park is Oklahoma City's only Racetrack & Casino. Located at the junction of Interstates 35 & 44, Remington Park is in the heart of the Oklahoma City Adventure District. For more information, reservations and group bookings please call 405-424-1000, 866-456-9880 or visit remingtonpark.com.