RACING THIS WEEK
FEATURES
SERVICES
Champion Kvn Corona (#8) keeps his perfect record intact as he battles Ditto Head (#3) to the wire in Sunday's Grade 3 El Primero Del Ano Derby trials.

© Scott Martinez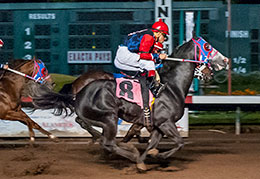 Champion Kvn Corona Remains Undefeated, Yanque Has Fastest Time To El Primero Del Ano Derby
LOS ALAMITOS, CA--MARCH 11, 2018--
Keith Nellesen's KVN Corona, the AQHA champion 2-year-old colt in 2017, kept his perfect record intact after outdueling multiple Grade 1 finalist Ditto Head by nose to post his seventh win in as many starts while also qualifying to the Grade 3, $235,200 El Primero Del Ano Derby Sunday at Los Alamitos Race Course.
Ridden by Jesus Rios Ayala for trainer Paul Jones, KVN Corona won the second of three 400-yard trials in a time of :19.707, which earned him the second fastest qualifying time of the night.
Martha Wells' Yanque, the runner-up in the Grade 1 Los Alamitos Winter Derby in his last start, was perfect in his trial race after posting a dominating 1 ½ length win in the fastest qualifying time of :19.701. The El Primero Del Ano Derby final will be held on Saturday, March 31.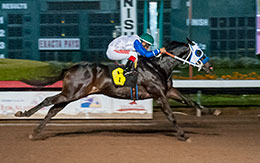 Yanque, under jockey Cruz Mendez, setting the fastest qualifying time Sunday night at Los Alamitos for the Grade 3 El Primero Del Ano Derby.
© Scott Martinez
Making his first start since winning his trial to the Los Alamitos Two Million Futurity, KVN Corona bumped at the start but he took an early lead over Fortuna Properties Ditto Head. KVN Corona raced strongly from there until he appeared to shy away - perhaps when seeing the photo finish lights near the wire.
Nevertheless, the colt by Corona Cartel came out on top once again. It was another hard-fought win by KVN Corona, who has now won five times when posting a winning margin of a half-length or less in each of those races.
"He's a gutty horse," Nellesen said. "We were a little nervous with this being his first time with Jesus Rios Ayala riding him, but as long as he keeps winning we'll keep coming. This is about the only race we have to run him in (at Los Alamitos) until later in the fall. We're going to run him here (in the final) and we're thinking about going to Ruidoso Downs and trying some of those derbies and then coming back for the fall campaign (at Los Alamitos). It's one step at a time. The Los Alamitos Super Derby is the one race we're pointing him to. If he can win that, we'd love to get into the big one at the end (the Champion of Champions)."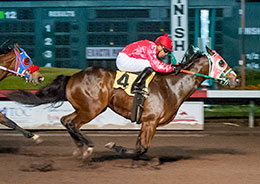 The Revenant, under jockey Cesar DeAlba, posted the fourth fastest qualifying time in the final trial Sunday night.
© Scott Martinez
Nellesen is always on hand to watch KVN Corona race live.
"I don't know how often you get a chance to have a horse like him," Nellesen said. "You can be in this business a long time. We're coming back down for the final. He's a special horse. Not only is he as good as he is, but we raised him and he's the last colt out of Executive Looks. He's a special horse."
Nellesen added that the inspiration for KVN Corona's name, New England Patriots star linebacker Kyle Van Noy, will join him at Los Alamitos to enjoy the running of the El Primero Del Ano Derby.
"Kyle will actually be here for the final," Nellesen added.
KVN Corona, the winner of the Grade 1 Ed Burke Million Futurity and Grade 2 PCQHRA Breeders Futurity, earned $3,300 for this win to take his career earnings $580,750.
Ridden by Cruz Mendez for trainer Matt Fales, Yanque looked like world beater in his derby trial. Sometimes plagued by poor starts - he was 10th in the Winter Derby before flying to finish second - Yanque broke perfectly in this race and was never challenged on the way to his fifth win in 12 career starts.
The homebred gelding is the first of four finalists sired by Favorite Cartel. He also qualified to the Governor's Cup Futurity and Wild West Futurity last year. Owner Martha Wells is hoping that Yanque becomes her next big runner on a list that has previously featured the likes of stakes winners Chicks First Policy, Sign Of Lanty, New Look, and Forrest Fire.
"I'm just excited that we have a horse with that much kick at the end of it," Wells said of Yanque. "He's a happy horse in training. He's a Favorite Cartel and that's excellent top side for any mare. His mother (Red Hawk Chick) passed away. I don't have her anymore. She colicked when she had the baby after Yanque. It's tough when that happens. I bred her. She was by Hawkinson and her mother is Chicks Tell, who is my foundation mare at this point."
Wells was all set to sell Yanque's younger brother at the Los Alamitos Equine Sale (Hip# 168 Red Hawk Cartel).
"I was going to take $40,000 for him and Carrie Fales talked me into going one more time, so I bought him back for $42,000," Wells said. "Now his nickname is Forty Two."
For now, Wells can look forward to El Primero final on March 31st and seeing Yanque carry the honor of being the fastest qualifier to the biggest derby at Los Alamitos during the spring portion of the year.
"I'm excited about Yanque," she said. "He's pretty sound and I think I'm going to have an older horse that can run for a couple of more years. I've been blessed to have a few in the past and it's nice to have another one."
The third fastest qualifying time went to the Mike Casselman-trained Ditto Head, who missed winning a stakes trial race for the first time in his career. Ditto Head, who was the fastest qualifier to the Grade 1 Los Alamitos Winter Derby, covered the 400 yards in :19.716. Cesar Gomez piloted the gelding by Foose.
The fourth fastest qualifying time went to Ron Hartley's The Revenant, the winner of the other derby trial of the night.
Ridden by Cesar De Alba for trainer John Cooper, The Revenant won easily by ¾ lengths in a time of :19.809. This was his fourth win in 10 career starts.
"We gave this horse a break and he really enjoyed it," Cooper said. "I think the break will benefit him a lot."
For the complete list of qualifiers to the El Primero Del Ano Derby including times, sires, dams, owners, breeders, trainers and jockeys CLICK HERE.
Courtesy of www.losalamitos.com.