RACING THIS WEEK
FEATURES
SERVICES
Excessive Gamble, under jockey Esgar Ramirez, rolls to the top qualifying time for the $1 million Rainbow Derby on Sunday at Ruidoso Downs.

© Jake Rogers / Ruidoso Downs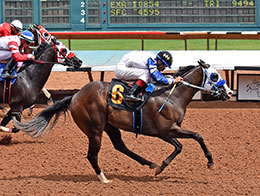 Longshot Excessive Gambler Barely Sets Rainbow Derby Top Qualifying Time
RUIDOSO DOWNS, NM—JULY 6, 2019—
Daniel Nunez and Ernesto Fierro's Excessive Gambler scored a 7-1 upset win in the sixth trial to set the fastest-qualifying time to the Grade 1, $1,008,129 Rainbow Derby on Sunday afternoon at Ruidoso Downs.
The horses with the 10-fastest times from the 10 440-yard trials qualified for the Rainbow Derby and the horses with the next 10-fastest qualifying marks gain preference to the $100,000 Corona Cartel. The Rainbow Derby and Corona Cartel will be held on July 20.
Excessive Gambler was timed in :21.343 and that time was narrowly the top time. Bill T. Robbins' Apocalyptical Jess and RH Resources' Breaking New Ground were each timed in :21.354.
The Esgar Ramirez-ridden Excessive Gambler, a gelded son of world champion One Dashing Eagle, got an excellent start and then drew away to a one-length victory.
AQHA Racing Champion Apocalyptical Jess, under champion jockey Ricky Ramirez, winning the fifth trial on Sunday.
© Gay Harris / Ruidoso Downs
"It is just one of those days when it all fell into place," winning trainer Jose Muela said.
The trainer also sent out qualifiers Mystic Blues and Eagle Coast.
"I expected this kind of effort (from Excessive Gambler)," Muela said.
"I have a good team and thank God for the opportunity to be around good people and good horses."
Excessive Gambler makes his stakes debut in the Rainbow Derby. The $25,000 Ruidoso Select Yearling Sale purchase has four wins from eight career starts. Three of those victories came in trials to Grade 1 races at Ruidoso Downs.
Apocalyptical Jess, trained by Trey Wood, continued his incredible career with the one-length trial win as the 1-5 favorite. The highly probable Rainbow Derby favorite raced along the inside rail and drew away in the final half of the trial to win by one length under Ricky Ramirez.
Breaking New Ground and champion jockey Cody Jensen post the second fastest time in the third trial Sunday.
© Jake Rogers / Ruidoso Downs
The earner of $2,086,573 and 2018 champion two-year-old gelding won last year's Grade 1, $3-million All American Futurity and returned this year to win the $319,975 Remington Park Oklahoma-bred Derby and then the Grade 1, $958,766 Ruidoso Derby. He is by leading sire
Apollitical Jess
.
"There are no words to express how proud I am of the horse and the entire crew," owner Robbins said. "His consistency is amazing."
The Cody Jensen-ridden Breaking New Ground also made a powerful move in the last half of his trial to secure the one-half length win.
Breaking New Ground came into the Rainbow Derby trials off a troubled fifth-place finish in the $100,000 Mr Jess Perry for horses who did not qualify for the Ruidoso Derby.
The gelding by One Dashing Eagle is trained by Todd Fincher, who also trained Papaws Paint. The half-brother to Breaking New Ground finished third in last year's Rainbow Derby and All American Derby.
"He's usually not as aggressive as Papaws Paint, but he was today," Fincher said. "He had a clean trip and he loves 440 yards."
Fincher is known as a thoroughbred trainer, however he also has success with quarter horses. He is the leading thoroughbred trainer at Ruidoso Downs in money earned by his horses and second in wins.
One Dashing Eagle led all sires with three qualifiers.
For a complete list of Rainbow Derby(G1) qualifiers, their times, sires, dams, owners, breeders, trainers and jockeys CLICK HERE.
The second ten fastest qualifiers are preferred invites to the $100,000-Guaranteed Corona Cartel. CLICK HERE for that list.
* * * * * * * * * * * * * * * *
For the latest Ruidoso Downs information, go to www.raceruidoso.com, visit the Ruidoso Downs Race Track and Casino Facebook page and follow Ruidoso Downs on Twitter @RuidosoDowns and on Instagram.
For Ruidoso Downs racing news CLICK HERE.