RACING THIS WEEK
FEATURES
SERVICES
Runforyourlife, under jocked Eduardo Nicasio, drives to victory in the Grade 1, $1,072,850 Golden State Million Futurity on Sunday at Los Alamitos.

© Scott Martinez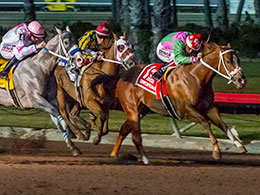 Runforyourlife Gives Connections The Richest Win Of Their Lives In Golden State Million
LOS ALAMITOS, CA—NOVEMBER 3, 2019—
Rosenthal Ranch and trainer Chris O'Dell's added another incredible victory to their 2019 highlight reel after 2-1 favorite Runforyourlife won the Grade 1, $1,072,850 Golden State Million Futurity by a nose on Sunday at Los Alamitos.
Ridden by Eduardo Nicasio, Runforyourlife bumped with Geothermal at the start of the 400-yard race, but he quickly recovered to take the lead. Runforyourlife led by a head over Lucky Ladies' A Lucky Ladies Man at the midway point of the race before Ed Allred's Circle City began to fly home from the middle part of the track. From there, Runforyourlife needed the best finish of his career in order to keep the strong gray Circle City away, eventually winning the race by the tiniest of margins.
Runforyourlife, a gelding by Favorite Cartel out of Remembered Me Rose, covered the distance in :19.924 and earned $436,317 for the win. Bred by Steve Burns, Runforyourlife improved to four wins from seven career starts, taking his earnings to $506,502. The sorrel gelding won the Governor's Cup Futurity earlier this year. This was the first victory in a million dollar race for Rosenthal Ranch as well as for Chris O'Dell, who is currently the meet's leading Quarter Horse trainer at Los Alamitos with 60 wins.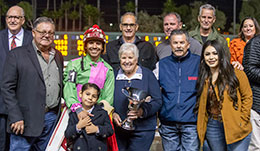 PCQHRA President Vince Genco, presents the Golden State Million Futurity stakes trophy to the winning connections of Runforyourlife.
© Scott Martinez
"We are so happy about tonight," O'Dell said. "I've never won one of these big ones. This is the first time for me. I've run seconds and thirds in million dollar races. I've won futurities and derbies, but I've never won a million dollar race. I wish my dad, Jim O'Dell, was here. It'd be nice for (him) to see what I've accomplished. He trained and so did my grandpa. It was a big family affair. When I was a jockey, they were always there. My family had a lot of horses. My dad used to come out when I had Catchmeinyourdreams. He came down a couple of times from Missouri to watch him run."
"I had three other horses in (the Golden State Million)," O'Dell added. "I knew I had a chance to win this race with one of them."
"I'm glad it was him," said Connie Rosenthal with a laugh.
Rosenthal also owns Runforyourlife's older brother, the O'Dell-trained Powerful Favorite, who happens to be one of the nation's top 3-year-old Quarter Horses. Like Runforyourlife, Powerful Favorite won the Governor's Cup Futurity last year and qualified to the Golden State Million Futurity, where he finished ninth in the final. In 2019,
Powerful Favorite has been unbeatable for Rosenthal and O'Dell, winning all seven of his starts. He's won the Grade 1 Los Alamitos Winter Derby, Grade 3 El Primero Del Ano Derby and added the Governor's Cup Derby to his Governor's Cup Futurity win. He'll give Rosenthal and O'Dell a big chance to win another million dollar race next Sunday night, as he is one of the favorites in the $1,009,000 Los Alamitos Super Derby.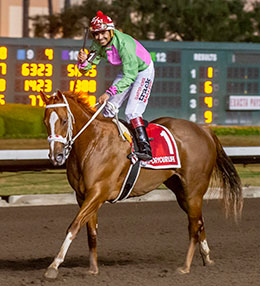 Runforyourlife, under jockey Eduardo Nicasio, returns after winning the biggest race of his career.
© Scott Martinez
"I've tried to save them both for this part of the year," O'Dell said. "In fact I gave them both a workout and Connie called me and said 'What's wrong with them? Their workouts were slow.' I told her not to worry. 'They're ready.' I sit on them all during the summer because this is the money time of the year. It's not easy to keep them good all year. You don't want to turn them out because sometimes they get hurt when you turn them out. You have to be careful with what you're doing. (Runforyourlife) wasn't ready yet around Ed Burke Million time. We ran him in trials and he was terrible. He had a couple of bad starts early on and Connie said 'When is he going to start running?' I told her 'November.' I would have been pretty close to being right if he had not started going earlier this year for the Governor's Cup."
When it comes to comparing Runforyourlife with Powerful Favorites, they have their differences according to O'Dell.
"Runforyourlife is a lot bigger. He's taller. I think Powerful Favorite is longer. He's growing up a little bit and he's finally starting to grow out. I think he has a bigger stride and maybe a bigger kick at the end than this horse does."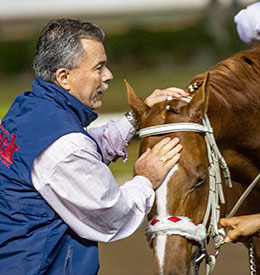 Trainer Chris O'Dell welcomes back Runforyoulife.
© Scott Martinez
Yet, Runforyourlife's kick was good enough for the Golden State Million said winning rider Eduardo Nicasio.
"This horse has improved in every single race," Nicasio said. "He's been coming on and coming on. I was a little nervous in the gates because the filly next to us, Geothermal, was moving. My horses was in the gates for a long time. He didn't break the same as he usually does, but after about 200 yards, he was coming on fast. He's an incredible horse. I told Chris after the trials 'Hopefully we get the one in the final.' I really love the number one post. I've won a lot of big races from that post."
It was Connie Rosenthal who gave O'Dell and her late husband, Robert, the extra encouragement needed to purchase Powerful Favorite for $90,000 at the 2017 Los Alamitos Equine Sale. With Runforyourlife, it was O'Dell who wanted to add his star's litte brother to his barn. They brought Runforyourlife home after purchasing him for $100,000 at the Ruidoso Yearling Sale last year.
"Chris said 'We have to him. He looks good, let's do it.' " Rosenthal recalled. "Chris knew this horse had it in him. I'm just so grateful to have these horses and I'll just continue to enjoy them. I have another horse that Chris bought for us, a yearling by One Famous Eagle out of Royally Sandra. We're really excited to see what he can do."
"You have to go with the ones from the really good mares and then you still have to fight like crazy to win one of these big races," O'Dell added. "Everything has to fall into place. He drew the one hole and was in the clear and didn't get run over. It takes a lot of money to buy them. I've been fortunate to have been able to cultivate some owners, but you have to produce some results. We've been lucky to do that the last few years. I think they trust me and they know that I'm going to do the best I can.
Next in line are the trials to the Los Alamitos Two Million Futurity.
"I'm thinking about six or seven in the Two Million trials. We'll try to wheel these back and have a couple that I could have run in the Golden State Juveniles and I decided to wait on them and go for the trials."
Ridden by Oscar Andrade Jr. for trainer Scott Willoughby, Circle City was eighth early on after bumping at the start. He started making up ground early, as he moved up to third and then second, before coming up a few inches short of victory.
The Favorite Cartel gelding out of Moonlight Corona earned $176,605 for running second to take his career earnings to $189,725.
Lucky Ladies's A Lucky Ladies Man led early and was always in contention on the way to finish third for trainer Justin Joiner and jockey Raul Ramirez Jr. The gelding by Good Reason SA earned $124,662 for finishing third.
Allred's Up And Atem earned $72,720 for running fourth. Kiss Thru Fire, Southern Wagon, Geothermal, Terra Fire, Budderlicous, and Mr Racy Eagle completed the field.
* * * * * * * * * * * * * *
Courtesy of www.losalamitos.com.