RACING THIS WEEK
FEATURES
SERVICES
TequilaSangria (outside) battles As And Js to win the $100,000 Grade 1 Charger Bar Handicap Sunday night at Los Alamitos Race Course.

© Scott Martinez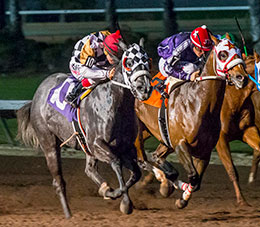 Tequila Sangria Adds 2020 Charger Bar To Win In 2019 Mildred Vessels
LOS ALAMITOS, CA—JANUARY 5, 2020—
Dr. Steve Burns' Tequila Sangria became the seventh mare to win both of the open Grade 1 stakes races for distaffers offered annually at Los Alamitos after outdueling multiple stakes winner As And Js and eight other rivals in the Grade 1, $100,000 Charger Bar Handicap here on Sunday night.
Ridden by Jesus Rios Ayala from the outside post number 10, Tequila Sangria took the lead shortly after the start and quickly opened up a ¾ length advantage over As And Js. Tequila Sangria lugged out while still on the lead, but she not going to be denied on the way to scoring a convincing half-length victory in the 400-yard race.
Tequila Sangria also won the Grade 1 Mildred Vessels Memorial Handicap from post number 10 and now joins an elite group to have won both the Charger Bar and Mildred Vessels. The 4-year-old mare by Favorite Cartel is the first to complete this double since 2015 champion aged mare Quirky. The others to do so are Stylish Jess BR, Terrific Energy, Mini Rock, AB What A Runner and Flare For Toby.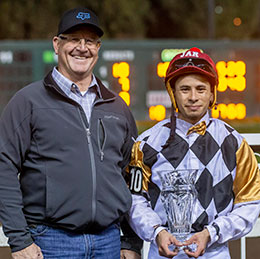 Winning trainer Mike Casselman and jockey Jesus Rios Ayala accept the Charger Bar Handicap stakes trophy at Los Alamitos.
© Scott Martinez
"She's an outstanding mare that loves to run," said Rios Ayala, the leading Quarter Horse jockey at Los Alamitos each of the last three years. "With horse like Tequila Sangria you have the opportunity to accomplish a lot special things. She was a little nervous in the starting gate, but she had one of the best starts of her career. She broke really well. Once she felt like she was alone on the lead, she started moving inside and then she moved outside. She felt like she was all by herself out there. She felt free out there. At the end, she finished the race strongly."
Tequila Sangria covered the distance in :19.646 and earned $50,000 for her winning effort. Bred by Dr. Burns, she has now earned $163,60 while winning in five of her nine career starts. Tequila Sangria and As And Js also finishe 1-2 in the Mildred Vessels and both came into this race after running in the Grade 1, $600,000 Champion of Champions on December 14.
"Right now she'll probably go back home and I'm guessing we'll get an embryo out of her," Casselman said. "She was about due to go home and rest anyways. We'll then point her to other mare races. There's a Cal-bred mare race (Ivan Ashment Handicap on June 20) that we might point her to."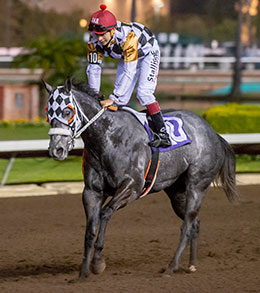 Tequila Sangria returns under jockey Jesus Rios Ayala after winning the Grade 1 Charger Bar Handicap Sunday night at Los Alamitos Race Course.
© Scott Martinez
Casselman was not too surprised when he saw Tequila Sangria moving in and out from the outside post 10. When she won the Mildred Vessels from post number 10, Tequila Sangria also lugged out with Rios Ayala in the irons.
"She was getting out in (the Mildred Vessels)," Casselman said. "Rios Ayala was watching her tonight. Tequila Sangria also broke her maiden from an outside post (on September 28, 2018) and then ran from an outside post in the trials to the (Golden State Million Futurity on October 21, 2018). She went to getting out then. She's been out there (the outside post) a few times."
Her success has not been limited to races in which she's started from the outside post. Tequila Sangria also defeated 3-year-old males when winning the Big Lew Handicap from post number one on July 12.
"She's certainly a nice mare," Casselman concluded.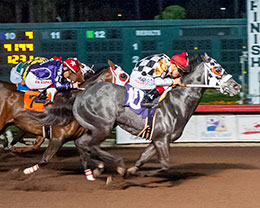 Tequila Sangria, under jockey Jesus Rios Ayala hit the wire first in the $100,000 Grade 1 Charger Bar Handicap at Los Alamitos Race Course.
© Scott Martinez
Leonardo Alcala's As And Js has now raced four times at Los Alamitos since arriving last summer and she's been as tough as nails every single time. After running second in the Mildred Vessels, the Oklahoma-bred mare by
Apollitical Jess
qualified to the Champion of Champions after running second to Jesstacartel in the second division of the Z. Wayne Griffin Directors Trials. As And Js ran fifth in the prestigious Champion of Champions finishing behind He Looks Hot, Mi Amor Secreto, Hotstepper and BH Lisas Boy. Her runner-up effort in the Charger Bar came while facing the top aged mares in the nation in this race. Jose Nicasio piloted As And Js for trainer Monty Arrossa.
"She did was she could tonight," Alcala said. "(Tequila Sangria) was the superior mare tonight. That's how it goes. We've been fortunate. We came here from Oklahoma and we've had good luck with her at Los Alamitos. We've had a great time racing here. It's a beautiful place and we hope to be back. We'll take her to Oklahoma and get some embryos out of here. From there we might bring her back."
Alcala noted that As And Js will be bred to Favorite Cartel and First Moonflash this year.
Bred by Five Puig Racing LLC, As And Js earned $17,000 to take her career bankroll to 531,134. He's now finished in the money in 17 of her 24 career starts. Her stakes wins include the Junos Request Handicap and the Easy Date Stakes both at Remington Park.
Ridden by Eduardo Nicasio for trainer Chris O'Dell, Thermonuclear Energy earned $10,000 for her solid third place finish in the Charger Bar. The 7-year-old Walk Thru Fire mare won the Charger Bar last year.
Fenian Faith, Madam Of Fire MV, Matilda Czech, Duck Dash N Go, Tough To Figure, Love To Reason Br and You Caught My Eye completed the field.
* * * * * * * * * * * * * *
Courtesy of www.losalamitos.com.