RACING THIS WEEK
FEATURES
SERVICES
Tell Cartel, under jockey Ruben Lozano, drives to victory in the Grade 1 $190,550 Los Alamitos Winter Derby(G1) Saturday night at Los Alamitos Race Course.

© Scott Martinez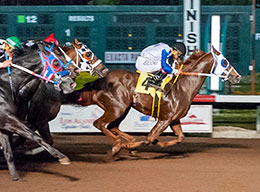 Tell Cartel Gives Connections Grade 1 Win In Los Alamitos Winter Derby
LOS ALAMITOS, CA—FEBRUARY 8, 2020—
Owner Martha Wells celebrated her first Grade 1 stakes victory after her homebred colt Tell Cartel, a longshot at odds of 17-1, pulled away late to win the $190,500 Los Alamitos Winter Derby over fastest qualifier You Can Run and the talented stakes placed colt Mental Error here on Saturday night.
Wells has campaigned Quarter Horses since the late 1990s and before that she saddled 90 starters over a three-year span following the passing of her husband, the stakes winning Quarter Horse trainer Dwayne Wells.
Over the years, "Mimi", as she's affectional known, has become one of the top Quarter Horse owners and breeders in California and one of the most respected. She was presented with the Frank Vessels, Sr. Memorial Award in appreciation for her outstanding contribution to the sport and has won the Pacific Coast Quarter Horse Racing Association Breeder Special Achievement Award in 2019 and 2012.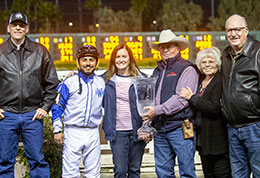 Mark and Peggy Brown present the Los Alamitos Winter Derby(G1) stakes trophy to winning owner Martha Wells, jockey Ruben Lozano and trainer Matthew Fales.
© Scott Martinez
After running second in each of the past two runnings of the Winter Derby, Mimi got her turn to be in the winner's circle thanks to Tell Cartel's powerful finish. Sired by
Favorite Cartel
and out of Wells' outstanding 21-year-old mare Chicks Tell, Tell Cartel was sixth at the start before kicking it into high gear on the way to a ¾ length win over Steve Burns' You Can Run. Tell Cartel's clocking for the final 220 yards was a blistering :09.43, while his winning time coming in at :19.610.
Ridden by Ruben Lozano for trainer Matt Fales, Tell Cartel earned $80,031 for his fourth win in 11 career starts. The runner-up in last year's PCQHRA Breeders Futurity, Tell Cartel doubled his career earnings with this win to $160,016.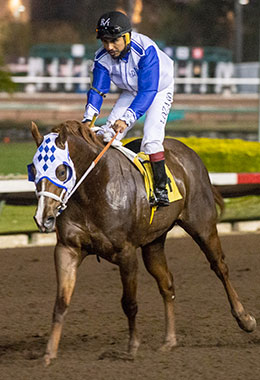 Tell Cartel, under jockey Ruben Lozano, returns after winning the Grade 1 Los Alamitos Winter Derby Saturday night.
© Scott Martinez
"I told Ruben to ride (Tell Cartel) like he rides Yanque," said Wells referring to another one of her stakes winning horses that Lozano rides. "Ruben just gave me a little wink and a nod and went 'Okay'. When he came back to the winner's circle he said 'Just like Yanque right?' "
Yanque finished second to Jess My Kiss in the 2018 running of the Winter Derby. His full-brother, Red Hawk Cartel, ran second to Powerful Favorite in last year's running of this race. Bred by Wells, Yanque and Red Hawk Cartel's are both out of a daughter of Chicks Tells.
The 2010 PCQHRA Mare of the Year, Chicks Tell has also produced the multiple stakes winner Forrest Fire, stakes winner My Favorite Cartel, and the stakes placed winner Chicks Fayvorite. Now she's the dam of a Grade 1 winner in Tell Cartel.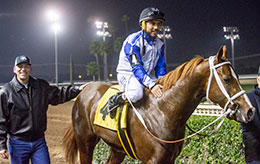 Trainer Matthew Fales and jockey Ruben Lozano walk Tel Cartel into the Los Alamitos Race Course winner's circle Saturday night.
© Scott Martinez
"This was just fantastic," Wells said. "I have Tell Cartel and Red Hawk Cartel, two
Favorite Cartel
colts. I'm truly blessed."
Wells has enjoyed several major derby wins in her career. In 2000, she won the Grade 2 California Sires Cup Derby with the eventual AQHA champion 3-year-old gelding Chicks First Policy. In 2012, she won the Grade 2 El Primero Del Año Derby with New Look. Wells has also won Grade 3 stakes races with No Pet Peeves, Heza Sand Trap and Getit Together.
For Fales, this was his first Grade 1 derby victory. The trainer's first Grade 1 stakes win came in 2018 at Los Alamitos with Mickey Ward in the Cox Ranch Distance Challenge at 870 yards. Fales, who also trains Yanque, Red Hawk Cartel, My Favorite Cartel and many others for Wells, was at a loss for words following the running of the Winter Derby.
"I'm a little shocked right now," Fales said. "Reality hasn't set in, but I'm on top of the world right now. I wish I could describe the feeling. I believe tomorrow morning when I go to breakfast, it'll be the best tasting eggs I've ever had.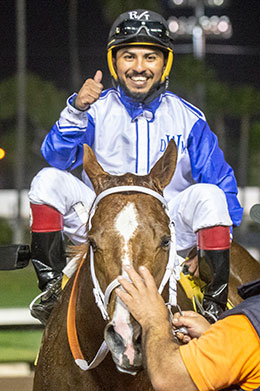 Los Alamitos Winter Derby(G1) winning jockey Ruben Lozano.
© Scott Martinez
"It's been my dream to compete in this races and Martha Wells has given me the opportunity to compete in this race with this caliber of horses," Fales added. "She's 99% the backbone of our group. (Tell Cartel) has always had a lot of talent. He's had a little bit of bad luck. Tonight he was able to put it all together for Ruben. This is Ruben's first mount on Tell Cartel, but ever since he knew he was going to ride him in the final he's been coming by the barn to get him ready. He's put in the work.
"My colt came in strong and I think that made a difference. He was peaking at the right time. There looked like there was a little trouble to his outside. He stepped away clean and he got to let his talent shine tonight."
Fales was not able to come up to the Director's Room in the Vessels Club at Los Alamitos to sip champagne and celebrate the victory. Wells knows that it's just part of her trainer's dedication to his craft.
"He didn't join us tonight in the celebration because he's down there working on his horses. That's the kind of trainer that he is," she said. "He wants to make sure that every horse is taking care of. I'm so glad for him too. He works so hard."
The win was also a first in a Grade 1 stakes race for Lozano. The pilot won the Restricted Grade 2 Governor's Cup Futurity with Pitbull last year and has been aboard stakes winners like Yanque and Ladys A Cartel.
"He didn't break as well as he could have," Lozano said of Tell Cartel "Once he got a hold of the track he really starting picking up speed. He was going so nicely and just getting stronger. He's so strong, so easy to get along with, and just a noble and gentle horse."
Trained by Mike Casselman and ridden by Jesus Rios Ayala, You Can Run earned $32,394 for finishing second. Also sired by Favorite Cartel, he's now finished second or better five consecutive races. Owned and bred by Dr. Steve Burns, he was also second in the Los Alamitos Juvenile Invitational Stakes on December 15.
Mental Error completed the Favorite Cartel trifecta, as he earned $22,866 for running third. Paul Jones saddled the Burns-bred runner, who was ridden by Ramon Sanchez.
Burns and Jose Flores' Sass Go Blue, the winner of the Grade 2 PCQHRA Breeders Futurity last year, finished fourth and was followed across the wire by John Cartel Cash, who had the early lead, Circle City, Nomadic, Zoom On Jess, Just Be Real, and Cartel Jess Rockin. Cartel Jess Rockin, the 2019 AQHA champion 2-year-old filly, was the favorite in this race, but she broke slow, bumped, and then drifted out while trailing throughout.
* * * * * * * * * * * * * *
Courtesy of www.losalamitos.com.