RACING THIS WEEK
FEATURES
SERVICES
Bos Time Machine, under jockey Carlos Huerta, drives past Corona Jumpim Mrl (#1) in the Grade 1 $159,550 Brad McKinzie Winter Championship Sunday night at Los Alamitos Race Course.

© Scott Martinez
Bos Time Machine Scores In Brad McKinzie Winter Championship At 12-1 Odds
LOS ALAMITOS, CA—FEBRUARY 9, 2020—
Gary and Dee Hoovestal's Bos Time Machine punched his ticket to the 2020 Champion of Champions after holding off Corona Jumpim MRL by a head while posting the second biggest upset victory in the 20-year history of the Grade 1, $159,550 Brad McKinzie Los Alamitos Winter Championship here on Sunday night.
Sent off at 12-1 odds, Bos Time Machine led from start to finish, but needed to be at his very best in the final yards in order to hold off the fast charging Corona Jumpim MRL. Ridden by Carlos Huerta for trainer Paul Jones, Bos Time Machine covered the 400 yards in :19.775 on the way to scoring his first ever graded stakes win.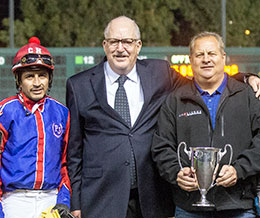 Mark McKinzie presents the Brad McKinzie Winter Championship stakes trophy to trainer Paul Jones.
© Scott Martinez
Bred by Mark and Peggy Brown, the winning effort earned the 4-year-old gelding by multiple stakes sire
Bodacious Dash
the year's first provisional starting berth to the Grade 1, $600,000 Champion of Champions to be held here on Saturday, December 12.
Known as the Los Alamitos Winter Championship during its first 16 runnings, this race was renamed the Brad McKinzie Los Alamitos Winter Championship in 2017 to honor the memory of the longtime Los Alamitos racing executive. Matabari, the 2013 AQHA champion 3-year-old filly, posted the biggest upset win in this race when she won the 2015 running at 15-1 odds.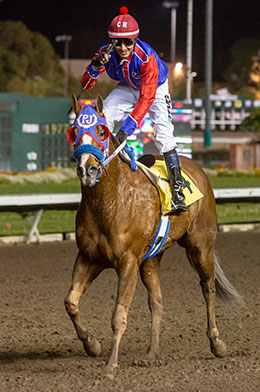 Bo Time Machine, under jockey Carlos Huerta, returns to the Los Alamitos Race Course winner's circle on Sunday night.
© Scott Martinez
Bos Time Machine gave Jones his sixth victory in the Winter Championship to extend his stakes record. The 14-time AQHA champion trainer won his first two Winter Championships running with Whosleavingwho (2003 and 2005) and then followed it with
Volcom
(2007),
Good Reason SA
(2011), and Rylees Boy (2013).
"He kind of got an awkward break," Jones said. "He kind of hopped out of there. He kind of beat the gate, but he hopped. He came down running. I'm really proud of him. It was getting a little scare. I thought the gray horse (Corona Jumpim MRL) had him beat a little ways. I was hollering at him to get by the gray horse and then I started seeing Powerful Favorite coming on the outside. It got a little scary there for a minute. I noticed at the wire that he held on. It was a happy moment."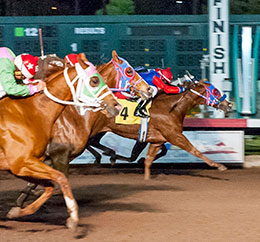 Bos Time Machine(#4) holds on to defeat Corona Jumpim Mrl (#1) and Powerful Favorite (#9) in the Grade 1 $159,550 Brad McKinzie Winter Championship Sunday night at Los Alamitos Race Course.
© Scott Martinez
Multiple graded stakes winner Powerful Favorite, the 9-5 favorite in this race, finished third on Sunday with 2019 All American Derby runner-up Jess Macho Corona running fourth. Jess My Kiss, My
Favorite Cartel
, Bail Czech, and HTR Miamor Tequilla completed the field. Red Hawk Cartel was scratched.
Bos Time Machine has now won seven of 17 career starts and he's now earned $128,008, with $67,011 of that amount coming in this race. He had previously won the Catchmeinyourdreams Handicap and the Sgt Pepper Feature Handicap here last year for the Hoovestals of Helena, Montana.
"Gary is a super nice guy and he loves the horses," Jones said. "It's too bad he "wasn't here tonight for this win, but I'm sure he was watching and I'm sure he's happy."
For Jones, the victory represented his 231st graded stakes win and his 422nd stakes victory of his career. He's won 4,353 Quarter Horse races and he's saddled the earners of more than $87 million. Jones called his 2019 season not one of his best, but qualifying a horse into the Champion of Champions so early in the year could signal the beginning of a nice 2020 season for the trainer.
Breeder Peggy Brown with Brad McKinzie Winter Championship(G1) winner Bos Time Machine.
© Scott Martinez
"I really love it," said Jones of his sixth Winter Championship win. "In this sport, it's 'What have you done lately?' We had kind of a down year last year so hopefully this is an indication that we'll have good year. I had two really nice horses in the race. I thought Jess Macho Corona had a pretty good chance to win this race as well. Bos Time Machine won a couple of stakes races last year and when he runs his race he can be tough. He had a good clean path and an open path to run tonight."
With a Champion of Champions berth in his pocket, Bos Time Machine will likely have a few months off before returning for the Grade 1 Go Man Go Handicap on August 30. "I've learned that if you win the Winter Championship and earn the Champion of Champions berth, you want to give the horse some time off," Jones said. "Hopefully he returns with a strong second half of the year."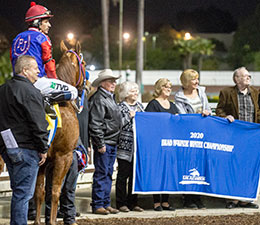 The Brad McKinzie Winter Championship(G1) winner's circle Sunday night at Los Alamitos Race Course.
© Scott Martinez
Winning rider Carlos Huerta will now dream of another Champion of Champions victory. He won the prestigious race back in 2017 when he piloted Mr PYC To You to the biggest upset in Champion of Champions history at odds of 60-1.
"He was ready to go in the gates," Huerta said of Bos Time Machine. "He got a fast start and I felt that he could finish strongly. We got lucky tonight. You have to take advantage of these type of opportunities. I'm thrilled to have qualified a horse in the Champion of Champions so early in the year. I've grown to really love this horse. He's really gentle and friendly, but a monster on the racetrack."
Haras Portofino's Corona Jumpim MRL, the 2018 AQHA South American champion, earned $27,124 for finishing second from post number one. Ridden by Jose Nicasio for trainer Chris O'Dell, the son of Corona For Me entered this race after winning his Winter Championship trial. He's now won five of 15 starts and his earnings now stand at $156,713.
O'Dell, the 2019 AQHA champion trainer, also saddled Rosenthal Ranch's Powerful Favorite, a Grade 1 winning son of leading sire Favorite Cartel who earned $19,146 for running third. His lifetime earnings have now reached $775,822.
Jess Macho Corona, Jess My Kiss, My Favorite Cartel, Bail Czech and Htr Miamor Tequilla completed the field.
* * * * * * * * * * * * * *
Courtesy of www.losalamitos.com.