RACING THIS WEEK
FEATURES
SERVICES
Jess and Grant posted the fastest time of the season in their fifth straight win.

© American Chariot Racing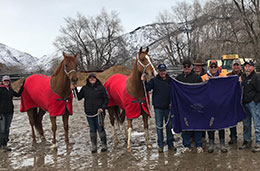 Jess and Grant Extend Win Streak, Post Fastest Time of Season in American Chariot Racing
OGDEN, UT—FEBRUARY 10, 2020—Winning for the fifth consecutive week was not enough for Jess and Grant on Saturday; the unstoppable team also posted the fastest time of the 2019-2020 American Chariot Racing season: 21.92.
The team won the Brett Weldon Memorial, sponsored by the Weldon family, last Saturday at the Golden Spike Arena in Ogden, Utah. The track is also home to flat racing at the Weber Downs meet later this spring.
Jess and Grant won their fifth consecutive event and have the longest win streak to date under the new ACR format.
It was a close matchup over a wet track in the seventh race; Jess and Grant dueled with Cowboy Up and Flying T, who posted the second fastest time of the day with 21.94. Catch the replay here on YouTube.
Jess and Grant's team comprises Sp Four Square and Train Story. Sp Four Square is a 5-year-old gelding by Favorite Cartel, out of Fountain Bleu, by Jess Louisiana Blue. The multiple stakes winner was bred in Utah by Spence Peterson and earned $39,299 in five career wins, including the Western States Breeders Derby at Sweetwater and the Wyoming Downs Renegade Sports Derby.
Train Story is a 7-year-old Freighttrain B gelding, bred by James Sills in Oklahoma, out of Perry Story, by Mr Jess Perry. He was graded stakes placed and earned over $80,000 in 22 career starts.
The second fastest team of Cowboy Up and Flying T ran their team of KD Easy Runner and Had to Be Giggles in the same race.
KD Easy Runner is a 7-year-old gelding by Jess Got Easier, bred in Idaho by Dennie and Kris Hill. Though unraced, he is out of the stakes placed mare KD Star, by Ocean Runaway and out of Ab What a Runner, winner of the 2002 All American Futurity.
Had to Be Giggles was also bred in Idaho; the 8-year-old gelding was bred by Remigio Navarro, by Hadtobenuts and out of Chicks and Giggles, by Chicks Beduino. Had to Be Giggles won two races and hit the board in six of his 13 career starts.
In race 14, Hadley Racing and C3 Ranch put up the third fastest time of 22.16 with Front and Center and PF Flyair.
PF Flyair is a 10-year-old gelding bred in Utah by Tony Greaves and Tim Oliver, sired by Dashair and out of Pretty N Famous, by Pretty Boy Perry. Pf Flyair earned $85,950 in 17 starts, including victories in the Bitterroot Derby at Les Bois and the Blaine Schvaneveldt Handicap at Los Alamitos.
Front and Center was bred in California by Ed Allred, by Walk Thru Fire and out of the Separatist mare Katie Katella. The 9-year-old gelding won seven of his 32 career starts, all at Los Alamitos and earned $90,619. Front and Center won the First Down Dash Handicap in 2015 and was fifth in the Spencer Childers California Breeders Championship (RG1) in 2016.
Chariot racing returns with two-day regional championships on February 22-23, followed by the four-day World Championship event on March 14, 15, 21 and 22.