RACING THIS WEEK
FEATURES
SERVICES
Tales U Lose was the fastest qualifier in trials for the Grade 1 Speedhorse Graham Futurity on Saturday at Remington Park. The $137,600 final for Paints and Appaloosas will take place on May 30.

© Dustin Orona Photography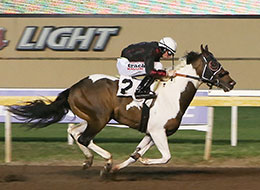 Trainer Matt Whitekiller Qualifies Three For Speedhorse Graham Futurity
OKLAHOMA CITY, OK—MAY 16, 2020—
Trainer Matt Whitekiller qualified three of the top 10 horses for the finals of the Grade 1, $136,700 Speedhorse Graham Futurity on Saturday night at Remington Park, including the two fastest.
The Speedhorse Graham is for 2-year-old Paints and Appaloosas.
Jockey Cody Smith was aboard for the two quickest qualifiers, Tales U Lose and This Wire Is Hot. Tales U Lose raced in the final trial of four on the night for 36 horses trying to qualify. He had to beat This Wire Is Hot's time of 17.692 seconds for 350 yards to displace him at the top.
Tales U Lose, a 2-year-old Paint colt by Wagon Tales (QH), out of the Texas Hero mare Elaina Go Go, stopped the timer eight-hundredths of a second faster in :17.612. His time was good for an 87 speed index, two points higher than This Wire Is Hot.
Crm Livewire, a leading APHA races sire, is not only the sire of three finalist to the Speedhorse Graham Futurity(G1) but is also a half-brother to fastest qualifier Tales U Lose.
Whitekiller's third qualifier was the bubble boy in 10th place, Real Easy Sign, who crossed the finish in :17.908 and recorded a 79 speed index under jockey Cristian Esqueda.
The trials might well be remembered more for the horses that did not qualify as for the ones that did. A pair of the fastest juvenile Paints on the grounds, WF Candy Turnpike and Captain Capi, were pinched back severely in their breaks from the gate and did not make the finals. It was not trainer Dee Keener's night when it came to these two favorites.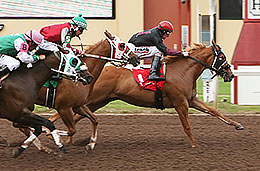 This Wire Is Hot, under jockey Cody Smith, qualifying in the second trial Saturday at Remington Park.
© Dustin Orona Photography
WF Candy Turnpike went off at 1-5 odds, but could do no better than the 16th fastest time of 36 that went to the gate Saturday night. He had no shot after getting knocked back out of the gate, but he never gave up, finishing fourth in his trial, the first of the evening.
He was on the bubble to make the finals in 10th place when the final trial went off, but four from that heat qualified, and a fifth had a faster time than him, knocking him out. WF Candy Turnpike won the American Paint Classic Futurity here in April.
Captain Capi, in the second trial, was sent off at 3-5 odds, and ran sixth, finishing 25th of the 36 that tried to qualify. He had previously won his Oklahoma Futurity trial on March 6, and then followed that with an easy win in the $180,100 Oklahoma Futurity final.
Tales U Lose broke on top out of the gate under Smith, and sped to a 1-¼ lengths victory over the seventh-fastest qualifier, RP Live Wire Kent, the runner-up in the fourth trial. This colt was at 2-1 odds and paid $6, $3.20 and $3 across the board.
He is owned by Dan and Kaye Jones of Kemp, Texas, who also bred him in Oklahoma. Tales U Lose earned $3,330 for the victory in these $6,000 trials and will go into the final on closing day, May 30, with two wins in three races.
He won his Oklahoma Futurity trial on March 6, but then lost, running fifth to Captain Capi in the finals by 2-¼ lengths. As aforementioned, he will not have to face that horse in these finals.
For the complete list of 10 fastest qualifiers moving on to the May 30 Speedhorse Graham Futurity, with times, sires, dams, owners, breeders, trainers and jockeys CLICK HERE.
Queen For Cash is the sole Appaloosa who qualified for the Speedhorse Graham. All four trials were conducted on a fast track with light northerly tailwinds between 5-6mph.
Remington Park racing continues with an 11-race program on Sunday, with no public spectators, at 6pm-Central.
* * * * * * * * * * * * * *
Tracked by more than 162,000 fans on Facebook and more than 10,100 Twitter followers, Remington Park has provided more than $242 Million to the State of Oklahoma general education fund since the opening of the casino in 2005. Located at the junction of Interstates 35 & 44, in the heart of the Oklahoma City Adventure District, Remington Park will host the 2020 American Quarter Horse, Paint and Appaloosa Season from March 6 through May 30. For more information, reservations and group bookings please call 405-424-1000, 866-456-9880 or visit remingtonpark.com.