RACING THIS WEEK
FEATURES
SERVICES
La Jaconde (#3) holds off Jet Wings One (#7) to win the $279,200 Grade 2 Kindergarten Futurity Sunday night at Los Alamitos Race Course.

© Scott Martinez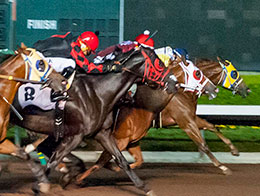 La Jaconde Gives Gomez A Record Eighth Win In Robert Adair Kindergarten
LOS ALAMITOS, CA—MAY 1715, 2020—
Jaime Gomez is the king of the Grade II Robert Adair Kindergarten Futurity after Balgo Racing Team, Inc's fastest qualifier La Jaconde rallied back from a very troubled start to give him a record eighth training victory in this historic futurity on Sunday night at Los Alamitos.
With no spectators in attendance, Gomez had the entire grandstand apron to himself to watch the running of the Robert Adair Kindergarten. He did not like what he saw from La Jaconde at the start of the 300-yard futurity.
"She did not break at all," Gomez said.
With Oscar Peinado aboard, the Favorite Cartel filly was bumped from both sides at the start, leaving the filly in seventh place in the early going. Things improved for La Jaconde from there, as she quickly began to make up ground from post number two. The California-bred filly was still in fifth place with 110 yards to go in the race, a length behind the leader La Reina Del Sur 1, but she was a flash from that point on.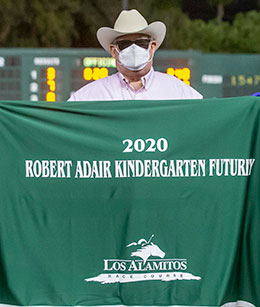 A record 8th Kindergarten Futurity win for trainer Jaime Gomez Sunday night at Los Alamitos Race Course.
© Scott Martinez
At once, the homebred filly moved past Pyc Powerglide and Unstoppable One before surging ahead of La Reina Del Sur 1. She then outfinished the 4-5 favorite Jet Wings One by a head to complete her victorious comeback.
"We got hit at the start," Peinado said. "Then she came flying. She had so much power at the end."
"What a fast filly," Gomez said. "I've been saying all along that I am very fortunate to have a tremendous team and talented horses. It is a team effort. I was lucky to have three horses in this final. You need great horses and a great team. I feel blessed to enjoy a win like this once again. La Jaconde ran super after a rough beginning to the race. What a beautiful finish for her in this race."
La Jaconde earned $117,264 for the win and improved her record to two wins in three career starts. She is the second Robert Adair Kindergarten winner for Balgo Racing Team Inc., which also won this race with West Coast Hawk in 2010.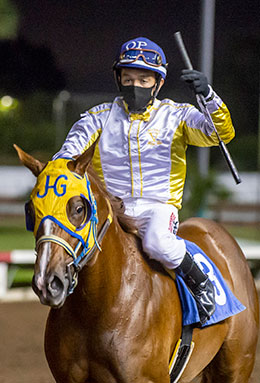 La Jaconde, under jockey Oscar Peinado, returns after winning the Grade 2 Kindergarten Futurity(G2) Sunday night at Los Alamitos Race Course.
© Scott Martinez
Gomez began the night tied with the legendary Blane Schvaneveldt for most stakes wins in this race with seven. At the end of the night, Gomez walked through the empty grandstand all alone at the top of all-time training records of the Robert Adair Kindergarten Futurity.
"I'm really happy right now," Gomez said. "These races are so important for the barn. I won this race for the first time in 1996 with Corona Cartel and my last win came in 2009 with Dutch Masters III's Twin Spires. I have been trying to win one more Kindergarten since then. There's nothing easy when it comes to winning these races. It is a great feeling to win it again. I wish my family could be here with me, but it is not possible right now. I do feel so fortunate and so thankful to Dr. Ed Allred that we have been able to keep racing here at Los Alamitos. I'm going straight home and celebrate with a glass of chia water."
Dan Moon's homebred filly Jet Wings One came in and bumped at the start before making a late rush of her own to finish second. The filly by first crop sire Ec Jet One was fifth early on before finding her stride 100 yards after the start. Jose Nicasio piloted the Idaho-bred for trainer Monty Arrossa. Jet Wins One earned $47,464 for running second.
Cedar Creek Tree Farm Ranch and Racing's Unstoppable One, a 17-1 longshot, ran solid race from the outside post nine to finish third. Ridden by Alberto Zepeda, the colt by leading second-crop sire Hes Relentless is trained by Hector Magallanes. Unstoppable One earned $33,504.
La Reina Del Sur 1 finished fourth and was followed across the wire by Pyc Powerglide, Hi High Hopes, Jeanetics and Bob E McGee.
* * * * * * * * * * * * * *
Courtesy of www.losalamitos.com.