RACING THIS WEEK
FEATURES
SERVICES
Hot Little Kiddy, under jockey Oscar Andrade, Jr., winning the $15,000 Whataway To Go Handicap at 350 yards here on Friday night.

© Scott Martinez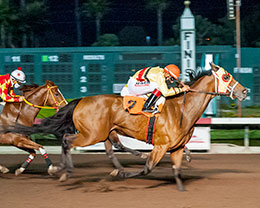 Hot Little Kiddy's Star Keeps Rising Following Whataway To Go Victory
LOS ALAMITOS, CA—OCTOBER 09, 2020—
Ed Allred's Hot Little Kiddy continued her strong form at Los Alamitos Race Course with a strong finish to win the $15,000 Whataway To Go Handicap at 350 yards here on Friday night.
With the win, Hot Little Kiddy improved her record in 2020 to six consecutive in-the-money finishes, a string that included an allowance win, a second place finish in the Flight 109 Handicap and a third place finish in the Grade 1 Mildred Vessels Memorial Handicap.
The effort also sets her up nicely a mare to watch in future races like the Grade 2 Las Damas Handicap on November 21 and eventually the Grade 1 Charger Bar Handicap, a race that was won by her sister Kiddy Up Cowgirl in 2018.
It was another week at Los Alamitos, but it was same stakes winning result for the trainer/jockey combination of James Glenn Jr. and Oscar Andrade Jr. The pair teamed up with Monopolist to win last Saturday's Grade 2, $375,000 PCQHRA Breeders Futurity and they were back in the winner's circle with Hot Little Kiddy. With Andrade up, the Kiddy Up filly out of Girls Choice covered the distance in :17.54, while catching the 8-1 shot Chocolate Divinity late to win by a neck.
"She's always been very talented, but we've struggled with keeping her weight on," Glenn said. "She's been a sound mare. In the last year, she's really blossomed. Her appetite has picked up. She leaves like a Thoroughbred. She gets a nice jump, but they just kind of get away from her. She then puts in that big late kick. Tonight, same thing. (Chocolate Divinity) got away from her, but she came home in :09.47 (for the final 220 yards) and she reeled her in. She really needs 400, 440 yards. We have big hopes for her once we stretch her out down the track."
Glenn has enjoyed good success with the family of Kiddy Up and Girls Choice, who have all been bred by David Martin, the ranch manager at Allred's Rolling A Ranch in Atascadero, California. Owned and David and Leah Nelson, Kiddy Up Cowgirl won the Grade 3 PCQHRA Breeders Derby to go along with the Charger Bar and the gelding Up Is Up scored an impressive allowance win here on June 20.
"I've had all three of them," the trainer added. "That mare has been pretty good to me. Kiddy Up and Girls Choice is a good cross. They are big and they're strong. They're just good horses. A good horse makes you look good. We are patient with them because they are so big, that's one thing I've learned. You just have to patient and let them grow into themselves. You just have to let it happen and when it does, it's in a very good way."
The Las Damas is a possibility, but Glenn has the Charger Bar as his main target for Hot Little Kiddy.
"I got my eye on the Charger Bar in January. If we can draw the outside and get lucky I think she can beat them. The 400 yards is up her alley. That's a big race for me. We'll see how she comes back tonight."
In addition to saddling Kiddy Up Cowgirl to the Charger Bar glory in 2018, Glenn also won the race twice with AQHA champion Quirky in 2015 and 2016. With her earnings of $8,250 in the Whataway To Go, Hot Little Kiddy has now bankrolled $82,090 while winning three of 20 career starts.
Wilson Ruiz's Chocolate Divinity earned $3,375 for running second with Guillermo Suarez up for trainer Felix Gonzalez, while Lupe Ayon's Galloping Goddess ran third. Gonzalez also saddled Gallopin Goddess.
One Hot Habit, Suite Expectation, All Prettied Up and Fayvorite Chick completed the field.
* * * * * * * * * * * * * *
Courtesy of www.losalamitos.com.