RACING THIS WEEK
FEATURES
SERVICES
Chocolatito (#9), under jockey Oscar Andrade Jr., gets up over Zoomin For Spuds in the Grade 1, $125,000 Robert Boniface Los Alamitos Invitational Championship at 440 yards Sunday night.

© Scott Martinez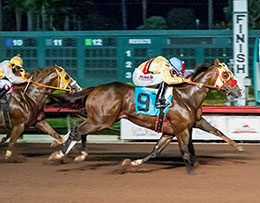 Chocolatito Outduels Zoomin For Spuds By A Nose To Win Robert Boniface Los Alamitos Championship
LOS ALAMITOS, CA—OCTOBER 11, 2020—
In a thrilling finish, Ed Allred's Chocolatito edged the ageless champion Zoomin For Spuds by a nose to win the 60th running of the Grade 1, $125,000 Robert Boniface Los Alamitos Invitational Championship at 440 yards here on Sunday night.
Ridden by Oscar Andrade Jr., who was winning the Los Alamitos Championship for the second year in a row, Chocolatito caught the razor-sharp Zoomin For Spuds in the final yards after trailing by a length at the midway point of the race.
The son of Favorite Cartel was making his first ever start at the classic Quarter Horse distance of a quarter of a mile and he certainly relished the extra distance.
"He finishes like that almost every time," trainer Scott Willoughby said. "He was beat at 400 yards. (The extra 40 yards) got us the win. We needed it every bit of it. This horse just loves going down the racetrack. It worked out fantastic. Everything worked great. He likes to go out and just relax. We'll give him a couple of weeks out and then will bring him back and start training on him. There's a ranch nearby that I send them out. Steve Charles takes really good care of them there. He'll be back in a couple of weeks – that's all. It's just something to freshen him up. We'll just let him go out and have some fun."
Chocolatito, under jockey Oscar Andrade, Jr., and trainer Scott Willoughby, enter the Los Alamitos winner's enclosure Sunday night.
© Scott Martinez
Andrade Jr. has had a lot of fun riding in the Robert Boniface the past two years. The young pilot rode BH Lisas Boy to victory in this event last year. Andrade is the first jockey since Hall of Fame jockey Robert Adair in 1970 and 1971 to win this race in back-to-back years but with different horses. Adair won the 1970 running with Go Derussa Go and the 1971 edition with Kaweah Bar. With Andrade aboard from post nine, Chocolatito covered the 440 yards in :21.37.
"We came closing super hard," Andrade said. "We broke right with the horse next to us (Red Hawk Cartel). I felt comfortable there but then I saw Zoomin For Spuds way in front. I said 'Man', it was looking kind of hard. At 220, (Chocolatito) just started switching gears, eating that dirt up. I switched to my left. It's a little hard to do with the new (riding) rules. He started responding really good. Zoomin For Spuds was a good length ahead of us. He was gone. I thought there was no way of catching him. Chocolatito got going and was able to catch at the end. It was by a good nose. I felt we had caught him.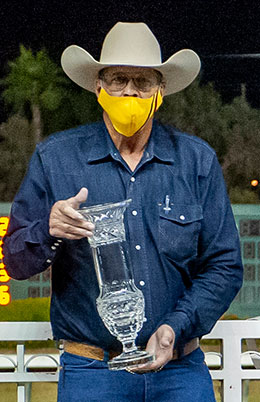 Trainer Scott Willoughby accepting the Robert Boniface Los Alamitos Invitational Championship stakes trophy and blanket for owner-breeder Edward Allred.
© Scott Martinez
"It has always been a goal to win big races," Andrade added. "Once you started winning them, it's a little more motivation each time. It pushes you to forward. You want to do better and better each time and proving yourself. You can't slack because once you do, it gets tougher for you."
This was Andrade second time riding Chocolatito, who had previously been ridden expertly by Vinnie Bednar. Andrade picked up the mount after Bednar was injured in a riding spill on August 22. Chocolatito finished fourth in the Go Man Go in Andrade's first time up.
"It was a hard task. We didn't know each other, and I had never galloped him," Andrade said. "He was fighting to the inside and I didn't know him enough to give him the confidence that he needed. I have been working with him in the mornings and we've bonded together. That helped this time."
Chocolatito returns, under jockey Oscar Andrade, Jr., after winning the Grade 1 Robert Boniface Los Alamitos Invitational Championship .
© Scott Martinez
Chocolatito has won nine of 18 starts in his career with four of those wins coming in 2020. The most consistent top older horse at Los Alamitos this season, Chocolatito won the Kaweah Bar Handicap on May 2 and the Grade 1 Vessels Maturity on July 5. His victory in the Robert Boniface netted the Steve Burns-bred runner $58,750 to take his career earnings to $240,953.
Chocolatito will now take a few weeks off before beginning his preparations for the Champion of Champions.
"I think he is just right for the Champion of Champions," Willoughby said. "Now whether we put or not a race in between now and the Champion of Champions will depend on him. The Z. Wayne Griffin trials if I had to, just to get an out. We'll see how he is doing now."
Following the race, Willoughby acknowledge Bednar's work aboard Chocolatito and credited Andrade his riding on Sunday night.
"I miss Vinnie and wish he were here. Oscar is a fantastic rider. He and Vinnie were both up and coming great riders. Oscar has done as great job. His mom and dad have done a great job with him. His dad (Oscar Andrade Sr.) was a great rider."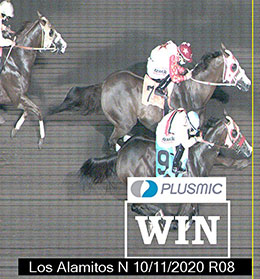 Chocolatito (#9) edges champion Zoomin For Spuds in the Grade 1 Robert Boniface Los Alamitos Invitational Championship.
© Plusmic Win
The Robert Boniface offers its winner a provisional berth to the $600,000 Champion of Champions. With Chocolatito already holding a Champion of Champions berth thanks to his win in the Vessels Maturity in July, the Robert Boniface berth now reverts to the Go Man Go Handicap, which was won by Powerful Favorite in late August.
Powerful Favorite now joins Chocolatito, Bos Time Machine, Dexxter, Gold Heart Eagle V and Curls Happy Wagon as the other Quarter Horses with provisional Champion of Champions berths. The other races that will offer berths to its winners are the Los Alamitos Super Derby and Bank of America Championship Challenge. The final two berths will be decided in the Z. Wayne Griffin Directors Trials on November 15.
Walker Family Trust's 7-year-old star Zoomin For Spuds earned $25,000 for his valiant runner-up effort in the Robert Boniface. Bred by the late Jim Walker, the son of Zoomin For Bux has now earned $852,421 in his outstanding racing career. Ridden by Jose Nicasio for trainer Monty Arrossa, Zoomin For Spuds was hoping to earn a record-tying fifth berth to the Champion of Champions, a race he won in 2016. Zoomin For Spuds will have to earn the Champion of Champions berth via the Z. Wayne Griffin trials.
Valentin Zamudio's Eagle Coast, the winner of the 2019 Rainbow Derby at Ruidoso Downs, finished a strong third in his Los Alamitos debut. With Ruben Lozano up, the gelding by One Dashing Eagle bumped at the start before making up ground in the second half of the race to earn $12,500. The top three finishers were followed across the wire by Transcend, Red Hawk Cartel, Bail Czech, Rite Quick, Jess Macho Corona and Jesstacartel.
* * * * * * * * * * * * * *
Courtesy of www.losalamitos.com.