RACING THIS WEEK
FEATURES
SERVICES
Leah Carool, under jockey Victor Salazar, defeating The Best Feeling in the $205,000 Last Chance Dash Stakes at Los Alamitos' Sunday night.

© Scott Martinez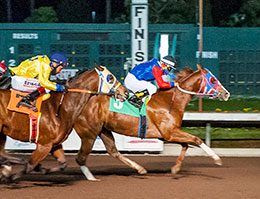 Salazar, Leah Carroll Pick Up First Stakes Win In Last Chance Dash At Los Alamitos
LOS ALAMITOS, CA—DECEMBER 27, 2020—
Jockey Victor Salazar enjoyed his first career stakes win after guiding Bobby Simmons' Leah Carroll to victory in the $15,000 Last Chance Dash Handicap at 110-yards on Sunday at Los Alamitos.
The Last Chance Dash represented the final stakes race of the year at the Orange County track. The stakes action will resume next Sunday night with the running of the Grade 1, $100,000 Charger Bar Handicap.
For Salazar, his first stakes win came in only his 50th career mount. This was also his fifth career win since starting his riding career on August 30. A pickup mount, Salazar's timely ride on Leah Carroll came for Jones, who is also this track's second all-time leading trainer in stakes wins now with 340 to his name. Jones has 453 stakes wins nationally.
Bred Bobby Simmons, Leah Carroll was recording her first stakes victory and her second overall win. The Texas-bred filly by second-crop sire Hes Relentless has posted several competitive efforts in stakes trials, including a third in her PCQHRA Breeders Futurity trial on September 13 and fourth place finishes in trials to both the Golden State Million Futurity and Los Alamitos Two Million Futurity.
Out of the Ocean Runaway mare Iva La Blue, Leah Carroll earned $8,250 for the win to take her career earnings to $15,405.
Jaime Gomez and Juan Sevilla's The Best Feeling, the winner of the Far West Futurity at Grants Pass in her previous start, finished second. The filly by first-crop sire Docs Best Card earned $3,375 for her runner-up effort.
Oscar Peinado piloted for trainer Gomez. The trainer also saddled the Tres Seis gelding Interragator to a third-place finish in this race. With Juan Leon up, the Juan Chavez-owned runner earned $1,875.
Makalerina, Perrys Ever Lasting, Single Brad, and Cartels Legacy completed the field.
* * * * * * * * * * * * * *
For more info, please contact larace@losalamitos.com. Follow us on Twitter or Instagram at @losalracing or visit us online at www.losalamitos.com.