RACING THIS WEEK
FEATURES
SERVICES
Ballast Pint, under jockey Ramon Guce, sets a new 1000-yard track record at Los Alamitos Race Course Saturday night.

© Scott Martinez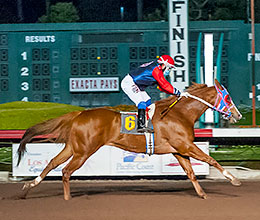 Ballast Point Sets 1,000-Yard Track Record At Los Alamitos
LOS ALAMITOS, CA—JANUARY 2, 2021—
Paul Jones and Thompson Racing, Inc's Ballast Point completely dominated Thoroughbred rivals in his 1,000-yard debut, as the Quarter Horse by 2020's leading sire of money earners
Favorite Cartel
posted a seven-length victory in track record time in the $18,000 allowance feature on Saturday at Los Alamitos.
Ridden by Ramon Guce, Ballast Point covered the 1,000-yard distance in :51.67, bettering the previous record set by the Thoroughbred Rinse And Repeat of :51.70 on April 26, 2020. Ballast Point, who is the top 870-yard Quarter Horse on the grounds, was much better than anyone could have anticipated at this 1,000-yard distance.
Bred by Dr. Steve Burns, the 5-year-old gelding had a four-length early advantage early on before opening up a five-length lead at the top of the stretch run. He continued powerfully from there, as he crossed the wire with no other horse in his zip code, while improving his record to eight wins from 20 starts. Ballast Point earned $9,616 for the win to take his career earnings to $88,001.
Ballast Point won four of seven starts in 2020 with all four of his wins coming at 870 yards. He won the Snowbound Superstar Handicap on December 6 and the Trick Or Treat Handicap on October 31. His best effort was an allowance win on February 23 when he covered the distance in :44.20, the meet's fastest at that distance and the fastest at Los Alamitos since October 22, 2006. In addition to his big wins around the turn, Ballast Point is also a two-time stakes runner-up at 550 yards and now the current king of the 1,000-yard division at Los Alamitos.
The 10-year-old multiple stakes placed runner Grinder Sparksaglo earned $3,970 for his runner-up finish in this race.
Gary Marrone's Cartoonist, a winner of his last two starts at Golden Gate Fields last year, finished third in this allowance dash. He also posted a similar third place finish here in his 1,000-yard local ebut on December 13.
Potente Alba, Saddle Bar and Launch Light Dream completed the field.
* * * * * * * * * * * * * *
For more info, please contact larace@losalamitos.com. Follow us on Twitter or Instagram at @losalracing or visit us online at www.losalamitos.com.