RACING THIS WEEK
FEATURES
SERVICES
Kiss Thru Fire, under jockey Raul Valenzuela, defeating Cat Daddys Lil Girl (5) and Curls Happy Wagon (9) in the $100,000 Grade 1 Charger Bar Handicap Sunday night at Los Alamitos Race Course.

© Scott Martinez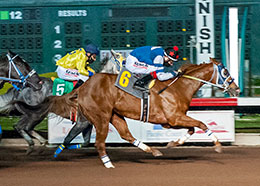 Kiss Thru Fire Kisses Rivals Goodbye On The Way To Winning The Grade 1 Charger Bar Handicap
LOS ALAMITOS, CA—JANUARY 3, 2021—
Two weeks after coming up short of winning the Grade 2 Southern California Derby, Gentry Farms' Kiss Thru Fire scored her first stakes win and it came at the Grade 1 level after defeating a talented group of mares in the $100,000 Charger Bar Handicap on Sunday at Los Alamitos.
Ridden by Raul Valenzuela for trainer Juan Aleman, Kiss Thru Fire enjoyed a perfect trip in the Charger Bar, leaving the gate sharply and from there she just got better with each stride on the way to a half-length victory over the newly arrived Cat Daddys Lil Girl in the 400-yard dash.
Kiss Thru Fire's first stakes win came in the ninth attempt of her career. In addition to her runner-up effort in the Southern California Derby on December 20, she also finished second in the All American Oaks while qualifying to Grade 1 events like the Ruidoso Futurity, Golden State Million Futurity, Los Alamitos Two Million Futurity and Los Alamitos Super Derby.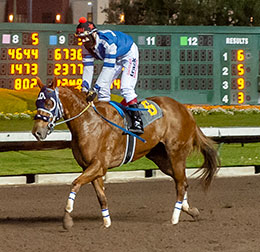 Kiss Thru Fire, under jockey Raul Valenzuela, after winning the Grade 1 Charger Bar Handicap Sunday night at Los Alamitos.
© Scott Martinez
After her strong effort in the Southern California Derby, a race in which she was on the lead for most of the way before finishing a neck behind multiple derby winner Nomadic, her connections decided to give her one more out before breeding season.
"(She) has been sound," Aleman said of the 4-year-old mare. "We evaluated her after that race, and she wasn't off her feed at all. She felt good, she was looking good, she vet-checked good. We said let's go because this was going to be her last race before getting a break to get embryo transfers. She'll get a break after this and then come back. This was a tough field, and she was one of the tough ones in there. She finally got the Grade 1 under her belt. She has been trying and trying."
Kiss Thru Fire kissed her rivals goodbye early on in the Charger Bar, finally delivering the complete effort in a graded stakes race that Aleman had long been hoping for.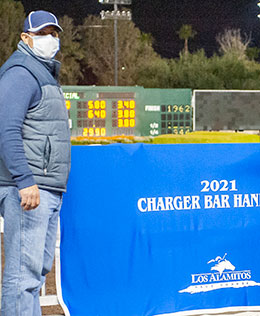 Trainer Juan Aleman accepting the Charger Bar Handicap blanket and trophy Sunday at Los Alamitos Race Course.
© Scott Martinez
"In the (Southern California trials) she still had a bunch of trouble, but she has so much heart," Aleman said. "She has a lot of guts and a lot of heart. She just hasn't been quick enough out of the gate to stay out of trouble, so she's been in trouble. Finally, in the Southern California she broke an I thought we had it won until I saw Nomadic coming on. It was a (close) finish. It was a good race and I said, 'Well, she's going to be a 4-year-old and she's going to have a break after the Charger Bar. We got it done."
After breeding season, the daughter of Walk Thru Fire could go to Remington Park and run in the Grade 1 races for mares at the Oklahoma City track. According to Aleman, the Gentry Farms-bred mare will eventually return to Los Alamitos for the Grade 1 Mildred Vessels Memorial Handicap on September 19.
"She'll be my best older mare coming back," Aleman added.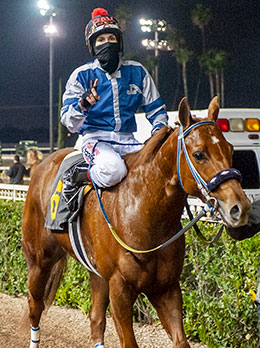 Grade 1 winner Kiss Thru Fire and jockey Raul Valenzuela walk into the Los Alamitos winner's circle.
© Scott Martinez
For the Gentry family, Kiss Thru Fire is now the fourth Grade 1 winning Quarter Horse mare that the family has campaigned. She's also the richest having now earned $438,253 - $50,000 of that amount in the Charger Bar - while winning six of 18 career starts.
Prior to Gentry Farms being the main nom the course for the family's racing operation now under the leadership of Kirk Gentry, his father, the late Robert A. Gentry, campaigned three terrific Grade 1 winning mares in Deelish, Fovee, and Fredaville. Deelish won the Go Man Go Handicap here and was the AQHA champion aged mare in 2000, while AQHA Distaff Challenge Championship winner Fredaville was the AQHA champion aged mare in 2012. Fredaville, a winner of 11 races and of $324,696, is also the dam of Kiss Thru Fire.
Meanwhile, Fovee is the second highest earner among the four with $380,385 and won the Mildred Vessels at Los Alamitos.
"They have a great broodmare band," Aleman added. "Just great mares that (Kirk Gentry) breeds every year. I'm very appreciative of having an owner that keeps bringing us these very good horses."
Winning rider Raul Valenzuela is also among the hottest stakes winning riders at Los Alamitos right now. Since December 12, Valenzuela has won the Grade 1 Champion of Champions with Apollitical Pence, the Holiday Handicap with Candy Blood and now the Grade 1 Charger Bar.
"She's a good mare and ran big in the Southern California and just got outnodded," Valenzuela said. "I made the decision to take another horse (in the Southern California) but I knew if she got out there with them breaking that she was tough going on the other end. That's how it turned out for us. She broke super clean. That's been her problem all along the times that I've ridden her, she has been breaking, gets into trouble, comes flying late. I knew that if I could get her out there and be somewhere in front that she would come flying at the end. I want to thank Gentry Farms for giving me the opportunity to get her back."
Jimmy Negrete and Jimmy Vasquez's Cat Daddys Lil Girl bumped at the start but flew from there to earn $17,000 for her runner-up effort. Bred by her owners, Cat Daddys Lil Girl was ridden by Oscar Peinado for trainer Jaime Gomez.
The 5-year-old New Mexico-bred by multiple stakes sire Big Daddy Cartel arrived after winning an allowance event at Lone Star Park. She won 20th running of the Lou Wooten and Sydney Valentini Handicap at Sunland Park in January of 2020 and won the New Mexico Quarter Horse Filly and Mare Championship at Zia Park in 2019. With her Charger Bar earnings, Cat Daddys Lil Girl lifted her career earnings to $347,282.
The Aleman-trained Curls Happy Wagon completed a terrific California campaign with a third-place finish in this race. Owned and bred by Michael Pohl and Martin Stacy, the daughter of leading sire Pyc Paint Your Wagon earned $10,000 to take her career earnings to 360,674.
The top three finishers were followed by 2020 Ruidoso Derby winner Hotsempting, One Sweet Change, Terra Fire, Jr Prissys Blood, Jess B Glory, Galloping Goddess, and Tequila Sangria.
* * * * * * * * * * * * * *
For more info, please contact larace@losalamitos.com. Follow us on Twitter or Instagram at @losalracing or visit us online at www.losalamitos.com.