RACING THIS WEEK
FEATURES
SERVICES
Flash Bak, under jockey Oscar Peinado, winning the $203, 950 Los Alamitos Winter Derby(G1) on Saturday at Los Alamitos Race Course.

© Scott Martinez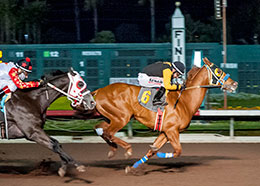 Flash Bak Is Wire To Wire Grade 1 Los Alamitos Winter Derby Winner
LOS ALAMITOS, CA—FEBRUARY 13, 2021—
Dutch Masters III's became the first owner to win the Grade 1 Los Alamitos Winter Derby more than once after fastest qualifier Flash Bak led from start to finish to the $203,950 event by ¾ lengths over Rick Sumner's Candy Blood here on Saturday night.
Dr. James Streelman of Dutch Masters III's first win in this race came with the 11-1 longshot Imaqtpie in 2017. Having saddled both Flash Bak and Imaqtpie, Jaime Gomez enjoyed his third Winter Derby win.
He also won this race in 2009 with A Tempting Dash. Flash Bak, who was one of two horses to qualify to both the All American Futurity and Los Alamitos Two Million Futurity last year, covered the 400 yards in :19.511 on the way to earning his first stakes victory. Bred by Streelman or Bill Dale, Flash Bak has now won five of nine career starts.
Flash Bak and jockey Oscar Peinado return after winning the Grade 1 Los Alamitos Winter Derby.
© Scott Martinez
"He's like a pet," Gomez said. "He stands in the winner's circle so calmly. He lays down all day long. He's relaxed and super smart. You know, the mother was one of the craziest horses that I've ever trained. This guy was a really big as a yearling. He was slow to develop. When I ran him in the Ed Burke, I saw that the horse could run a lot. He didn't qualify. Things happen, you know. This horse is a real horse.
"He didn't have a chance in the All American," added Gomez of Flash Bak's ninth place finish. "He didn't break. I sent (jockey) Jesus Rios Ayala to Ruidoso two weeks before to be with the horse. The horse didn't even break. He came back and ran really well in the Two Million. He ran second, but the other filly (Apollitical Patty) ran the race of her life. The race before I had beaten Apollitical Patty with my filly, J Best Boogie. I thought we were going to win (the Two Million), but she ran the race of her life."
Bred in Missouri, Flash Bak is a gelding by Moonin The Eagle out of the Check Him Out mare Checknbac. Flash Bak's dam was an accomplished runner, as she won the Restricted Grade 1 Governor's Cup Futurity when dead-heating for the win with Tac It Like A Man. She also finished third to Tac It Like A Man in the PCQHRA Breeders Futurity and as a 3-year-old won the La Pacifica Handicap at Los Alamitos.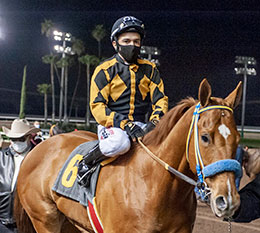 Trainer Jaime Gomez walks into the Los Alamitos winner's circle with Flash Bak and jockey Oscar Peinado Saturday night.
© Scott Martinez
Ridden by Oscar Peinado from post number six, Flash Bak covered the distance in :19.511, the fastest time in this race since Viva Mi Corazon's :19.46 in 2014. Flash Bak earned $85,659 for the win to take his career earnings over the $500,000 mark and to $536,126.
His connections are now considering paying the $30,000 to make him eligible to the Grade 1 Los Alamitos Super Derby. He's already eligible to run in the All American Derby trials in August and is also eligible to both the El Primero Del Año Derby and Southern California Derby.
"I don't know if we can run him in the El Primero," Gomez said. "I want to wait. I'd like to freshen him up and then take him for the All American. This horse is learning little by little."
Los Alamitos Winter Derby(G1) winning trainer Jamie Gomez and jockey Oscar Peinado, accept the stakes trophy and blanket Saturday night at Los Alamitos Race Course.
© Scott Martinez
Streelman and Gomez have been one of the nation's top owner/trainer partnerships going back to the mid-1990s. Together, they've won Grade 1 stakes races with the likes of Higher Fire, Chazaq, Secret Card, Sassy Smith, Sixish, Twin Spires, Docs Apollo, Gold Nugget Rd and Chicks Like Us.
"We talk at least three to four times a week," Gomez said. "If he doesn't call me, I have to call him for something. I have his mares at my ranch, we have to talk about the horses, and we have to chat the babies coming up. He's the only owner that I've always had since I started training. He's never quit me. Carlos Lopez had the Dutch Masters barn. When Carlos went to Mexico, I got the barn.
'Bob Baffert told Doc Streelman that if 'Jaime Gomez doesn't train your horses good, he'll sell your horses good,'" added Gomez laughing. "I've had the horses since then."
Prior to beginning his training career, Gomez worked with Baffert and Lopez, regularly attending the horse sales to help pick up yearlings.
"I was a young man," Gomez said. "Baffert and Carlos trained at Bay Meadows and I'd go with them. They got me a little blow-up bed and I'd sleep by the TV. They'd play Nintendo all night those sonafaguns. They'd play the game with the guy with the mustache…Mario Brothers, that's it. They'd play Mario Brothers a lot. That was fun. We were young."
Flash forward thirty years later and Gomez still having a great time in the Quarter Horse racing game.
"Horses like Flash Bak keep it fun," Gomez added.
Ridden by Raul Valenzuela for trainer Monty Arrossa, Candy Blood earned $34,672 for his runner-up effort in the Winter Derby. The Oklahoma-bred gelding by leading second-crop sire Apollitical Blood was second to Monopolist in the Winter Derby trials and prior to that he posted a three-length win in the Holiday Handicap. Candy Blood has now earned $143,550.
Ed Allred's Monopolist ran evenly the entire way, as he finished third for jockey Oscar Andraded, Jr. and trainer James Glenn, Jr. A son of Favorite Cartel, Monopolist earned $24,474 in this race to take his lifetime earnings to $330,872.
Legacy Ranch Inc's Twostrikesurprise and Howard Nichols' Doc Lamb completed the top five. Leah Carroll, Coronado Kiss, AP A Special Takeoff and Gentleman Chuck completed the field.
* * * * * * * * * * * * * *
For more info, please contact larace@losalamitos.com. Follow us on Twitter or Instagram at @losalracing or visit us online at www.losalamitos.com.