RACING THIS WEEK
FEATURES
SERVICES
Powerful Favorite, under jockey Eduardo Nicasio, winning the Grade 1 Brad McKinzie Winter Championship(G1at Los Alamitos Race Course Sunday night.

© Scott Martinez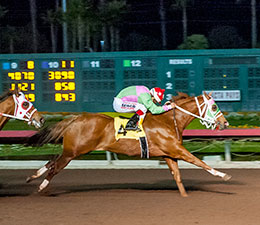 Powerful Favorite Lives Up To His Name In Grade 1 Brad Mckinzie Victory
LOS ALAMITOS, CA—FEBRUARY 14, 2021—
Rosenthal Ranch LLC's Powerful Favorite became the third horse to sweep the Grade 1 Winter Series after a dominant performance in the Grade 1, $157,750 Brad McKinzie Los Alamitos Winter Championship here on Sunday night.
With the victory, Powerful Favorite joins Whosleavingwho and A Stoli Mate as the only Quarter Horses to win both the Los Alamitos Winter Derby and the Winter Championship during the 21-year-history of these races.
Ridden by Eduardo Nicasio for trainer Chris O'Dell, Powerful Favorite was second early in the Winter Championship, but 50 yards into the race he began to separate himself from the other nine horses in the race.
Winning owner Connie Rosenthal accepts the Brad McKinzie Winter Championship(G1) stakes trophy at Los Alamitos Race Course Sunday night.
© Scott Martinez
At the midway point of the 400-yard dash, Powerful Favorite was leading by daylight, while well on the way to scoring win number 11 from his last 15 starts. Sent off as the 1-2 favorite in this race, Powerful Favorite crossed the wire ¾ lengths ahead of 27-1 longshot Pay Me In Front.
His winning time of :19.498 is the fastest of meet at 400 yards.
Sired by 2020's leading sire of money earners' Favorite Cartel and out of the outstanding derby winning mare Remember Me Rose, the 5-year-old Powerful Favorite has now won a Grade 1 race in each of the last three years. In addition to his Winter Derby win 2019, he also won the Grade 1 Go Man Go Handicap last year. The James Markum and Dr. Steve Burns-bred runner earned $66,255 for winning the Winter Championship to take his career earnings to $960,877.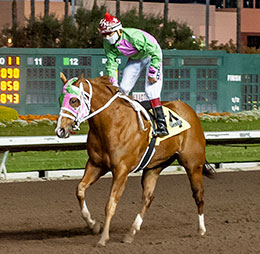 Powerful Favorite and jockey Eduardo Nicasio return after winning the Grade 1 Brad McKinzie Winter Championship(G1).
© Scott Martinez
After the race, owner Connie Rosenthal had a few tears in her eyes while watching Powerful Favorite enter the winner's circle. The emotion came from remembering her husband, Bob Rosenthal, who passed away less than 14 months before Powerful Favorite made his first career start on April 29, 2018.
"He was Bob's last pick," said Rosenthal. "He picked him out at the (Los Alamitos) Equine Sale, so it's his horse. That's also so special. We are just along for the ride."
With the victory, Powerful Favorite earns a presumptive berth to this year's Grade 1 Champion of Champions. He finished third in the Champion of Champions last year, but he was on the lead with 110 yards to go in the 440-yard classic.
Trainer Chris O'Dell walks into the Los Alamitos winner's circle with Powerful Favorite and jockey Eduardo Nicasio Sunday night.
© Scott Martinez
"This race means a lot," O'Dell said. "It gets us back in the Champion of Champions and it puts us close to the one-million-dollar mark. That was a goal for us. Every time he runs down through there and takes a picture, that's another notch for him. It's cool when you get one like him because they are hard to come by. I hope we can keep him around for a couple of more years if we just space out his race. We don't have to run him very much. We just need to let him be a horse, run him now and then and keep him good shape.
"We love to be in those big races. The Champion of Champions is just so prestigious. I've been close many times and haven't gotten it and this if the horse that can do it if everything is right. He was third last year and that was a very tough group of horses."
O'Dell was thrilled with Powerful Favorite's performances, which resulted in his 14th win in 24 career starts. This was also the gelding's seventh stakes win at Los Alamitos.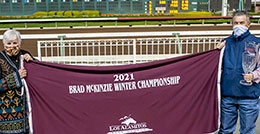 Winning owner Connie Rosenthal and trainer Chris O'Dell accept the Brad McKinzie Winter Championship stakes blanket.
© Scott Martinez
"He didn't break the sharpest, but he broke clean," O'Dell said. "He's broke clean in most of his races. He had to be very patient with him last year and fortunately Connie has been patient with me and has let me do the things that I've needed to do with him. Everything has to be perfect. I didn't like being favorite like that (tonight) because that's a lot of pressure. My heart was beating out of my chest and I don't like that. One little bump and you're beat. Now that we've done this, I'll have to map out his schedule, show it to Connie and get her approval. I thought he would be tough tonight. He had the Champion of Champions race and the trials to this race, so he was coming in ready. By the time he got to the gap and you see him takeoff and then he's ears go up, that's when he runs his best. He doesn't need a ton of urging."
O'Dell said he'll be at Los Alamitos through mid-May for the Robert Adair Kindergarten Futurity before going to Ruidoso Down to campaign horses there in the summer. Powerful Favorite will travel with him to "The Mountain" before they return to Los Alamitos in the fall.
"I also want to do a few things with my son Colton," O'Dell said. "He's 22 now and you know, we've never been fishing together. He's come to the barn to help me in the summer and he's come along with me to the horse sales at Ruidoso, but it's always been him coming with me to do what I'm doing. I'm at a point in my life where I want to do a few different things with him."
Adolfo and Eduardo Perez's Pay Me In Front was the surprise package of the night, as the FDD Dynasty gelding broke on top and continued strongly behind Powerful Favorite on the way to running second. Ridden by Jose Nicasio for trainer Monty Arrossa, Pay Me In Front earned $26,818 for his runner-up effort.
Ed Allred's Doctor Gene, who made up a lot of ground to run second to Powerful Favorite in the trials, had a very similar start in the final. He was seventh at the start, got crowded by Pay Me In Front as he drifted out, but then finished strongly to run third at 8-1 odds. Oscar Andrade Jr. piloted the Favorite Cartel gelding for trainer Scott Willoughby. Doctor Gene earned $18,930 for running third.
The top three finishers were followed by Made Over, Bos Time Machine, Red Hawk Cartel, Jess Macho Corona, Mr Ricks, Up For Speed, and Sepertist Dash.
* * * * * * * * * * * * * *
For more info, please contact larace@losalamitos.com. Follow us on Twitter or Instagram at @losalracing or visit us online at www.losalamitos.com.