RACING THIS WEEK
FEATURES
SERVICES
The Bank of America Challenge Championships will return to Los Alamitos Race Course for the 12th time on its 25th Anniversary on November 17.

© Los Alamitos Race Course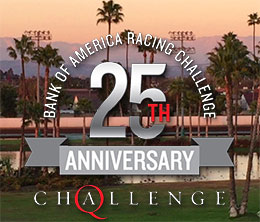 Challenge Updates, 2019 Championships Location
AMERICAN QUARTER HORSE ASSOCIATION—JULY 12, 2018—
The Bank of America Racing Challenge will celebrate the pinnacle of its 25th anniversary during the Bank of America Challenge Championship night, which is November 17 at Los Alamitos Race Course in sunny Southern California. There, many of the best racing American Quarter Horses will gather from all parts of the world to go head-to-head, with rich purse money, titles and bragging rights on the line.
The Racing Challenge has for a quarter century provided racing American Quarter Horsemen more opportunity to race their horses in more places and for more money. The AQHA racing department staff is working diligently to get the program positioned to continue that, with the assistance of membership suggestions and the guidance of the AQHA Executive Committee, Racing Council and Committee. To that end, a full schedule of regional Challenge races will be offered in 2019. Applications for Challenge Regional races are being sent to tracks this week.
"I will be reaching out to the tracks in the coming days to discuss allocation of such races in their region for next year's season," said AQHA Chief Racing Officer Janet VanBebber. "We are excited to be doing this in a timely manner, affording the individual tracks time to examine their budgets and better enhance their contributions to the total purses. Furthermore, we encourage tracks to seek local sponsorship of the races to maximize the gross value offered to horsemen, and are glad to afford them time in this pursuit."
While the 2018 Bank of America Challenge Championships will be celebrated at its most familiar host site – 12-time host Los Alamitos Race Course – in 2019, it will have a brand-new first-time host at The Downs at Albuquerque. The tentative date for the event is October 26, 2019.
"We are so excited about this," VanBebber said. "AQHA appreciates Paul Blanchard and racing director Don Cook in their enthusiasm to conduct and host the Challenge Championships. Additionally, we appreciate the commitment they've shown the industry in renovations at their track, supporting integrity measures and efforts to further Quarter Horse racing. Albuquerque is a lovely city, The Downs is a great racetrack, and I am certain this will be a grand event!"
The Downs at Albuquerque has committed to funding that will strengthen the Challenge Championship purses, and AQHA continues to pursue new sponsorships. Talks are already underway for the site of the 2020 Bank of America Challenge Championships.
"It is the partnership between our organization and the host facility that creates a thriving event that positively impacts the industry," VanBebber said. "I am very proud that we are back on track in these endeavors!"
About Bank of America
Bank of America is the official sponsor of the Bank of America® Racing Challenge Championships. Bank of America knows how hard our members work to earn their money, which is why they offer eligible checking and savings accounts, and credit cards for AQHA members. Some of the benefits you can receive with the credit card include earning: 1 percent cash back on purchases, everywhere, every time, 2 percent cash back at grocery stores and wholesale clubs and 3 percent cash back on gas. You will earn 2 percent and 3 percent cash back on up to $2,500 in combined purchases in those categories each quarter. Visit personalize.bankofamerica.com/aqha for more information about rates, fees, other costs and benefits of this card, or to apply for an account.
* * * * * * * * * * * * * *
AQHA News and information is a service of the American Quarter Horse Association. For more news and information, follow @AQHARacing on Twitter, watch the AQHA Racing Newscast and visit aqha.com/racing.