RACING THIS WEEK
Additional Challenges

Current Nominees and Sustaining Payments
FEATURES
SERVICES
Bank of America Racing Challenge condition books available.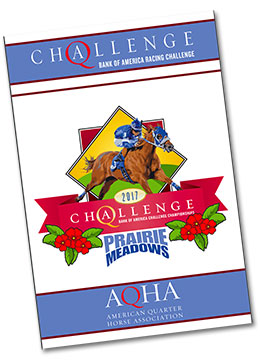 Challenge Condition Book Available
AMERICAN QUARTER HORSE ASSOCIATION—APRIL 10, 2016—
The Bank of America Racing Challenge Condition Book is now available in both hard copy and digital format.
The digital Condition Book is available at www.aqha.com/racing or by CLICKING HERE. To get a hard copy, call the Challenge Hotline at 877-222-7223.
The regional Bank of America Racing Challenge races kicked off in January, and the races will run through September 29. Bonus Challenge races this year are currently scheduled through September 2, and Maiden Challenges through November 7.
The Bank of America Challenge Championships are scheduled for October 14 at Prairie Meadows at Altoona, Iowa. This year, there will be five Championship races and no undercard races.
Any horses competing in the Championship races are due on the grounds by October 1 for hair to be pulled on October 2 for hair testing. There are accommodations for qualifiers from the regional Merial Distaff and Distance Challenge at Lone Star Park. See the Condition Book for full details.
AQHA News and information is a service of the American Quarter Horse Association. For more news and information, follow @AQHARacing on Twitter, watch the AQHA Racing Newscast and visit www.aqharacing.com.