RACING THIS WEEK
Additional Challenges

Current Nominees and Sustaining Payments
FEATURES
SERVICES
Willie Foose, winner of the Dick Monahan Maiden Challenge at Sun Downs, has been disqualified for after a positive hair-test for clenbuterol.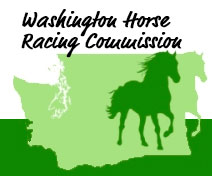 Trainer Jose Ariel Lozano Fined For AQHA Sun Downs Maiden Challenge Clenbuterol Positive
OLYMPIA, WA—JULY 17, 2017—
Following a conference conducted June 30th, the Washington Horse Racing Commission released a stewards' ruling Monday, July 3, finding trainer Jose Ariel Lozano responsible for a positive hair-test for clenbuterol, a class 3 substance which is prohibited in the State of Washington, taken from the winner of the 2017 Dick Monahan Maiden Challenge.
Willie Foose, winner of May 6th $24,087 AQHA Maiden Challenge final at Sun Downs in Kennewick, has been disqualified after the positive test was returned from Truesdail Laboratories, Inc. containing clenbuterol.
Accordingly, the stewards determined that Lozano was the licensed trainer of the horse at the time of the race and assessed a fine of $500 (first offense in a 365-day period). Due to mitigating circumstance that hair testing is a new biological form of testing in 2017, no MMV points were assessed for the positive.
Lozano is also the registered owner of the 3-year-old Foose gelding out of Miss Willie Nilly by Willie Wanta Dash.
Willie Foose was disqualified from any and all purse monies and the official order of finish was amended and confirmed as:
Mr First Dash
Jesses Claim Ta Fame
All Get Out
Ez Frosty Morn
Brewster The Rooster
Xaiomi
Cartels Jubilee
Js Whoisthefoolnow
Miss Kitty Zoom
Willie Foose (unplaced)
"Winners of the Adequan Sun Downs Derby Challenge and the Pot O'Gold Futurity at Sun Downs are also under appeal and we hope to hear those cases at the August 11 commission meeting," Washington Horse Racing Commission Executive Director Douglas Moore said this week.