RACING THIS WEEK
Additional Challenges

Current Nominees and Sustaining Payments
FEATURES
SERVICES
Reliance Ranches LLC's SC Vapor Trail winning the $44,460 John Deere California Juvenile Challenge Saturday night at Los Alamitos Race Course.

© Scott Martinez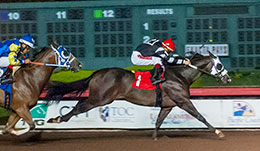 Sc Vapor Trail Leaves Rivals Behind To Win John Deere California Juvenile
LOS ALAMITOS, CA—AUGUST 19, 2017—
SC Vapor Trail and Apollitical Stone, the two runners with Grade 1 racing experience, shined in the running of the $44,460 John Deere California Juvenile Challenge, finishing first and second, respectively, in the 350-yard final on Saturday at Los Alamitos.
Owned and bred by Reliance Ranches LLC, the talented filly SC Vapor Trail's solid campaign in Southern California continued after cruising to a ½ length victory over Apollitical Stone in the John Deere California Juvenile. Winning her second consecutive start from post number one, SC Vapor Trail broke out and bumped out of the gate, but then took off to take the lead and never looked back.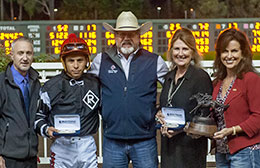 AQHA's Chief Racing Office Janet Vanbebber (right) presents the John Deere California Juvenile Chalenge stakes trophy to Jay Conklin, Jesus Rios Ayala, Mike and Vicki Robbins.
© Scott Martinez
Ridden by Jesus Rios Ayala, currently the meet's leading Quarter Horse rider up, SC Vapor Trail covered the distance in :17.609 while enjoying her third win in five starts at the Orange County track.
The filly by the legendary Corona Cartel and out of the two-time AQHA champion aged mare Spit Curl Diva by Spit Curl Jess, SC Vapor Trail competed in the Grade 1 Ed Burke Million Futurity at Los Alamitos earlier this year. Mike Robbins, a three-time winning trainer of the prestigious Champion of Champions here, saddled SC Vapor Trail.
"I'm really pleased with her," Robbins said. "She's been showing us all along and tonight she really stepped her game up. She didn't break as sharp as she can, but really come running. It made up for it. It won't make any different where she draws now. She's pretty seasoned. That was her seventh race this year and is continually getting better. She's in the Black Gold Series in Oklahoma (at Will Rogers Downs). We'll see how she pulls up and we'll get with the McKinneys (of Reliance Ranches) and figure out a game plan for her." SC Vapor Trail earned $20,896 for the win to take her career earnings to $76,198. She had previously finished sixth in the Grade 1 Ed Burke Million Futurity, behind Apollitical Stone, who ran fourth in that $1,000,000 race.
She had also finished second to Apollitical Stone in when they faced off in their Ed Burke Million trial, but the John Deere California Juvenile was SC Vapor Trail's night to shine.
The Oklahoma-bred has won three of her seven career outings. The victory also earned SC Vapor Trail a berth to the John Deere Juvenile Challenge final to be held at Prairie Meadows in Iowa.
Jose Flores and Steve Mickaelian's Apollitical Stone earned $8,892 for running second, taking his career earnings to $82,067. The Apollitical Jess gelding has finished in top two in four of five career starts, his only time outside the top two coming in the Grade 1 Ed Burke against talented juveniles KVN Corona, J Fire Up and Chance To Fire.
Denny and Sandy Weigt's Missmerizing, a finalist to the Kindergarten Futurity, earned $4,446 for running third. Monty Arrossa saddled the daughter of leading sire Pyc Paint Your Wagon.
Honeys Pop A Tac, Favorite Hot Cartel, Speedy Elvis, R Sturdy Boy, Phoxxy, and Royal Tricky Lady completed the field.
Courtesy of www.losalamitos.com.