RACING THIS WEEK
Additional Challenges

Current Nominees and Sustaining Payments
FEATURES
SERVICES
A win by The Fiscal Cliff in the Bank of America Challenge Championship(G1) earned him a berth in the $750,000 Grade 1 Champion of Champions Saturday at Los Alamitos.

© Coady Photography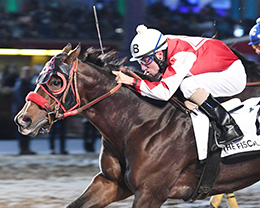 Iowa-Bred The Fiscal Cliff Rewarded by the Bank of America Racing Challenge
By Martha Claussen
CYPRESS, CA—DECEMBER 14, 2017—While many of the contenders of Saturday's $750,000 Champion of Champions (G1) are well-known to the fans at Los Alamitos, Iowa invader, The Fiscal Cliff, also brings solid credentials to the final.
The 4-year-old son of Pyc Paint Your Wagon, bred by Tom Lepic of Iowa City, Iowa, qualified for the prestigious stakes with a victory in the $330,000 Bank of America Challenge Championship (G1) on October 14 at Prairie Meadows in Altoona, Iowa.
He defeated a full field, covering 440 yards in :21.297, earning a 109-speed index, and giving trainer Kasey Willis his first Grade 1 score.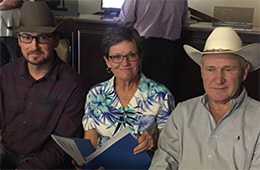 Kasey Willis (left) and Lin Melton (right) were on hand Wednesday for the Champion of Champions Draw at Los Alamitos Race Course where The Fiscal Cliff opted for the #2 post..
© Los Alamitos Race Course.
Lepic, who is a respected businessman in Iowa as well as president of the Iowa Quarter Horse Breeders Association (IQHRA), recently sold The Fiscal Cliff to Whitmire Ranch of Marietta, Oklahoma.
"Originally, we were thinking of retiring him following the Champion of Champions," explained Lepic. "I met with several breeding farms, but just felt that the timing was not right. We decided to run him in 2018, and once the word got out, I started to get calls about selling him."
He was surprised with the influx of interest and turned down several offers before finalizing the transaction with Whitmire Ranch. He declined to reveal the sale price, but stated that "it was an offer I could not turn down."
Lepic is tremendously loyal to the Bank of America Challenge Racing program.
"My wife, Polly and I have been very fortunate in this industry," stated Lepic. "We've won many stakes with Spit Curl Diva and other quality racehorses, but nothing equaled our pride in winning the Bank of America Challenge Championship at our home track, Prairie Meadows. To celebrate his Grade 1 victory in front of family and so many friends was the highlight of my racing career. Polly and I still talk about it all the time!"
The Fiscal Cliff arrived in California six weeks ago and has been stabled with Lin Melton. Willis returned on Monday and will saddle the bay colt on Saturday night and give a leg up to jockey Benito Jude Baca.
The accomplished conditioner and son of veteran trainer, Eddie Willis, is confident in his charge. The Fiscal Cliff has carried his form to many tracks across the country, winning 13 of his 23 career efforts and bankrolling $565,355 to date.
"The horse is sound and has been super happy here at Los Al," said Willis. "Lin is a fantastic horseman and has taken good care of him. Obviously, there is some tough competition in the race, but like I tell everyone, The Fiscal Cliff will keep any horse in the country honest."
Lepic is a member of the Bank of America Racing Challenge Task Force, and has enrolled each of his racehorses in the program run by the American Quarter Horse Association (AQHA).
"This program is very important to our industry," he said. "A lot of hard work has gone into the Bank of America Racing Challenge and announcements will be made in January about the 2018 schedule. Both Janet Vanbebber and Debbie Schauf have worked tirelessly and I feel strongly that we are on the right path."
* * * * * * * * * * * * * * *
Martha Claussen served as publicity director at Sam Houston Race Park for ten years. She continues to be active in writing, fan education and Quarter Horse racing publicity in Texas, Louisiana and other regions in North America.