RACING THIS WEEK
Additional Challenges

Current Nominees and Sustaining Payments
FEATURES
SERVICES
Grade 2 Kindergarten Futurity finalist Cole Man 47 will start in the John Deere California Juvenile trials on Saturday at Los Alamitos.

© Scott Martinez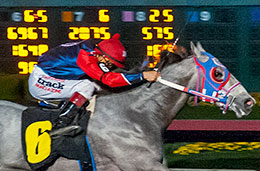 John Deere California Juvenile Trials Set For Saturday Night
LOS ALAMITOS, CA—AUGUST 1, 2018—
Robert Adair Kindergarten Futurity finalist Cole Man 47, Bitterroot Futurity finalist Fames Prize Stone, and Cowboys Futurity finalist Allyson Wonderland are among a well-traveled group of runners that will compete in a pair of trials to the John Deere California Juvenile on Saturday at Los Alamitos.
Nine races are on tap this evening with the 350-yard trials slated as races eight and nine. The horses with the 10 fastest times will return here for the final on August 18. The winner will qualify to the Grade 2 John Deere Juvenile final to be held as part of Bank of America Racing Challenge Night here on Saturday, November 17.
Among the 18 horses competing in the trials will be runners that have traveled to Southern California from Idaho, Oregon, Utah, and Washington.
In the opening trial, Gary and Jeralyn Messenger's Bodacious Dash gelding Bo Jaxon returns to Los Alamitos after winning a pair of races and finishing fourth in the John Deere regional final at Sandy Downs in Idaho Falls.
Reed Pierson's Chasin Harm, gelding by Hawkinson, finished third in a stakes race in Utah, while Lucky Ned raced in the Firecracker Futurity at Grant's Pass Downs, Oregon.
Marin Jones and Steve McIntyre's Stel Corona gelding Cole Man 47 is among the horses to beat in this trial. He finished second to eventual Governor's Cup Futurity runner-up Favorite Wise Lady in the trials to that race and was a Kindergarten finalist.
Other top contenders include Stevieb Flashofcash, a First Moonflash gelding who is unbeaten in his two career starts and a daylight winner in his Kindergarten trial, and recent allowance daylight winner Tough Enough Jess by First Down Jess.
Capitol Grille, a Walk Thur Fire half-sister to Governor's Cup Derby winner Black Fryday, heads the second trial. She'll face the First Prize Stone filly Fames Prize Stone, the third place finisher in the Bitterroot at Sandy Downs, and the Apollitical Jess filly Allyson Wonderland, runner-up in the Cowboys Futurity at Emerald Downs.
* * * * * * * * * * * * * * *
Courtesy of www.losalamitos.com.