RACING THIS WEEK
Additional Challenges

Current Nominees and Sustaining Payments
FEATURES
SERVICES
Champion Aged Stallion The Fiscal Cliff wont he 2017 Grade 1 Bank of America Challenge Championship at Prairie Meadows.

© Coady Photography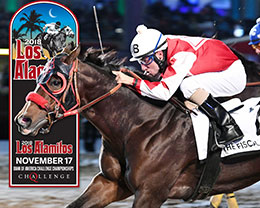 51 Pre-Entries for 2018 Bank of America Challenge Championships
AMARILLO, TX—OCTOBER 28, 2018—
While last year's Bank of America Challenge Championship(G1) winner
The Fiscal Cliff
has been retired for stud duty in 2019, pre-entries announced by AQHA last week for the Bank of America Challenge Championship Night, November 17th at Los Alamitos Race Course, still includes plenty of star power.
Led by last year's champion 3-year-old Hold Air Hostage and multiple Grade 1 winner Bh Lisas Boy, 51 horses have been pre-entered for the 2018 Championships.
The 25th Bank of America Challenge Championship, Quarter Horse racing prestigious Challenge program night will include five challenge championships, 3 grade 1 events, and five undercard stakes races with purses totaling $850,000. The event will be held for a record 12th time at Los Alamitos Race Course in Cypress, California.
"This 25th Anniversary is a special occasion," AQHA Chief Racing Officer Janet VanBebber said this week. "While my involvement as Chief Racing Officer at AQHA only dates back to 2016, my involvement in the AQHA Racing Challenge as a horseman dates back to its origin. I maintain that it is one of the most important and relevant programs for Quarter Horse Racing."
The Racing Challenge has for a quarter century provided racing American Quarter Horsemen and women more opportunity to race their horses in more places and for more money. The AQHA racing department staff, with the assistance of membership suggestions and the guidance of the AQHA Executive Committee, Racing Council and Committee, works diligently to keep the program positioned to continue that.
CLICK HERE for pre-entries for the five 2018 Bank of America Challenge Championship Night races. (Editor's note: Changes may be made to this list up until "TIme of Entry", check back often.
Undercard stakes will include:
$25,000 Tom Lepic Championship – 440 Yards
$25,000 Dreams Come True Ranch Derby – 400 Yards
$25,000 Stotz Equipment Juvenile – 350 Yards
$25,000 Narciso "Chicho" Flores Stablewood Farm Distaff – 400 Yards
$25,000 Andreini & Company Distance – 870 Yards
"I am probably most excited about the pertinent subject matter that will be presented in the afternoon of the Racing Committee meeting (November 16), and the qualified panelists that are traveling to Los Alamitos to participate," VanBebber said.
Topics and speakers include:
The Pursuit of Safety in Racing, led by Terry Meyocks (Jockeys' Guild), Steve Koch (NTRA) and Rick Baedeker (CHRB).
Discussion of Technology for Detecting Performance-Enhancing Drugs, led by Al Kind (Texas A&M), Petra Hartmann-Fischback (Industrial Labs) and Dr. Dionne Benson (RMTC).
Microchipping: Emerging Technology in the Identification of Horses, led by Chris Dobbins (InCompass Solutions) and Jeff Salmon (CHRB).
ARCI Recommended Penalties: Are Jurisdictions Imposing Uniform Rulings? , led by Rick Baedeker (CHRB), Kelly Cathey (OHRC) and Ed Martin (ARCI).
Horsemen and women are encouraged to attend this educational opportunity. The Racing Committee meeting is open to everyone, but registration is required.
CLICK HERE for additional information on conference registration and seating for the Bank of America Challenge Championship night.
TVG's normal coverage of Los Alamitos will include the 2018 Challenge Championship races. Horsemen and women can also logon to qracingvideo.com as an option.
Greg Thompson's StallioneSearch.com will on site to bring webcast videos beginning Friday, November 16th and continue through the Championship night of November 17th. The SeS Bank of America Championships webcast will be brought to you by AQHA Racing and One Fabulous Eagle standing at Royal Vista Ranches.
CLICK HERE for additional Challenge Championship information.