RACING THIS WEEK
Additional Challenges

Current Nominees and Sustaining Payments
FEATURES
SERVICES
Sneakin TR winning the Director's Cap in October at Portland Meadows.

© HorseWinPix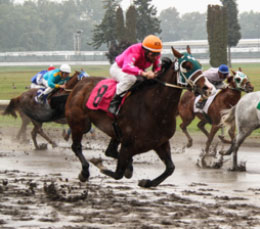 Sneakin Tr Heads Portland Meadows Championship Bonus Challenge
By Tom Harris
PORTLAND, OR—DECEMBER 15, 2018—The biggest day of Oregon horse racing will take place on Sunday as nine of the ten races on the program will be stakes or special events for state-breds on Oregon Championship Day.
The Portland Meadows Championship Bonus Challenge will be the first big event of the day for Quarter Horses at a distance of 440 yards in the second race. The three-year-old and upward dash is a handicap race with an estimated purse of $17,000.
Connie Chumbley's Sneakin TR will try to keep his winning streak intact after winning his first two races of the season at Portland Meadows including the Director's Handicap on October 7th.
Trained by Scott Raley, Jockey Robert Burney will guide the seven-year-old son of Tr Dasher.
Major oppositions looms large from Los Alamitos returnees Favorite Bling and Corona B Gone. Favorite Bling won the Challenge Stakes at Sun Downs worth nearly $40,000 earlier this year and Corona B Gone won the $30,000 Challenge at Emerald Downs this past Summer.