RACING THIS WEEK
Additional Challenges

Current Nominees and Sustaining Payments
FEATURES
SERVICES
Yashira Vista will contest the ARC Distaff Challenge Championship.

© Andrea Caudill / AQHA Racing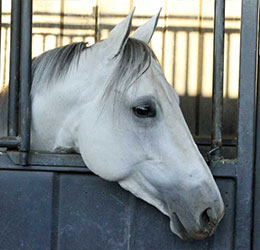 Brazilian Queen Yashira Vista Looks To Become A Major Winner In Two Hemispheres
By Andrea Caudill
AQHA RACING—OCTOBER 26, 2019—Mauro Eli Zaborowsky works hard to improve the sport of American Quarter Horse racing in Brazil, where he and his family operate Haras Vista Verde, a breeding operation of more than 30 years.
The most recent winner of the John Andreini Special Achievement Award this week will send out his own Yashira Vista to contest the $100,000 Awards Recognition Concepts Distaff Challenge Championship (G1), and the Brazilian mare certainly has earned a second look.
Yashira Vista is by One Famous Eagle and out of the Corona Cartel mare Strawberry Cartel, who is a daughter of legendary sire Corona Cartel and the legendary mare Strawberry Silk.
Zaborowsky bought Strawberry Cartel, in foal at the time with Yashira Vista, and imported them to Brazil as part of his efforts to improve his broodmare band.
The resulting filly was dubbed Yashira Vista. Every foal at Vista Verde gets in their name either Vista, if it's a filly, or Verde, if it's a colt. Because she was foaled on the American breeding schedule, and not the Brazilian schedule, Yashira Vista was not sold at their annual Vista Verde Yearling Sale. They instead retained her for racing.
She rewarded them handsomely, winning the R$100,000 Grande Prêmio Consagração, the third leg of the Brazilian Triple Crown.
"We decided to send her to the United States for her 3-year-old campaign," Zaborowsky said.
Unfortunately, the trip was difficult, requiring a recovery period. Once she did, she raced under the care of champion trainer Paul Jones, immediately lighting the board in an overnight stakes, and qualifying to the 2018 Golden State Derby (G2).
Her owners thought it was about time to bring her home, but while they were preparing her for travel, trainer Mike Robbins convinced them to give her a few more outs.
Yashira Vista won an allowance at Remington Park, earned black type in the Dash For Speed Stakes at Ruidoso, and then she "gave us a special gift winning her Challenge race at Ruidoso Downs," her owner said.
And so, the well-traveled mare is set to give them another gift, as the family has come to watch her contest the Grade 1 race. Robbins saddled her for her Ruidoso stakes win and will do so again on Saturday.
"It's really an honor for us to have a baby foaled in Brazil racing in the United States at this great level," Zaborowsky said.
He went on to thank his trainers, as well as Vince Genco, who has assisted the family as an agent for more than 30 years, and AQHA Executive Committee member Butch Wise for his efforts to help Quarter Horse racing in South America.
Sportsmanship is in good form at the Bank of America Challenge Championships.
AQHA News and information is a service of the American Quarter Horse Association. For more news and information, follow @AQHAnews on Twitter and visit aqha.com/news.