RACING THIS WEEK
Additional Challenges

Current Nominees and Sustaining Payments
FEATURES
SERVICES
Updates on changes to Bank of America Racing Challenge races due to COVID-19 pandemic.

© Coady Photography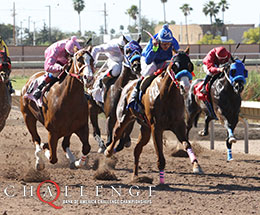 COVID-19 Pandemic Challenge Race Update
Q RACING—APRIL 10, 2020—
The global COVID-19 pandemic is causing significant changes and uncertainty, and the world of American Quarter Horse racing is having many adjustments.
Information related to COVID-19 is available on AQHA's racing page, including information on small business assistance and meet updates.
The Bank of America Racing Challenge Regional races have changes being made, and AQHA employees are working closely with track employees on these events.
"There is a lot going on with the regional Challenge races, and I'd like people to know we are proactively finding solutions," said AQHA Chief Racing Officer Janet VanBebber. "Many of these decisions are still being made, but we are actively working on them and will inform our horsemen as soon as that is possible."
Changes currently known:
The March 21 John Deere Rillito Juvenile Challenge and Bank of America Challenge Championship– conducted trials but were unable to run the finals. At this time, officials are still trying to reschedule these races.
The May 2 Adequan® Sun Downs Derby Challenge and May 3 ARC Sun Downs Distaff have been moved to Weber Downs in Ogden, Utah, due to the cancellation of Sun Downs' meet. Late payments will be accepted through April 15. Both races will now have trials scheduled on May 5, and finals on May 24.
Regional races that are still trying to be rescheduled include the

May 24 Adequan® Pocatello Derby Challenge
 May 29 Adequan® Sam Houston Derby Challenge
May 29 John Deere Sam Houston Juvenile Challenge
Information on other races is being worked on, and as soon as details are known, horsemen will be notified. Check on aqha.com/racing for the most up-to-date information as it becomes available.
For other questions, please call the Challenge Hotline at 877-222-7223.
* * * * * * *
For the latest in American Quarter Horse racing news, visit aqha.com/racing.
AQHA News and information is a service of the American Quarter Horse Association. For more news and information, follow @AQHAnews on Twitter and visit aqha.com/news.