RACING THIS WEEK
Additional Challenges

Current Nominees and Sustaining Payments
FEATURES
SERVICES
Weber Downs in Utah will host these Bank of America regional Challenge races.

© MaTape International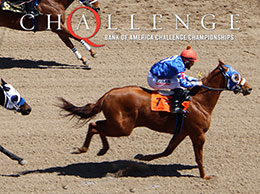 Utah's Weber Downs Agrees To Host Sun Downs Challenge Races
Q RACING—APRIL 10, 2020—
Due to complications from the COVID-19 pandemic, Sun Downs is unable to contest the Adequan® Regional Challenge Derby or the ARC Regional Challenge Distaff, but in accordance with the rules outlined in AQHA's Bank of America Challenge Condition Book, the races are being rescheduled and will run at another location.
Weber Downs in Ogden, Utah, has agreed to host both the Adequan® Derby Challenge and the ARC Distaff Challenge.
AQHA appreciates the Utah Quarter Horse Racing Association, the Utah State Racing Commission and BNB Racing for providing the added money.
The revised added money for the race (before entries and late payments are added) is $27,500 for the Adequan® Derby Challenge, and $17,500 for the ARC Distaff Challenge. Trials are scheduled for Sunday, May 10, and finals on Sunday, May 24.
Horsemen are being contacted directly regarding the race. Additional late payments will be accepted through April 15 to allow for local participation. For more information, call the Challenge hotline at 877-222-7223.
Those who do not wish to participate are entitled to a refund of fees and may reach out to Malynda Reed at the number referenced above.
* * * * * * *
For the latest in American Quarter Horse racing news, visit aqha.com/racing.
AQHA News and information is a service of the American Quarter Horse Association. For more news and information, follow @AQHAnews on Twitter and visit aqha.com/news.