RACING THIS WEEK
Additional Challenges

Current Nominees and Sustaining Payments
FEATURES
SERVICES
Criteria for Bank of America regional Challenge races during COVID-19 pandemic.

© Dustin Orona Photography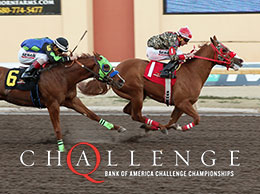 COVID-19 Challenge Updates
Q RACING—APRIL 15, 2020—
While the movement or cancellation of events is fluid during the COVID-19 pandemic, the AQHA staff and management at Bank of America Racing Challenge regional racetrack management are dedicated to ensuring these races are handled as promptly as possible.
There are several regional races, including former Sun Downs races, that have been postponed or moved, and decisions are underway for additional races. Finalized updates will be posted to aqha.com/racing as soon as they are available.
The following criteria has been drafted in order to assist horsemen in moving from a cancelled race to a race that is running, and be fair to all participants:
1) In the event a race is cancelled, with no plans to reschedule:
Any entrant can request a full refund.
Any entrant who has horses that are paid into a cancelled AQHA Regional Challenge race can transfer their horse to another Regional race without facing penalty, up to the date that particular race accepts late payments. In some instances, race meets have been cancelled, but AQHA representatives are still working on the final determination of the AQHA Regional Challenge races that were scheduled.
2) In the event a race is moved and/or delayed up to 60 days after originally scheduled:
Any entrant can request a full refund within seven days of the announcement of the new location and/or date.
Entrants who made the nominating and sustaining payment into a cancelled or delayed race, can ask to be transferred into any other Regional race, as long as such request is before the sustaining payment deadline of the new region in which they wish to participate. Check with AQHA at https://www.aqha.com/bank-of-america-racing-challenge or call 877-222-7223, as payment schedules may have been revised.
Additionally, new nominations into the moved/delayed race will be taken for the regular late fee of $2,500 up to the date established and published by AQHA.
If horses are transferred into a different race and their originally scheduled Regional Challenge race is contested later in the year, they must pay into that race as though it was their first time to do so.
3) New nomination and sustaining payment dates shall be determined for AQHA Regional Challenge Races rescheduled for 61 days or longer from the original date. The purpose of this is to maximize potential nominations into the newly scheduled race. Of course, we can keep existing nominations on hold for the newly scheduled running, should the owner so desire.
* * * * * * *
For the latest in American Quarter Horse racing news, visit aqha.com/racing.
AQHA News and information is a service of the American Quarter Horse Association. For more news and information, follow @AQHAnews on Twitter and visit aqha.com/news.