RACING THIS WEEK
Additional Challenges

Current Nominees and Sustaining Payments
FEATURES
SERVICES
Last year's ARC Sun Downs Distaff Challenge winner Favorite Bling hopes to repeat in Sunday's $27,676 ARC Weber Downs Distaff Challenge going 400 yards.

© Ginny Harding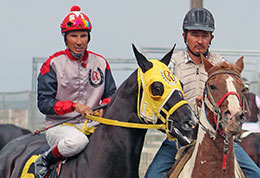 Strong Field Make 2020 Debuts In ARC Weber Downs Distaff Challenge Sunday
OGDEN, UT—MAY 23, 2020—
Nine fillies are set to make their 2020 debut in Sunday's $27,676 ARC Weber Downs Distaff Challenge going 400 yards.
The race is part of a heavy Sunday stakes card for the Utah track with first post set for noon (MDT).
The ARC Weber Downs Distaff Challenge has been carded as Race 6 with an approximate post of 2:05 pm (MDT). The winner will also earn a starting spot in the $100,000-est. Grade 1 ARC Distaff Challenge Championship to be contested October 24 at The Downs at Albuquerque as part of the Bank of America Challenge Championship Night.
Trainer Jose Gomez will send out Juan Garcia's stakes winning mare Favorite Bling from the inside post. Jesus Canales has been tapped to ride the 5-year-old daughter of leading sire Favorite Cartel. Winner of last year's ARC Sun Downs Distaff, Favorite Bling was fifth in her last start, the Grade 1 $106,000 ARC Distaff Challenge Championship in Albuquerque.
The black mare is a multiple stakes winner of five races and has earned $70,049. She won the 2019 ARC Sun Downs Distaff Challenge Kenewick, Washington.
Les and Darla Barlow's stakes-placed Loco Ocho will be looking to get back in the win column on Sunday. The 4-year-old Idaho homebred finished third in the 2019 Pocatello Downs Distaff Challenge in her last start September 15. Prior to that she strung together a four-race win streak.
Garth Blattner trains the daughter of champing sire The Louisiana Cartel from the First Wrangler mare Sign Of Pride. She has won five of 11 starts and earned $15,358. Jesus Valenzuela will ride from post-position 4.
Ricardo Mariles' Shesa Dashair, a strong allowance winner, will be looking for her first stakes win. The 4-year-old Dashair mare enters the race off a 1-¼ length allowance win her last start at the Harney County Fair last fall. She won four of eight races in 2019 and has earned $19,095. Jose Lopez will ride from post 6.
Elko Intermountain Futurity runner-up Vino Bello will be facing older mares for the first time in her career. The 3-year-old daughter of leading sire Favorite Cartel just missed winning the Elko Futurity in her last start September 2, 2019. Racing for owner Ranee Browning, she won three of seven starts at 2, was a finalist in the Hadley-Giles Futurity and won a consolation at Sandy Downs.
Trainer Tisa Helmick has named Jesus Virgen to ride the California-bred earner of $15,073.
The complete lineup, in post-position order including jockey assignments:
Favorite Bling (Jesus Canales)
Candelaria (Cordarelton Benn)
Look Secret (Armando Viramontes)
Loco Ocho (Jesus Valenzuela)
She Zooms (Jose Figueroa)
Shesa Dashair (Jose Lopez)
Vino Bello (Jesus Virgin)
Royallittlewagon (Dallas Erickson)
Secret Nobel (Eric Ayala)