RACING THIS WEEK
Additional Challenges

Current Nominees and Sustaining Payments
FEATURES
SERVICES
The Bank of America Los Alamitos Championship Challenge regional race will be postponed one week.

© Scott Martinez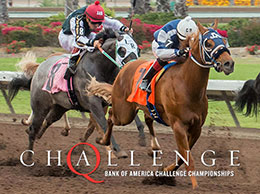 Los Alamitos Championship Challenge Postponed
Q RACING—AUGUST 4, 2020—
The $40,000-added Bank of America Los Alamitos Championship Challenge (G3) originally scheduled to run August 8 has been postponed one week, and will now be run on Friday, August 14, at the Orange County racetrack.
Entries will be taken on Tuesday, August 11.
The race, one of four regional races in the Bank of America Championship division within the Bank of America Racing Challenge program that carries a grade, also carries a berth to the Bank of America Challenge Championship (G1), set to be held October 24 at The Downs at Albuquerque.
The postponement occurred through great cooperation between AQHA, Los Alamitos management and horsemen, and is due to a conflict brought about by a newly-implemented rule that was put in place to increase the transparency of the safety and welfare of equine athletes.
* * * * * * *
For the latest in American Quarter Horse racing news, visit aqha.com/racing.
AQHA News and information is a service of the American Quarter Horse Association. For more news and information, follow @AQHAnews on Twitter and visit aqha.com/news.