RACING THIS WEEK
Additional Challenges

Current Nominees and Sustaining Payments
FEATURES
SERVICES
The Bank of America Challenge Championships will be run for the second consecutive year at The Downs at Albuquerque.

© Coady Photography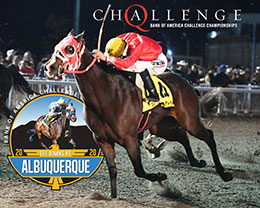 The Bank of America Challenge Championships Set October 24 in Albuquerque
Q RACING—OCTOBER 13, 2020—
The Bank of America Racing Challenge Championships will be held Saturday, October 24 at The Downs at Albuquerque in Albuquerque, New Mexico.
Due to the effects of the COVID-19 pandemic, the events usually held in conjunction with this event will be more limited than in a normal year.
Here is a schedule of events for the 2020 event:
On Wednesday, October 21, the post-position draw will be conducted via audio conference. The draw will be held at 11:30 a.m. MST. Everyone is welcome to call in. The number is 425-436-6200 and access code is 152639.

On Saturday, October 24, the Owner Recognition Brunch will be held at the Downs at Albuquerque, in the First Turn Lounge. The event will be held at 10 a.m. MST. If you will be in attendance or need additional brunch tickets, please call 877-222-7223 by October 16. It is critical that we have an accurate number of attendees in order to provide adequate distancing and plated meals.

The Bank of America Challenge Championships are Saturday, October 24, at The Downs at Albuquerque. First post time is at 4:10 p.m. MST.
The racetrack is closed to fans. Only owners of horses racing will be allowed to attend the races. Owners interested in reserving a table at the racetrack must call the track directly at 505-767-7171 and must be done by October 16.
Fans can watch on their preferred live stream services, including Q-Racing Video, and see coverage at aqha.com/challenge-championships.
* * * * * * *
For the latest in American Quarter Horse racing news, visit aqha.com/racing.
AQHA News and information is a service of the American Quarter Horse Association. For more news and information, follow @AQHAnews on Twitter and visit aqha.com/news.