RACING THIS WEEK
Additional Challenges

Current Nominees and Sustaining Payments
FEATURES
SERVICES
Bank of America Challenge Championships' host state New Mexico has updated COVID-19 protocols.

© Coady Photography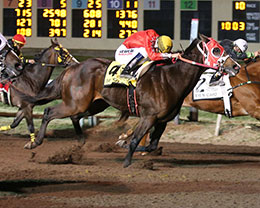 Challenge Championship Update
Q RACING—OCTOBER 14, 2020—
This letter from AQHA Chief Racing Officer Janet VanBebber goes out to all Challenge Championship participants: Dear participant in the AQHA Bank of America Racing Challenge,
Yesterday New Mexico Governor Michelle Lujan-Grisham mandated tougher restrictions regarding COVID-19, to be implemented on Friday, October 16th. CLICK HERE for details.
Unfortunately, her mandate impacts our Challenge Championships.
As of today, October 14, 2020, current protocol dictates that those travelling from out of state do not have to quarantine if they provide a negative for COVID performed in New Mexico within 72 hours. That exemption will no longer be valid after Friday, October 16, 2020.
To qualify for the exemption from quarantine, those who hoped to attend the Challenge Championships from out of state must be tested in the State of New Mexico (testing is available at The Downs at Albuquerque) by Friday, October 16th in order to be able to be present for the races on October 24th, and exempt from the 14 day quarantine that will be in place at that time. So, unfortunately, we must advise, if you can't be in New Mexico for such a test by this Friday, do not plan to attend the Challenge Championships.
We have no idea how civil authorities may enforce such a mandate, but we do not wish to make our host, The Downs at Albuquerque, vulnerable to closure.
Jockeys will also face scrutiny. If riders have mounts on horses in other states this weekend, know that they will not be able to ride in Albuquerque on October 24th. I am working to compile a list of jockeys who are domiciled in New Mexico, or have been there for the mandated period, and will do my best to disseminate the information for the benefit of the trainers.
Both the Owner's Recognition Brunch and the in-person Racing Council meeting have been cancelled.
If you wish to test for COVID-19 in the State of New Mexico, please follow the following instructions. TO REGISTER FOR TESTING: click here.
Testing can be done at any location within the state, but must be done within the state of New Mexico.
Fill out each required (8) fields.
Please ensure you enter your email address.
Select testing date: enter date
Where would you like to be tested: Albuquerque
Which location will you be visiting: Expo New Mexico
Please be prepared to present your test confirmation ID at testing site.
We are disappointed that the pandemic has interfered with attendance at the races. Having said that, we appreciate The Downs at Albuquerque for their commitment to the Challenge Championships and feel grateful that our horses have the opportunity to compete in these premier races.
Thank you for your support of the AQHA Racing Challenge.
* * * * * * *
For the latest in American Quarter Horse racing news, visit aqha.com/racing.
AQHA News and information is a service of the American Quarter Horse Association. For more news and information, follow @AQHAnews on Twitter and visit aqha.com/news.